Bit Bash event showcases Chicago game makers
A power-packed event full of one-of-a kind video games and incredible talent was held at the Museum of Science and Industry on Aug. 17 and 18. It included 50-plus games from all over the globe – offering a wide range of experiences. 
The event is known as Bit Bash – Chicago's alternative game festival. It was founded April 13, 2014 and is based in the city. This event further helps establish the independent gaming community in Chicago, with their goal being "to promote games that either can't be played at home, have unique controllers or experiences or promote community or an artistic statement."
This two-day event had a huge variety of games to choose from. Some involved stellar LED light performances, while also offering a 3D experience – bringing back those paper, red and blue glasses that haven't been given out in theaters in years. On top of that, every game showed where it came from.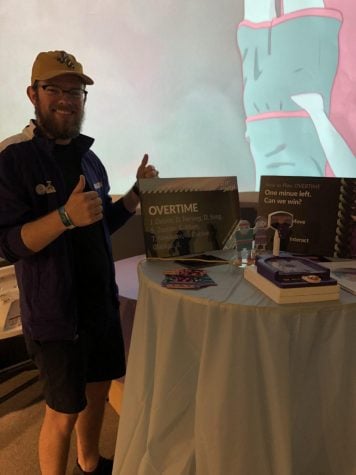 There was a game called Borb the Birb which wasn't your usual action-packed game. Instead, every time you clicked on the screen, it would offer you life advice or a compliment from Borb the birb. The game came from Cologne, Germany. There was a game that was as an experiential narrative game about people, plants and interplanetary capitalism called Even In Arcadia from New York. It was so aesthetically pleasing you could virtually walk around for hours.
There were a few students from DePaul who were asked to be a part of Bit Bash who created games that had a constant crowd of people surrounding them. Zac Mascarenas, a recent DePaul graduate who was at the event alongside Eric Moen, a senior, who did the sound for their game Sashimi Slammers, and Kailey Phan Mitchell, also a senior, who did a lot of the design and even made team jackets. 
Their two-player game has fish controllers that you hit to try and knock the opponent's fish into the fryer – just think of a fighting game, but with flopping fish and cooler controllers. 
"Most people never hit a fish specifically to play a game," Mascarenas said. "The whole idea was making a game that is extremely simple. Specifically targeting like, children and people who go to bars because they're about the same IQ level at that time. And since there's only two buttons and the buttons are made of cardboard, there's no need to worry if they're going to break it or that fun jazz."
Another DePaul senior Thomas Newsome created the remote controller for the game Overtime, which he and others created for the event. The controller itself was made out of wood, laser-cut acrylic and 3D printing – also including the hardware that Newsome did by himself. The game is full of very short basketball games to play with an anime theme. 
Newsome said Moen, who did the sound for Sashimi Slammers, also helped with sound on the game Overtime. Another gamemaker who drew in a big crowd with LED games was also intertwined. His name is Robin Baumgarten, and he made the trophy for an event in San Francisco that Newsome attended for the Overtime game controller. 
Robin Baumgarten created two colorful, bright games for the event which brought a lot of smiles and "woah"s to many faces. One of them was called "Line Wobbler," which brings a kind of Pac-man experience with LED lights and an array of colors that shoot out with 3D glasses – drawing you even more into the game.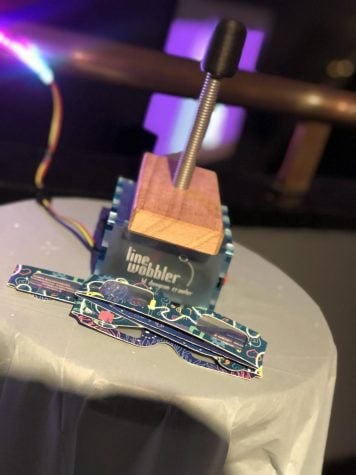 Baumgarten enjoys bringing his creations to such events as Bit Bash because it can be hard to find a place for these games to thrive. 
"This game got a lot of attention now," Baumgarten said. "There were request to show it but, obviously it is kind of hard to get your game known, especially if it's a hardware game because you can't really play it online. So then, these events here are quite important, especially for hardware games."
The two-day event gave these hardworking, creative people a place to showcase their work – which can take months to perfect. Seeing how a community is so intertwined goes to show how passionate they are about their craft and the number of smiles, aws and belly laughs remind them of why they do it.