Nation and World Briefs: Oct. 6, 2014
Israeli, US leaders rift over settlement issue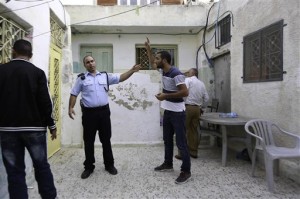 JERUSALEM – Israel's prime minister dismissed a recent White House rebuke of Israeli settlement construction, saying in comments broadcast on Sunday that the criticism goes "against American values."
The tough words by Prime Minister Benjamin Netanyahu threatened to deepen a rift with the White House over Israeli construction in the West Bank and East Jerusalem, areas captured by Israel in the 1967 Mideast War and claimed by the Palestinians as parts of a future independent state.
Israel came under fire last week after a Jerusalem city official signed the final go-ahead for construction of a new housing development in East Jerusalem. A day earlier, an ultranationalist Jewish group said dozens of settlers would move into six apartment buildings purchased in the heart of a predominantly Arab neighborhood of east Jerusalem.
Israel says East Jerusalem is part of its capital and considers Jewish housing developments there to be neighborhoods of the city. But the international community, including the United States, does not recognize Israel's annexation of the area and considers construction there to be illegitimate settlement activity.
In a striking public rebuke last week, the Obama administration warned Israel that the new project would distance Israel from "even its closest allies" and raise questions about its commitment to seeking peace with Palestinians.
In an interview broadcast Sunday on CBS's "Face the Nation," Netanyahu said he does not accept restrictions on where Jews could live, and said that Jerusalem's Arabs and Jews should be able to buy homes wherever they want.
He said he was "baffled" by the American condemnation. "It's against the American values. And it doesn't bode well for peace," he said. "The idea that we'd have this ethnic purification as a condition for peace, I think it's anti-peace." The interview was recorded Oct. 2.
The White House declined comment.
Rescue efforts continue at volcanic eruption site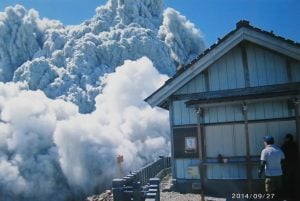 MOUNT ONTAKE, JAPAN – One body recovered near the volcano's peak was in a squatting position and had to be dug out of a thick layer of ash. Another was caught between boulders bigger than large refrigerators. Police who recovered the bodies Wednesday portrayed a painful scene of death around the summit where hikers enjoying an autumn weekend hike were caught by the mountain's surprise eruption.
The death toll from the Sept. 27 eruption on Mount Ontake in central Japan rose to 47, Nagano police said in a statement. While ash and gases were spewing from the crater, searchers wearing surgical masks and helmets carried devices to measure the toxicity of the gases to make sure it was safe to be on the slopes filled with volcanic debris.
It was the worst fatal eruption in postwar history, exceeding the 43 killed in the 1991 eruption of Mount Unzen in southern Japan.
Ground Self-Defense Forces mobilized CH-47 helicopters to bring the last bodies to the foot of Ontake, known as one of Japan's 100 best mountains and topped by a shrine that attracts visitors. Prefectural and police officials said most bodies were found around the summit, where many climbers were resting or having lunch at the time of the eruption. Other victims were found at a slightly lower elevation that reportedly had little place to hide.
Nagano police riot unit leader Mamoru Yamazaki described the rescue scene as "severe."
His team, part of hundreds of rescuers dispatched Wednesday, found some of the bodies outside of a lodge just below the mountaintop shrine and on a hiking trail leading to the area, Yamazaki said.
Many victims were half-buried in the ash, others even deeper, he told reporters. One was found curled up in a ducking position toward the crater as if to protect the back of the head from flying rocks and to avoid ash and fumes getting in the face. "My impression is that the person had tried to cover the head, bent over into a ball and then was buried by debris and ash while in that position," Yamazaki said, trying to emulate the posture.
Authorities said all of the known victims have been recovered, but the decision on whether to end the search was still being evaluated. In their statement giving the death toll, Nagano police also apologized for an earlier miscount of 48 dead.
The nearly 70 people who were injured in the eruption had bruises, cuts and broken bones indicating flying rocks hit them as they fled down the slope. Survivors described hiding in rock crevasses or inside mountain lodges while smoke blackened the sky and ash covered the ground.
Before the eruption, seismologists had detected signs of increased seismic activity at Mount Ontake, one of Japan's 110 active volcanos, but nothing signaled a fatal eruption.
Concerns mount over potential Ebola exposure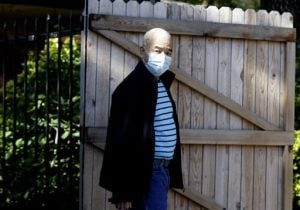 DALLAS – Authorities in Dallas are searching for a homeless person who might have had contact with the lone Ebola patient diagnosed in the United States, officials said Sunday.
The person is not considered to be one of the 10 people who definitely had contact with Thomas Eric Duncan, who is in critical condition at a Dallas hospital. The man is part of a larger group of 38 people who may have been around Duncan when he was showing symptoms of the disease, officials said.
Dallas County Judge Clay Jenkins called the man a "low-risk individual." Authorities had monitored him a day earlier but want to take his temperature regularly to make sure he doesn't have a fever, a possible symptom of Ebola infection.
"We are working to locate the individual and get him to a comfortable, compassionate place where we can monitor him and care for his every need," Jenkins said, adding that the search for the man was precautionary.
The group of 10 people is comprised of seven health care workers and three family members or community contacts, said Dr. Tom Frieden, director of the federal Centers for Disease Control and Prevention.
About 800 calls and emails are coming in daily to the CDC on Ebola, up from about 50 to 100 before Duncan was diagnosed on Tuesday, Frieden said. Frieden said he is scheduled to brief President Barack Obama on Monday.
Duncan has been hospitalized for one week and was listed Saturday in critical condition. Frieden said Sunday that he was aware that Duncan's health had "taken a turn for the worse," but he declined to say what signs of poor health Duncan had shown.
Four members of a family who hosted Duncan in their northeast Dallas apartment are under isolation, though they have not shown symptoms of infection.