Chicago's haunted history reaches both campuses
''Tis the season to be spooky. What better way to usher in Halloween than visiting one of the many "haunted" places in Chicago. Why pay for a cliché haunted attraction when the city has locations with actual haunted history behind them that you can visit? Even if you don't believe in the paranormal, each spot has a rich history behind it that's sure to make for a worthwhile visit.
1. The Congress Plaza Hotel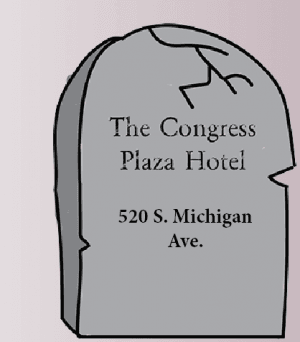 Nestled on Michigan Avenue, The Congress Plaza Hotel is so haunted that it inspired Stephen King to pen "1408"—a short story turned John Cuscack movie.
Anthony Szabelski, paranormal investigator and tour guide with Chicago Hauntings, said the The Congress Plaza Hotel has established itself as a "suicide hotel" with the amount of self-inflicted deaths that have occurred since it opened its doors in 1893. He said that he could "go on for hours" about all of the experiences he has had while inside.
"I always like to tell people when I give tours there that the lobby looks like you're in 2019, but the further you go up to the 12th floor, it's almost like you're going back in time, closer to 1893 when the hotel was built," Szabelski said. "It's just very creepy up there."
Szabelski said the most prominent spirit on the 12th floor is a young boy—who has even turned a security guard who has worked in the hotel for 35 years from a skeptic into a believer.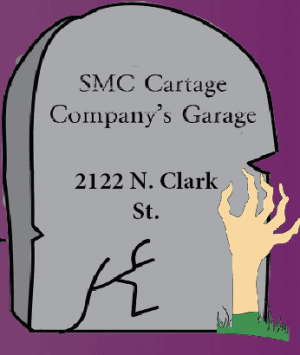 2. SMC Cartage Company's Garage
The ghosts of mechanics aren't roaming around this Lincoln Park location—it's mobsters. This garage has an especially bloody history behind it, as it was the site of the infamous 1929 St. Valentine's Day Massacre. The feud between George Moran and Al Capone escalated with the murder of seven members of Moran's gang by two of Capone's affiliates dressed as police officers
Bob Jensen, founder and senior investigator/historian at GhostLand Society Paranormal, said the most common reports of paranormal activity at this site include "moaning of agony" and there have even been "reports of machine guns being heard on the anniversary." He also said that dogs are sensitive to the area, but claims lack "substantial documentation."
"When people walk their dogs past the open area where the building used to be, their dogs will sometimes stop and look at something," Jensen said. "Sometimes hair will stand up on their backs and even bark and or howl for no reason."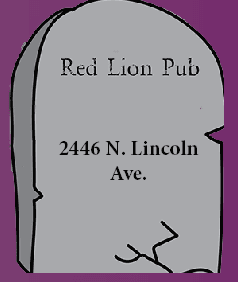 3. Red Lion Pub
Just blocks from the Lincoln Park campus, Red Lion Pub is home to some mischievous spirits—including someone Jensen refers to as "Sharon." Jensen said reports of activity include "toppling books from shelves," "sound system interferences," and "even opening latched windows."
"We investigated here back in the mid 1990s with a cable network and only had a few personal experiences, primarily hair on arms standing up on end," he said.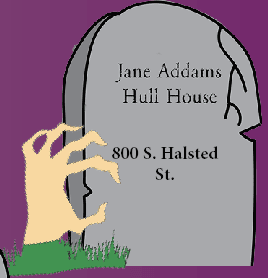 4.  Jane Addams Hull House
The alleged haunting at the Hull House juxtaposes the social work that was done. Szabelski said a "severely deformed baby" was allegedly dropped off at the location in 1913 and sent the city into "mass hysteria" that the Devil's spawn was in the Hull House.
"Nobody knows for sure if this actually ever happened because Jane Addams [who ran the Hull House] never actually says whether it was actually true or not," Szabelski said.
Jensen said "no one is really allowed" to investigate the property, however, some other possible spirits at the location include Charles Hull's wife, who died in the home in 1860 and a "woman in white" that is seen in windows and on the stairs.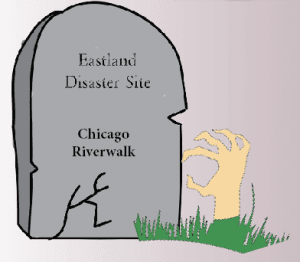 5.  Eastland Disaster site
Chicago had its very own Titantic-esque disaster, but you've probably never heard of it. Ted Wachholz, executive director and chief historian of the Eastland Disaster Historical Society said the event occurred on May 6, 1903 when the Eastland flipped over in the Chicago river while hosting an event for 2,500 Western Electric employees and their families.
"Within a matter of five minutes, 844 people lost their lives," Wachholz said. "It's Chicago's greatest loss of life tragedy and it's also the Great Lakes' greatest loss of life."
Bielski said the spot along the Chicago Riverwalk is "one of the most active sites in Chicago."
"Screams and cries for help are still heard ringing off the water," she said. "In addition, passersby sometimes feel compelled to jump into the water here, as so many did the day of the disaster to help the victims."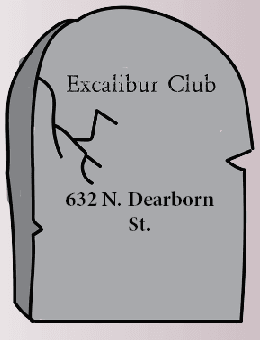 6.  Excalibur Club
The Eastland Disaster's impact reached beyond its Chicago River site and allegedly into the doors of what is now the Excalibur Club, as the location reportedly was used as a "makeshift" morgue for victims. Wachholz said it's not a "confirmed" location, but victims were brought all around the city.
"That was at a time when there was no such thing as disaster preparedness," Wachholz said. "So everything that was done was done at the spur of the moment."
Jensen said that after its use as an alleged morgue, a lawyer purchased the location to use as his mansion, but later committed suicide by hanging himself in "the Dome Room"
"I used to bartend in the Dome Room and never experienced anything in there," Jensen said. "We were granted full access years later to investigate and found no real viable data nor any personal experiences to warrant calling this place haunted."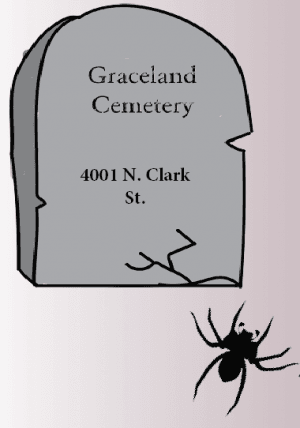 7.  Graceland Cemetery
Ursula Bielski, historian and founder of Chicago Hauntings, Inc., said the main spirit that haunts the grounds of Graceland Cemetery is Inez Clarke, a young child whose final resting place lies beneath a glass-encased statue on the grounds.
"Many children have claimed to play with Inez while visiting Graceland, 'a little girl with old fashioned clothes,'" Bielski said. "Security guards have claimed that, during storms, Inez's statue disappears from under the glass case, supporting a rumor that Inez died from a lightning strike and runs away to hide when storms break out."
Both Bielski and Szabelski said the lightning strike rumor is false and the child—whose real name is Inez Briggs—actually died from diphtheria.
Bielski said some visitors have had more sinister experiences involving "visions of your own death if you stare into its shrouded eyes long enough" centered around Lorado Taft's 1909 sculpture "The Eternal Silence"—dubbed "The Statue of Death" by paranormal enthusiasts.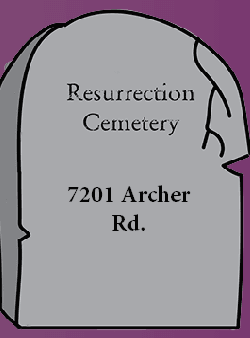 8.  Resurrection Cemetery
Resurrection Cemetery is home to one of Chicago's most famous ghosts— "Resurrection Mary"—a spirit that Bielski describes as a "vanishing hitchhiker who has been getting into cars and vanishing along Archer Avenue for almost 100 years."
Szabelski said one of the most famous accounts of Resurrection Mary occurred in 1976 after Pat Homa, a Justice police officer, responded to a report of a "woman in a white dress inside the cemetery roaming around."
"He does not see anyone inside the cemetery," "but what he notices is the bars on the gates are bent and pulled apart. Not only are they bent and pulled apart, but they have like char marks on them and what looks like fingerprints in the bending of the bars."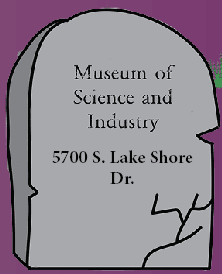 9. Museum of Science and Industry
Originally used at the Palace of Fine Arts for the 1893 World Fair, Bielski said the building that now houses the Museum of Science and Industry is "one of the most haunted places in the city," as staff members and guests have claimed to have had countless experiences.
"Staff members claim to have had many encounters with the ghost of Clarence Darrow, the great defense attorney whose ashes were scattered across the Jackson Park Lagoon at the back of the museum after his death," Bielski said. "They also claim that the U-505 submarine, housed in the museum, is haunted by the ghost of the captain."
Jensen said he had a "wonderful" experience on Richard T. Crowe's paranormal tour with 68 others on Halloween in 1995, in which witnesses saw a man standing on the museum's patio.
"They [others on the tour] ran the east side of the lagoon, got to the U-505, which was still sitting outdoors, and got within 50 feet or so of this person," Jensen said. "The person did not acknowledge them, turned, walked a few paces and disappeared completely."