Studio Eleven's variety hour an introduction to all comedy has to offer
The sounds of standup, improv, musical and sketch comedy rang through the halls of the iO theater Friday night as the cast of "Studio Eleven" performed their variety hour. The dozen-person cast first assembled 13 months ago in September 2018 and has performed its self-written sketches weekly ever since. The group of 20-somethings and 30-somethings exude the confidence and joy only 20- or 30-somethings can while bringing the audience along on an hour-long joyride of witty bits and hearty laughs.
Each Friday performance is pitched and written by the cast in the preceding week, which is no small feat by any means. The variety hour presented by this cast of 11 is accompanied by special guests that lend their comedic abilities to break up the contagious sketches with standup, music and other niches of comedy.
Guest comics for the Oct. 18 performance included sketch comic Lily Reed, standup comic AJ Marroquin and musical improv comic Laura Mulcahy. Although it must be mentioned that future guests may differ, if Studio Eleven can continue to procure such talent for subsequent shows, audience members will have no choice but to return weekly for several more doses of the unique, incredibly funny and objectively talented entertainers. 
Laura Mulcahy, drawing comedic inspiration from writer, singer and comedian Karen Kilgariff, performed an improved musical roast of the audience that will not soon be forgotten. As Mulcahy is a regular of the iO, I hope to have the pleasure of watching her perform again as I cannot shake my first impression of her as a new Bo Burnham – a compliment I feel the Chicago comedian rightfully deserves. Although a compliment, I reluctantly make the comparison, as I am sure she will not follow the previously treaded paths but blaze her own way and personalized comedic style.
Sketch highlights of the evening included "Queerent Events" – an ongoing pride-filled segment on comedy news routines co-hosted by Caleb Hearon (2nd on top row) and Alex Collyard (top right) – an actor I can only describe as a less flamboyant Jonathan Van Ness with the beard and long bun-tied hair to match. Topical humor included in this edition of the weekly segment covered everything from Parisian zoos to barbie dolls to Mick Mulvaney.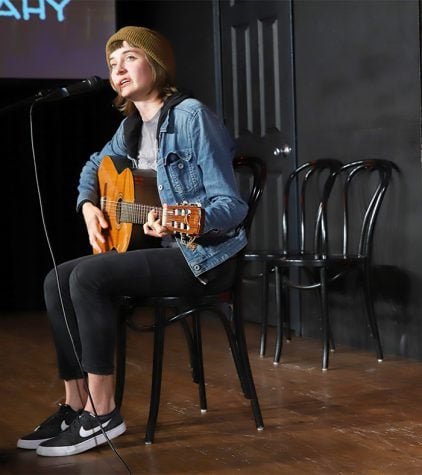 Another favorite skit from the night saw a boyfriend desperately attempt to learn more about his black girlfriend's culture through intently listening to an aptly described 'black culture ASMR podcast.' Devin Middleton (3rd on bottom row) gave an incredibly hilarious performance as the podcaster, laying down equal parts soothing and informative quips and roasts on the white boyfriend portrayed by an equally charismatic Nick Rowley (bottom left).
Studio Eleven's comedy stylings are so broad and all-encompassing, any prospective audience member is bound to enjoy the show. Whether a veteran audience member of comedy clubs or a novice looking for a fun night out and a calm toe-dip into the pool of possibilities that is live comedy, anyone and everyone will be enjoying themselves by the end of the hour. The performers not only love what they do, but do it well. Both facts are sure to make themselves quite apparent as the evening marches on.
Studio Eleven is offering discounted tickets to shows for DePaul students. Simply private message @studio.eleven.show on Facebook and receive whatever discount is available for the show. 
Charna Halpern and Del Close started the iO, originally named "The Improv Olympic," when the two began teaching improv classes while sharing a "vision for a deeper, more robust form of improvisation." The first official Improv Olympic theater landed the organization in Wrigleyville in 1995 after bouncing from space to space since its inception in 1981. Their current theater was recently taken over by the iO in 2014 after the organization simply outgrew their smaller location.