Oral history: 2019 Big East championship game
The Women's basketball team has competed for the Big East championship for the past six years since conference realignment. In the past three seasons, they have gone to the tournament championship three times, winning two of them. On March 12, 2019, DePaul faced Marquette University in the finals at Wintrust Arena. The game came down to a final shot by then-junior forward Chante Stonewall.
This is an oral history of the game and the shot that brought the Blue Demons to their 17th consecutive NCAA Tournament.
The Blue Demons were facing the Marquette Golden Eagles, a team they had faced twice that season, losing in Milwaukee 63-96 in January and losing in Chicago in early February 87-93. Yet even with the two losses, there was a feeling of content going into the title game. In the 2018 Big East title game, DePaul routed Marquette 98-63.
Doug Bruno (Head Coach of DePaul Women's Basketball):
I am always in a place of relaxed-intensity. I hate the word relaxed because I'm not relaxed but I'm never afraid. I can't coach afraid, I don't care who I'm playing, you can't coach scared. I wasn't walking around ever in some place of fear of Marquette, you know, ever. I never was walking around like 'they beat us, they passed us up', the numbers don't lie.
Abbas Dahodwala (Radio DePaul Sports Announcer):
Going into the game, we knew it was going to be a dogfight.
Chante Stonewall (Senior Forward):
Of course, we had played Marquette a lot of times. We had lost at their gym so we understood that it would be a tiebreaker between them and us. So it was just one of those things where we wanted to defend our home court, do what we do best.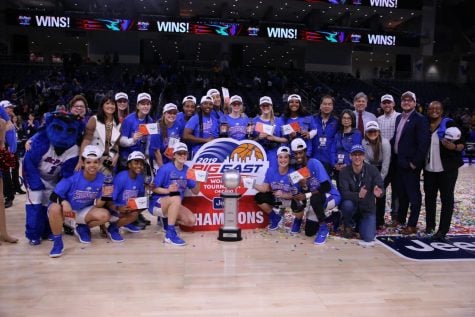 Kelly Campbell (Senior Guard):
Going into that game we were definitely super focused and knew that they weren't going to let happen what we did to them the year before.
Lexi Held (Sophomore Guard):
We knew what we were up again cause we played against them twice. We just had a chip on our shoulder so we were really energized and excited to get into that game.
The game was exactly as advertised. The Blue Demons and Golden Eagles battled all throughout the game, with Marquette star Natisha Hiedeman doing what she had done all year. DePaul was facing shooting woes but only trailed by five points at halftime. The atmosphere in Wintrust Arena was electric, and the teams were feeding off of that energy.
Dahodwala:
Nobody was showing up beside for Stonewall. Midway through the first or second quarter, Marquette had like forty kids walking outside of the tunnel just making noise. It was really loud.
Alexa Sandler (DePaulia Contributing Photographer):
The vibe was that everyone was pretty excited. It kinda shifted during the game, when lead changes were happening. It got really nitty-gritty, there was a lot of suspense and you could feel it in the arena.
Bruno: I really just focused on our specific matchups, focused on what we were trying to do with the game plan, focus on how we weren't going to tie the game or take the lead in the game in one trip. You don't do that in one trip you need the patience of staying strong.
Held:
We were just trying to take it possession by possession, not get too ahead of ourselves and control what we can control.
Blue Demons fans and players hoped that the second half would go better and that this game wouldn't end up like the other two times they faced Marquette. But in the third quarter, Things started to go wrong for the Blue Demons as they found themselves down by 13 points during the third quarter.
Held:
Marquette was a good team, they could make runs, that's what made them so good. They can get up on you so quick just bc they can shoot the ball and get up on you so quick.
Stonewall:
Bruno always preaches to us that when we are down that we got to win one possession at a time. And so make a stop, score, make a stop, score. So that was our mindset.
Sandler:
I was like 'you gotta be kidding' I was sitting there thinking 'here we go'. It was a too good to be true sort of thing. I felt a little hopeless but I didn't lose hope.
Bruno:
There wasn't a whole lot we didn't know about them that we couldn't adjust too. But you are constantly in the state of switching a matchup here and there.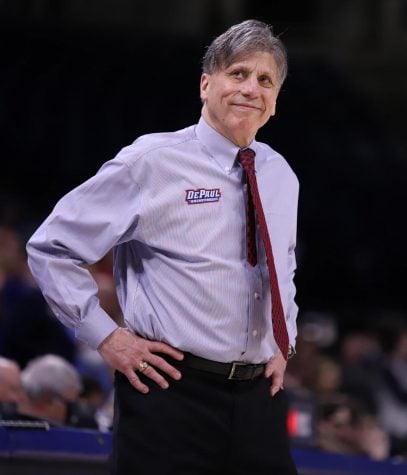 The Blue Demons were able to adjust. Shots started falling and they began to crawl their way back into the game. By the fourth quarter, they were trading blows with the Golden Eagles and were within striking distance.
Bruno:
The players not quitting and not giving up when you're down 13 points with 6 minutes to go, that's vivid. You are back to coaching fearlessly, and you win the possession, win the next possession, when you string winning possessions, the next thing you know we are chasing a point.
Stonewall:
I'm not saying it's a good thing but we were down a lot of times during the season so we knew how to overcome that adversity.
Sandler:
Me and the other photographer for the athletics department were trying to keep that level of professionalism and trying to shoot the game. But as DePaul students, we were both really invested in the game.
Held:
It was a really intense game. The fans here were crazy because we were at home. It was a really fun environment to play in, especially it being that close late in the game.
Then came the final play, the Blue Demons had mounted their comeback and found themselves down by two points with 10.4 seconds left on the clock. Lexi Held inbounded the ball to Campbell at midcourt. Fans held their breath as Campbell found Stonewall who came up from the paint, Campbell drove in and was fouled on her shot attempt that went in with 5.4 seconds remaining.
Held:
We had Ashton (Millender) in the corner because she was hitting her threes that game. We just spaced the floor and had Chante do her thing and it worked out.
Dahodwala:
That shot was electric, I mean that shot was so good.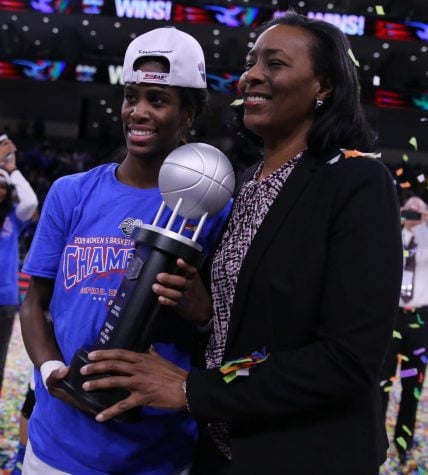 Stonewall:
It was super important to me that I made the shot cause it could have been a no-call.
Bruno:
We ran something we had practiced. That was fortunate. Just because we practiced it doesn't mean we will execute it. Chante executed it well which was awesome.
The game wasn't sealed at that point though. With the game tied, it was up to Stonewall to hit the free throw.
Bruno:
I refuse to shout to my players while they are on the free-throw line. So I just keep my mouth shut, knowing she has to match up with Hiedeman, and hoping that we had educated well enough during the season that she would match up.
Stonewall hit the free throw, and with no timeouts remaining, Marquette inbounded the ball to Hiedeman, who took it down the court, guarded by Stonewall.
Sandler:
Ok, we are up by one, there is still time for them to get it. Crazy things happen in sports games.
Bruno:
Chante had to guard Hiedeman immediately, and Hiedeman had made a lot of buzzer beaters, and that was really special to have her guard that.
Dahodwala:
I was very nervous when Hiedeman was driving with that, but once again, it was Stonewall leading them.
Hiedeman put up a measly effort on a shot that missed. DePaul grabbed the rebound, the buzzer sounded and the Blue Demons were the 2019 Big East tournament champions.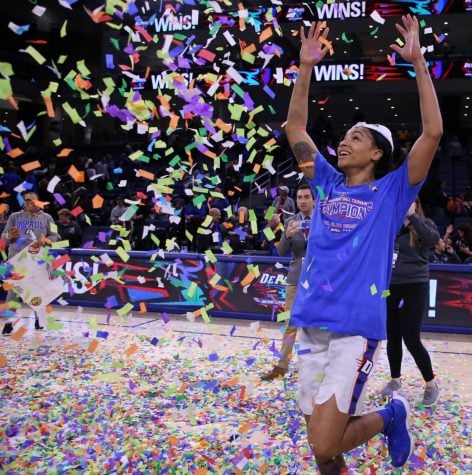 Campbell:
Everyone storming the court after, the game it was so surreal that like we were down 13 and came back to win. A win like that, you remember forever.
Stonewall:
You dream of it, but when it actually happens it's like wow, this is amazing.
Bruno:
It's a review that they will have for life and it's never going anywhere. That is a really special and great experience for a coach.
Sandler
That moment was so special for the fans too and anyone working with athletics.
DePaul celebrated their last-second win with fans storming the court and players celebrating and cutting down the nets. The team is looking to win their third straight Big East title this season.