Commentary: Elle Magazine's Timberland trend creates controversy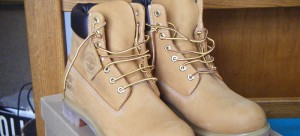 Fashion trends come and go as frequently as the weather changes.  One thing that remains consistent in the industry is that most trends repeat themselves. However, Elle magazine's most recent blast from the past landed them in hot water on social media. On Oct. 7, the magazine tweeted, "Are YOU a fan of this winter's major celeb shoe trend?" Attached to the tweet was a photo of Rihanna, Gwen Stefani and North West wearing Timberland boots. The problem is, Timberlands —specifically their Premium Waterproof collection—have been a trend in the African-American community and hip-hop for more than 20 years.
Twitter reacted almost immediately with the hashtags such as #TrendsRevivedByElle and #EllesNextHeadline. The argument largely made by users was that the magazine was appropriating hip-hop and black culture. Timberland boots were originally manufactured for yearlong sustainability, despite the weather. They were not particularly a fashion-forward brand. Around the early '90s when R&B regularly topped music charts and hip-hop was becoming more popular, mostly rappers­—and the "bad boys" of R&B—wore the boots as a fashion statement to complete their rugged look.
The Elle article read: "Last year, Adidas' Stan Smith sneaker was the shoe that was everywhere. The progression from casual sneakers to must-have item was fast and furious. This season, I predict a similar ascent to fashion greatness for the Timberland boot. Here's why: All cool girls are wearing Timbs, from Cara Delevingne to Rihanna to Gwen Stefani…Anyway, now that stylish babies North West and Blue Carter have been spotted in Timbs…I know that they're about to explode. They. Are. Happening. And if you don't believe me, here's proof. Click through the coolest girls in their Timbs and then tell me you don't want a pair."
Tweets using the two hashtags were a satirical response to this. Users jokingly tweeted that bonnets, Kool-Aid and cocoa butter will soon make the magazine's headlines. After the tweets from African-Americans started to flood the magazine's notifications and #EllesNextHeadline was trending, the publication rephrased its tweet to include that Danielle Prescod—the site's black, fashion editor—wrote the article. The tweet was an attempt to settle the steam, but it completely backfired.
"Throw the black girl under the bus," was one of the responses. Another user tweeted, "Elle Mag really said, 'go attack the black girl for the article. Not us.' Hilarious." After the Twitter uproar, Elle, reworked the lead and ultimately rewrote entire story to include that Timberlands are a recurring trend. Though it's still wrong, it sounds a lot better than the previous article. However, in a world where technology is constantly progressing, the screenshot is a feature that takes away the simplicity of a delete button. Photos of the original article are still floating around, and the original tweets with the link to the old article are still posted, but the links no longer work.
But, if trends repeat themselves, why were people so upset? The answer is simple: Timberlands haven't gone anywhere. They are just as popular in the African-American community today, as they were when Naughty By Nature was the hottest new rap group in 1991.  Some social media users consider the article, and others like it, "appropriation of black culture." Not because they don't think trends resurface, but because it was marketed as a new fashion trend.
This isn't the first time a major publication made this mistake. Recently, fashion magazines such as Marie Claire, Livid, Lucky Magazine and Seventeen have also come under fire on social media for attempting to coin old fashion trends from the African-American community as new. Livid used Instagram to show models in a new, trendy "urban tie cap" known for years in the black community as a do-rag. Lucky magazine's "slicked down tendrils" have been called  "baby hair" since the beginning of the '90s. Marie Claire considered Kendall Jenner's undercut braids "bold" and said she took them to "a new, epic level."
The argument of appropriation comes in where the publications fail to acknowledge the fact that all these fashion trends have always been around. All these headlines suffer from a bad case of "words mean things." If the titles were reworked, and the articles revealed more attributions, social media users say they would've reacted differently. Prescod said she stands by her Elle article and sees nothing wrong with it.