Winging it: The best four restaurants for eating wings and watching football
There are few foods that go hand in hand with something as well as chicken wings do with football. While hot dogs and baseball may be a close second, wherever you go in the United States for your Saturday and Sunday football watching you're all but guaranteed to see wings on the menu.
When done right chicken wings possess a unique level of outer crunch, loads of flavor and incredibly tender meat. Pair that with a seemingly endless array of sauces you can coat them in and you have a recipe for a delicious bite to eat.
Here in Chicago, with the Bears playing boring, uninspiring football the need for good wings is at an all-time high. In a city jam packed with different and exciting places to eat, here are four spots every DePaul student should know about the next time they're looking for a perfect complement to their day spent planted in front of the TV watching football.
Crisp (2940 N Broadway)
Looking for a unique take on the classic chicken wing, look no further then East Lakeview's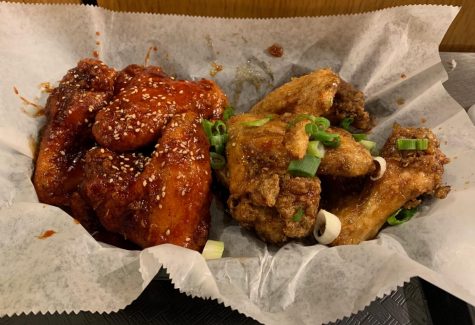 Crisp. Located at 2940 N Broadway, roughly a 20 minute commute from DePaul's Lincoln Park campus (if you take the Brown Line to Wellington and then walk the rest of the way), Crisp specializes in Korean-style chicken wings.
Calvin Buckner, who was running the operation there Wednesday afternoon, spoke to what makes Crisp's wings amongst the best in Chicago.
"The style that we're most known for is the Korean style fried wings, double fried it keeps it a little bit more crispy and a little bit more juice in there as well," Buckner said. "It's really good. People mostly come here for the Seoul Sassy wings, that is one hundred percent our most popular item here."
Bucker went on to explain what makes the Seoul Sassy wings so special.
"It's a mother's recipe," Buckner said."So you know, you can't get better then your mother's cooking. The recipe has been handed down from his mom to him [the owner] so he's a second generation, and he keeps it going. It's a really good product, people mostly come here for that and the Crisp BBQ, [which is a] little sweet, little spicy Korean Style BBQ wings."
For $9.95 (plus tax) you can get a 5-piece of jumbo wings (with more than likely a few extra wings thrown in there). The wings, which resemble true chicken wings, as opposed to the mini-wings many restaurants serve nowadays, were more then enough food for a hearty lunch. While messy, requiring multiple face cleanings, they were a joy to tear apart and dive into. It was almost impossible to choose a favorite flavor between Crisp BBQ (described as 'Our homemade Korean BBQ… a little spicy, a little sweet and a little smoky') and the Seoul Sassy (described as 'subtly sweet, non-spicy sauce prepared with with ginger, soy, garlic and other elect spices to make it a crowd favorite.')
Jake Melnick's Corner Tap (41 E Superior St)
A Chicago staple that you can find on nearly every 'best wings in the city' list, Jake Melnick's Corner Tap has been cranking out award winning wings since they opened. Here, their famous Firecracker wings are the star of the show. Flavored with sweet Thai chili and sirachi these wings possess a rare level of crunch and flavor. While much smaller then the wings at Crisp, there was certainly no skimping on the meat with the eight piece. If you can make the investment of $14.95 for an eight count with two flavors, you can't get better chicken wings in the downtown area then Jake Melnick's Corner Tap.
For Adam Redearth, a server at Jake Melnick's it all starts with the quality of the chicken.
"[We] start with the good chicken number one, it's the flavors, the sauces," Redearth said. "The traditional Buffalo it's great. Nothing out of the ordinary that you might not have had, Texas Pete, vinegar, butter. The flavors, Firecracker for example, when we used to enter the wing contest we would always win best exotic wing. Some years it would of been the firecracker which is our sweet heat, Thai chili. Other years it would be our Poncho. Poncho is unique, it's a grilled wing, dry rubbed [with] garlic and cayenne pepper. Poncho is a great flavor."
When it's football season, make sure you place your order in advance as Jake Melnick's becomes a bit of a madhouse as wing enthusiasts mob the location to get their game day essentials. However, if the quality of the firecracker and poncho wings were any indication, you'd be well served to wait.
"Well I will say on Super Bowl Sunday we went through 5,000 pounds [of wings]," Redearth continued. "And I said, [when I saw that noted] that's a misprint, but [we did] 5,000 pounds on Super Bowl Sunday, especially in this last year or two with DoorDash, Grubhub. We've just been through the roof [with demand]. And with that our wing prices have gone up, but our guests know in order to maintain the good wings, the good quality, we're not skimping, you're going to get the good stuff. But yeah, on football days it is crazy, the carryout. We certainly make our millions off of those little wings, I'll tell you that."
The Fifty/50 (2047 West Division Street)
While not a short trip from DePaul, with the Blue Line commute from the downtown campus taking roughly 22 minutes to get to The Fifty/50, the trip is worth it for anyone who likes their wings spicy. Upon biting into the two most popular offerings from The Fifty/50, their Award Winning Buffalo and their Spicy Garlic, two things were immediately apparent. First, there is a lot of meat on the bone (definitely the most out of any of the places The DePaulia tried), second is how crispy the skin is. While Crisp had a lot of breading on the outside of their wings, and Jake Melnick's landed somewhere in the middle, The Fifty/50 impresses with exceptionally crispy skin that immediately gives way to tender, delicious meat. As far as the flavors, while not as immediately unique or intoxicating as Jake Melnick's, for consumers who demand their wings bring the heat, this location is your best bet.
Speaking to Alejandro Gonzalez, a self proclaimed 'jack of all trades' at The Fifty/50, it really is all about the size of the wings and the crispiness of the breading.
"We are very unique in the size of the wings, to begin with," Gonzalez said. "And the breading is all house made, I know they've worked a lot to get the breading down right and it gives you that perfect crunch and everything and the sauce doesn't get soaked up in the breading which is something I like here."
As far as the sauces go, it's all about the Buffalo and the Spicy Garlic with both making an impression at Wing Fest this past year.
"I like the sauces," Gonzalez said. "The buffalo is very unique, there's a reason it says 'Award Winning Buffalo' on the menu. We've actually taken them to Wing Fest a lot and it's always popular. We sold close to 7,000 wings this year at the event and the Buffalo was one that was hitting off a lot. Spicy Garlic is the in-house favorite, it's definitely a favorite of a lot of our regulars because it has that different kick to it, so it's very herb heavy but also very spicy at the same time."
For The Fifty/50, like the other places The DePaulia visited, Sundays during football season are packed from opening to close as football fans get their wing fix. For Gonzalez, wings are far and away the most popular food on game day.
"It's very huge here [getting wings while you watch the football games]," Gonzalez said. "I'm the morning bartender for Sundays and people just come in constantly for wings. I have a lot of regulars for every Sunday, they come in, I ask them 'hey do you want the regular on food?' and they're like 'yeah', and it's always wings."
"Wings are nice because you can bring the wing up to your mouth, still look at the game, [you] don't miss a single second and you can still be eating," Gonzalez continued. "So I feel like it's just convenient for game watching. It's a light snack but you're also eating a full meal at the same time depending on how many wings you get. I feel like they just go hand in hand."
Bird's Nest (2500 N Southport)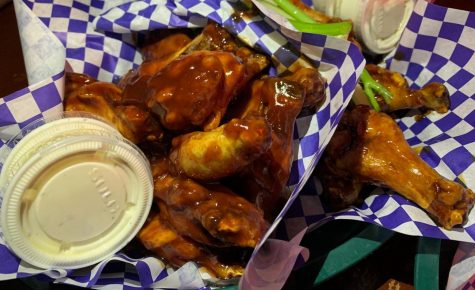 Last but not least is Bird's Nest. Likely the most familiar to DePaul students given its location just beyond the 1237 student housing, Bird's Nest won best wings in the city from the Chicago Tribune this year. While the other spots listed all bring something fun and different to the table, Bird's Nest does the classics right. A mixture between flats and drumsticks, the DePaul area bar makes the list on the strength of good signature sauces, excellent crispiness and a solid meat to wing ratio. While unlikely to rewrite the book on wings, Bird's Nest is a crowd pleaser for a reasonable price in a convenient location.