5 best drinks to celebrate this holiday season
It's that time of the year again when temperatures drop, the sun seems to disappear during the day and nighttime comes way too early. While all that may sound dark and gloomy, luckily for you, we have some of the best holiday drink recipes to keep you warm and distracted from all that winter weather nonsense. And for those of you under 21, don't worry – all these recipes can be made into a non-alcoholic, family-friendly version.
1. Tully Hot Toddy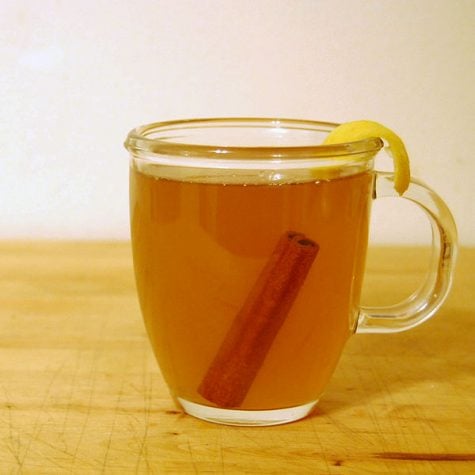 1 serving, ready in 5 minutes
Ingredients 
1 ½ oz Tullamore Dew Whiskey
¾ oz lemon juice
¾ oz honey
½ cup hot water
Clove studded lemon for garnish  
Directions 
Using a glass coffee mug (or any mug with a handle since the drink will be hot), add whiskey, lemon juice and honey to mug, top with hot water, stir and garnish with clove studded lemon. 
"That initial warmness after your first sip is what makes this the quintessential holiday drink because if you're feeling cold or if you have a cold, this drink is perfect to warm you up and make you feel better," said Elizabeth Taggart, general manager at Bar on Buena and creator of this recipe. For the non-alcoholic version, replace whiskey with your favorite tea and use one cup of hot water.
2. Coquito – Coconut Eggnog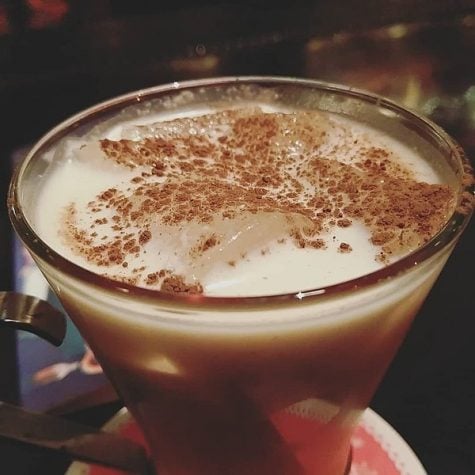 6 servings, ready in 5 minutes
Ingredients
2 cans of evaporated milk
1 can cream of coconut
1 can coconut milk
½ cup sweet condensed milk
¼ cup Captain Morgan spiced rum
¼ cup Bacardi coconut rum
¼ cup Bacardi Gold rum
1 tsp. vanilla extract
½ tsp. ground cinnamon (plus more for garnish if desired)
Cinnamon sticks (optional for garnish)
Directions
In bowl or blender, add evaporated milk, cream of coconut, coconut milk, sweetened condensed milk, rum, vanilla extract and ground cinnamon. Blend on high until mixture is well-combined for one to two minutes. Pour coconut mixture into glass bottles and cover. Transfer to refrigerator and chill until cold. To serve, stir or shake bottle well to combine. Pour coquito into small cocktail glasses. Garnish with ground cinnamon and cinnamon sticks, if desired. If you like coconut and eggnog, you'll love this Puerto Rican drink. This drink is commonly made during Christmas, when it is served cold and meant to be shared with family and friends. 
"If you want to add an extra kick, add one shot of Everclear," said Joe Roman, a DePaul journalism student who recommended this recipe. "For the non-alcoholic, milkshake version of coquito substitute the sweetened condensed milk with regular milk (2% or whole) and instead of liquor, use vanilla and coconut ice cream," Roman said. 
3. Traditional Spiked Eggnog (party size)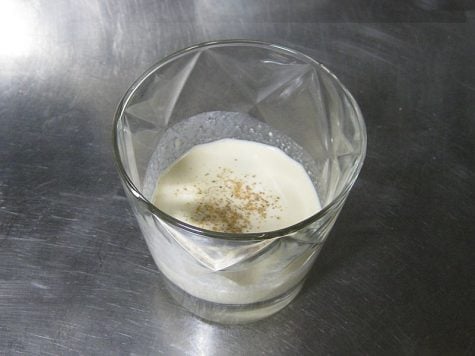 12 servings, ready in 10 minutes
Ingredients
10 large eggs
¾ cup sugar (use 1 cup for sweeter eggnog)
16 oz cognac
8 oz gold rum
4 cups whole milk
Half a nutmeg
Cinnamon stick (optional for garnish)
Directions
Crack the eggs and separate the whites from the yolks and keep both in separate bowls. Whip the sugar with the yolks until it has dissolved. Gradually stir in the spirits and then add milk. In another bowl, whip the egg whites until soft peaks form and then gently fold them into the mix. Grate half a nutmeg on top of mix, cover and refrigerate for one hour. Serve with a ladle in a small cocktail glass with a cinnamon stick as garnish. Of all the drinks during the holiday season, none feel so inherently tied to the Christmas spirit as eggnog. For a non-alcoholic version, follow the same steps but replace alcohol with 1 ½ cups of melted vanilla ice cream.
4. Mulled Red Wine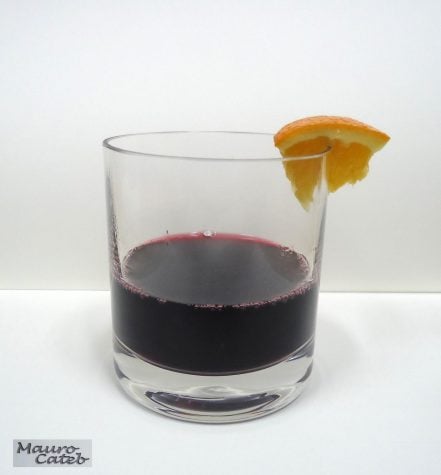 4-5 servings, ready in 20 minutes
Ingredients
1 bottle of red wine (750 ml)
1 orange, sliced into rounds
8 cloves
2 cinnamon sticks
4 tablespoons of honey
Orange slices (optional for garnish)
¼ cup brandy (optional for stronger mulled wine)
Directions
Combine all ingredients in a saucepan and heat until the mixture reaches a simmer over medium-high heat. Avoid boiling because you don't want to boil off the alcohol. Reduce heat to medium-low, cover and let the wine simmer for at least 15 minutes. Strain and serve warm with your desired garnishes in a glass coffee mug or any mug with a handle. Mulled wine is incredibly easy to make on the stove, and it's also easy to customize with your favorite spices and garnishes, making it a cozy and delicious drink perfect for the winter holiday. For the non-alcoholic version, replace wine with one bottle of grape juice and follow the same steps.
5. Fall Manhattan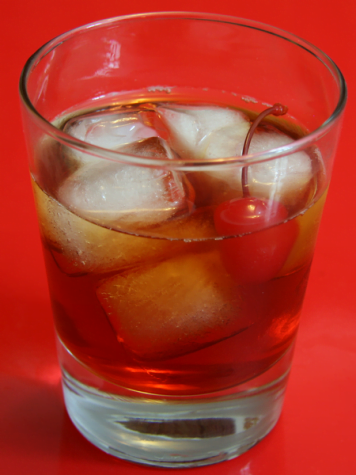 1 serving, ready in 5 minutes
Ingredients
2 oz whiskey (J.T.S. Brown Bottled in Bond Bourbon recommended by Bar on Buena)
½ oz sweet vermouth
3 dashes of cranberry bitters
Orange peel (for garnish)
Black cherry (for garnish)
Directions
Stir the liquid ingredients together in a tall glass and pour over fresh ice in a short cocktail glass. Twist orange peel over drink and rub around the rim of the glass. Garnish with black cherry and orange peel twist. 
"This classic cocktail takes a holiday twist with the aromas and taste of the cranberry bitters and orange, which reminds us of the fruits of the winter season," Taggart said. For the non-alcoholic version, replace alcohol with cranberry juice and add a tablespoon of grenadine.