Chicago's best holiday pop-up bars
Homeslice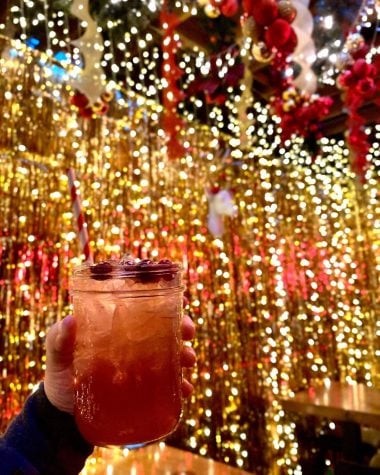 Walking into Homeslice during this time of year is like walking into a store after Buddy the Elf had a go at it. Wall-to-floor decor that gets you lost in thought when trying to order one of their delicious pizzas. Right away you are taken aback by how precise every bulb and ornament is hung up on the walls. Not one thing is tangled or out of place. Unlike other Christmas-themed places around Chicago, Homeslice stuck with a more red theme. Along the walls were long, silver beads hanging from the ceiling to the floor. Windows are draped in white lights. It is really the ceiling that locks you in because it is 100 percent covered. While enjoying the pizza and drinks, you feel for a little bit like a child again, which is important for college students. This isn't as much a bar as it is a sit-down pizza joint, but both things can happen there! Homeslice is conveniently located on DePaul's Lincoln Park campus and is sure to bring holiday feels to those who don't get to go home for Christmas. 
Paradise Park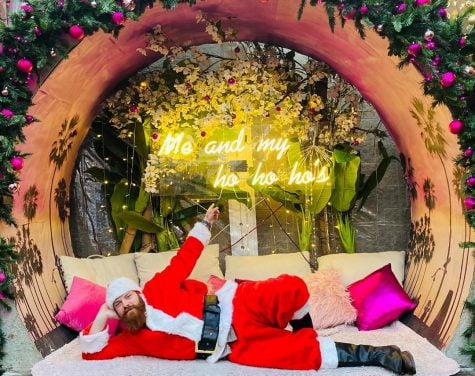 Paradise Park is similar to Homeslice due to them having the same pizza menu, but you get a completely different experience here. The decorations here make it feel like you are in Florida during Christmastime. When you first walk in, there are tons of pink flamingos covered in lights hanging from the ceiling. The signature Instagram-worthy couch, which is very pink, has a sign that says, "Me and my ho ho hos." Next to the couch was a gorgeous booth that had mirrors and greenery surrounding the walls because, well, who wouldn't want to look in the mirror while they devour pizza? There were a ton of colors filling up the room and every part had a different decoration. Closer to the bar, the lights were covered in what looked like tinsel chandeliers. Across from that was a huge sign that said, "HO HO HO" in red, green and white. Homeslice had one theme throughout, whereas Paradise Park threw up Christmas differently in each part of the bar. There are these big booths which are meant for parties, and above them hung white, blue and silver tinsel along with snowflakes to give a winter wonderland, Christmasy vibe. This may all be a lot to take in, but it is truly a fun place to be. On top of pizza and drinks, they have a free water station with lemons and cucumber – setting the bar high, right? Both of which had Santa hats on them. Paradise Park is a place to check out before the year ends. Whether it be for the pizza or to drink, getting lost in an endless array of lights is needed before the cold of winter hits.
Happy Camper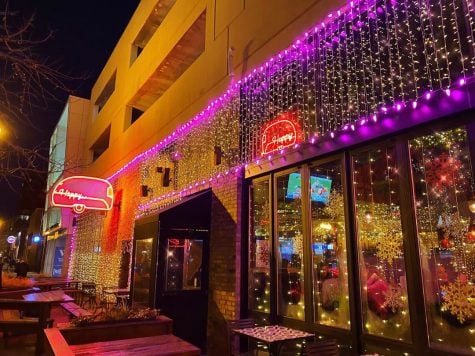 On what is basically Santa Claws Lane this year, Clark Street is bustling with holiday cheer. Walking down it seems like an adult version of Whoville. Happy Camper draws you in easily from the outside, which is hard to do since there are about 15 Christmas pop-up bars around it, including one directly attached. The outside has white and blue lights draping down the big, open windows, showing off the decorative high ceilings and the patio that is on the top. They went all-out even before you stepped into the bar. One adorable Instagram-worthy area was the swings you could sit on and above is a sign that says, "Happy alco holidays," and it's framed in colorful lights. There are far more lights here than ornaments and there is a green and red theme carried throughout. The high ceilings make it easy for them to hang long lights and have them dangle above you, some with having an ornament hanging on the bottom. If you are looking for a themed Christmas bar that is focused more on the drinks, head to Happy Camper. It is like drinking at the North Pole on a Saturday night and the elves have the weekend off.