Australian bushfires point to dire future for climate crisis
As bushfires continue to rage across the island of Australia for the fifth month in a row, the rest of the world now has no choice but to take note of the devastation and the factors that caused it. Millions of acres have been leveled by the flames, an estimated half a billion animals have been killed and over two dozen people have lost their lives to the ongoing disaster.
Barbara Willard, a DePaul communications professor with expertise in environmental rhetoric, has taken note of how people talk about climate change for the past few decades. Today, she says, the conversation has shifted to focus on what the phenomenon has become: a crisis. 
"We need these really in some ways simple terms where people can really understand the gravity of the situation," she said.
American firefighters touched down last week to aid in the fight, but with no substantial rainfall forecasted, an end to the bushfires sweeping the nation  remains out of reach. What were once annual occurrences during fire season have become increasingly devastating disasters, exacerbated by abnormally dry conditions and drought brought about by climate change.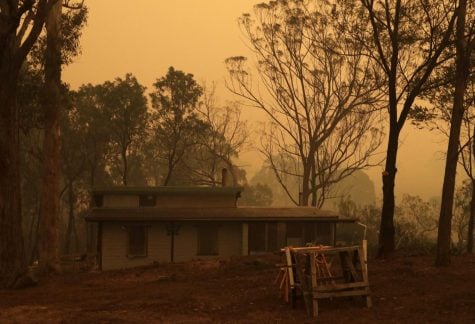 "The worst reason for us to become concerned or get behind climate change or the idea of it is just the disasters we are consistently confronted with," Willard said. "Whether it be the wildfires in the West, certainly the bushfires in Australia right now, the intensity of storms, the intensity of flooding all of that is showing us what our future is going to be. And when it starts to hit home for people, literally their home being engulfed in flames in tornadoes of fire, then they start really looking more seriously at climate change."
In a televised interview yesterday, Australian Prime Minister Scott Morrison expressed regret over how his government has handled the crisis. Public outrage has plagued Morrison throughout the fires, including his decision to take a vacation in Hawaii at one of the fire's worst points and his overall climate policy, which some have argued does not do enough when it comes to curbing emissions and preventing the conditions for these disasters. 
In response to nationwide complaints concerning his leadership, Morrison initiated a formal public inquiry, known as a royal commission, to look in depth at his government's response to the monthslong fires, including the distribution of federal resources. 
"I think it's too much for most people to get their heads around because it is sort of this apocalyptic vision," Willard said. But now more than ever, she says, people are starting to truly grasp the gravity of the crisis. 
With figures like Greta Thunberg gaining worldwide status as a pioneer for the younger generation of climate change activists, the conversation is set to shift even more in the weeks, months and years to come. 
"Her presence, her sort of way of speaking, has just attracted the attention of the global population and has really been able to speak to the youth population," Willard said of Thunberg. "Which has encouraged them to organize and get out and at least make their voices heard."