DePaul basketball teams on opposite end of tight games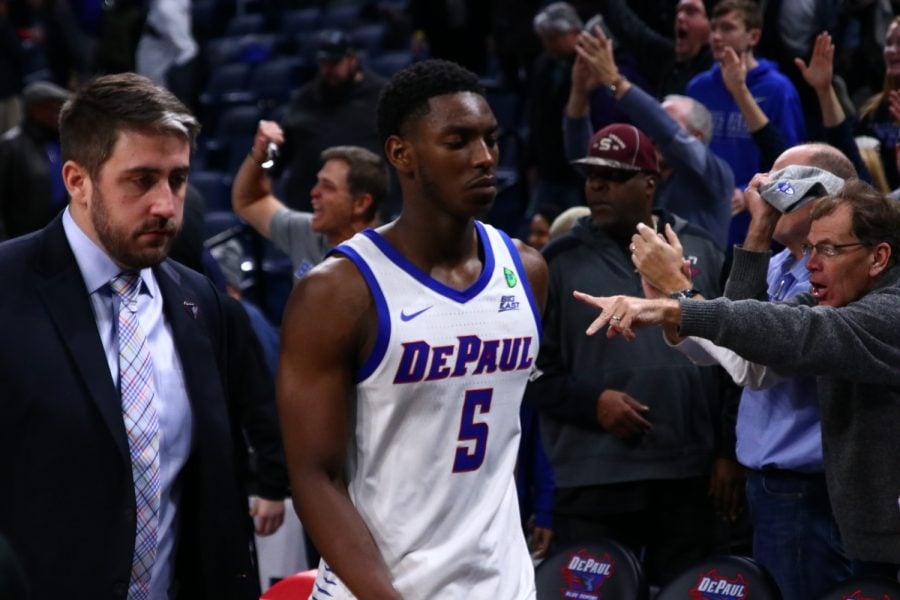 The DePaul men's basketball team hosted Providence on Jan. 4 in search of their first Big East win of the year, a game that saw the  Blue Demons play a tight game with the Friars throughout the entire 40 minutes. But, like DePaul fans have become accustomed to, the Blue Demons committed a  foul with 1.1 seconds to play, and Providence's Nate Watson sank a free throw to give his team a 66-65 win.
Just a day later, it was the women's team turn to play their third conference game of the year – but unlike the men's team, they went into their third game 2-0 in Big East play. After winning their first two conference games by a combined 31 points, the Blue Demons had a much closer game against Creighton on Jan. 5 that came  down to senior guard Chante Stonewall's game-winning free throw.
While there are plenty of differences between the men's and women's basketball teams, the biggest one, arguably, is one team's ability to consistently win close games and the other team's ability to find new ways to lose close games. That dynamic was on full display last weekend when the men came up short and the women's team made two big plays against Creighton to stay unbeaten in conference play.
"You win big games by executing the little things," women's basketball head coach Doug Bruno said. "All big games are won by the team that executes the most small details. So, it's the smallest of the details that are executed the most that actually win the big games."
Since 2015, the women's team is 34-18 in games decided by 10 points or fewer, and has gone 15-4 in those games since the start of last season. In the Big East Tournament championship game against Marquette last season, Stonewall delivered with a 3-point play with five seconds remaining to give the Blue Demons a 74-73 victory.
"In our game against Syracuse [last season] in Cancun, I just got fouled [at the end of the game] and I had to make two free throws and I missed them both," Stonewall said. "If I would have made those free throws, we could have won that game, so that was one of those disappointing moments. I never really blame myself, I just know that I'm going to have that chance again. I actually had that chance at the Marquette game and I was thinking, 'Wow, in that big game against Syracuse I missed my free throws and here's a chance for redemption time for me to make up for that.' So, I was super happy making [the free throw] that earned us a Big East Championship."
At Creighton on Jan. 5, it was a Stonewall free throw that gave DePaul a 71-70 lead and then senior guard Kelly Campbell sealed the win with a steal on Creighton's last possession.
"Stepping up in the big moment seems like a big deal, but it's really nothing more than the preparation and work when nobody is watching," Bruno said. When you work when nobody is watching that allows you to step up in the big moment. We really work hard on teaching our players before every game to have anxiety over [the] execution, not anxiety over the result. Not worrying about the result, but having concern over the execution, you then execute the little things necessary to get the result. That's what we do from a coaching perspective, players still have to step up and make plays."
On the flip side, the men's team is still searching for consistency in their game, even though they are off to their best start since 1986-87. But the issue that has been a problem under head coach Dave Leitao in prior years has plagued the Blue Demons early on in conference play: closing games.
After the Providence loss, junior guard Charlie Moore used one word to describe what his team needs to do better in clutch moments.
"Execution," Moore said. "We can execute a whole lot better down the stretch. That's something we have been talking about, that we know and something we are going to continue to get better at."
Since Leitao returned to Lincoln Park in 2015, his teams are 26-38 in games decided by 10 points or fewer. But the hope was with the increase in talent this season that the team would figure out how to win close games. and
As the women's team continues to win games and is on the path to making the NCAA Tournament for the 18th season in a row, the men's team – who have put together an impressive non-conference resume – understand they have to improve their late-game collapses in order to reach their ultimate goal – the NCAA Tournament.
"You create your own good fortune and as I've always said, a one-point loss to Providence means I can go back and track 20-30 different things that can cause that we felt maybe shouldn't have come down to that," Leitao said. "But you want to be able to close out games and we've talked about that last year, and we got to make sure that we make the right plays, and most importantly [be] in the right frame of mind so we can make the right plays on offense and defense."