Purchase or pass? Influencer-backed eyeshadows receive mixed reviews
The new decade anticipates the restock of last season's most hyped eyeshadow palettes. Jeffree Star Cosmetics's Conspiracy Palette, Tati Beauty's Textured Neutrals Palette and Morphe's The James Charles Palette have dominated social media feeds, yet have makeup enthusiasts wondering if these products live up to their hype. 
Jeffree Star's Conspiracy Palette, in collaboration with Shane Dawson, sold one million units within hours. According to Star's self-proclaimed profit margins, that would leave Star and Dawson with an estimated $32 million gross profit. 
Star's former close friend, Tati Westbrook, launched her new company, Tati Beauty, with the Textured Neutrals Palette Vol. 1. According to Westbrook, her palette sold 100,000 units in the first 12 hours.
"Morphe X James Charles The Mini Palette" launched a few weeks apart from Westbrook's and Star's palette and did not sell out like its larger companion did the year prior. Given the size of each of their following, it's fitting to put each palette in a beauty battle.
Jeffree Star Cosmetics' Conspiracy Palette has the feel of a high-end product. The thick cardboard, metal latches and large mirror seem to surpass packaging standards. Unfortunately, it is hard to store and hard to travel with. 
At least with the sturdy packaging, I know that my palette will travel safely. Personally, I prefer the packaging on the Tati Beauty and Morphe palettes instead.
The eyeshadows are the most blendable eyeshadows that I have ever used. If someone is afraid of using black eyeshadow, the shade My Ride's Here is the perfect black shade to experiment with. 
However, some shades blend so well that sometimes they blend into dust and disappear. I have struggled to layer shadows and get them to blend together. 
Another con that I have come across is that the eyeshadows have a lot of fall out. I have to switch up my routine and try applying eyeshadow before the foundation with this palette.
The eyeshadow colors are stunning in the pan. Some shades disappoint me, like the pink Trisha shade which lacks pigment, while others have become go-to's like Tanacon and Just a Theory.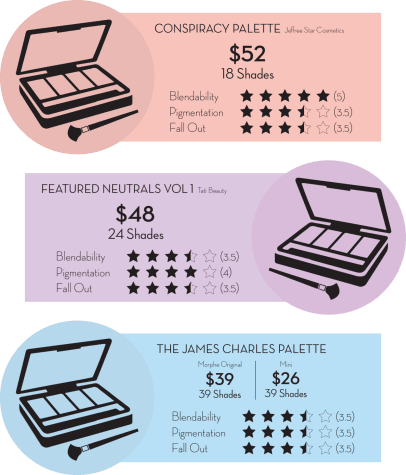 Certain matte shades seem to have unexpected glitters in them, which become visual on the eye. They remind me of Tati Beauty's hybrid eyeshadow glitter/matte hybrids called equin. The top row consists of wearable shades while the rest of the palette can be more challenging on a daily basis. 
This Conspiracy Palette could be a great addition to your collection if you want something that blends effortlessly and you enjoy bold looks. When I first got my hands on this palette, I felt much more creative with my looks and wanted to use this every day.
Tati Beauty's Textured Neutrals Palette Vol. 1 displays six shades with four different finishes. The sleek packaging with a large mirror makes the Tati Beauty palette a great option to store and allows the user to enjoy it, without the extra steps like unclasping. The soft rubber texture is prone to makeup smudges and would need more maintenance than the Conspiracy and The James Charles Palettes.
The flattering tones of this eyeshadow calls to me like sirens do sailors. The mix of cool and warm shades can give users an array of monochromatic looks to glam up using glitter and metallic shades. Shades can be mixed and matched for an endless supply of sophisticated looks.
The metallic shades are soft and creamy. They are the best I have used and are quite under-rated, compared to their glitter counterpart. The star of the show, the glitters,  apply better than most pressed glitters. They don't need a glitter glue base and are much less messier to apply on the eye than loose glitter shadows, but there still is glitter fallout. 
Even with a gorgeous supply of glamourous looks, this palette lacks the ability to give users variety. I would never reach for this palette on a day I wasn't prepared to glow up with glitters. Without these glitter shades, the palette is uninspiring and shades I already own.
The sequin shades do not serve enough purpose to be 25 percent of the shades. I could not think of a single instance where I would need them. The matte shades are pigmented, but blend more like a Morphe eyeshadow shade. I have to work with them more than I am used to after using the Conspiracy Palette. 
It is perfect for creating flattering, and dare I say, feminine looks. There are a limited amount of shades that stand out and I don't see myself wearing glitter frequently enough to make use of this palette. I also have not been thrilled about any of the looks I have created with it so far.
Morphe's the James Charles Palette sold out in less than 10 minutes during its original launch in 2018 and themini sequel didn't get the same response as the original palette. The 39 pan eyeshadow palette is the underdog, but is actually more in the running than many people may think.
When I was considering purchasing this palette, I played with Morphe's best selling palettes at Ulta Beauty. I tested their original 35 eyeshadow palettes, the raved Jaclyn Hill Eyeshadow Palette, Hill's vault collection and Charles' palette. The shadows couldn't compare to the James Charles Palette's pigmentation and soft texture.
The packaging is my favorite type: thin, black and magnetic. Plus, the packaging has similar material to the Conspiracy Palette, so it's relatively smudge resistant. 
The full-size palette does not have a mirror, but the mini version does. I normally use a wall mirror, so eyeshadow palette mirrors don't impress me.
This eyeshadow palette inspired me to create looks that I never thought I would wear. I dabbled in blues, yellows and greens. So much so, that I had to put it away and pull out a neutral palette to curb my growing addiction.
That's not without the growing pains of a palette that is lower in cost and not all of the shades perform the same. Some shades, like Cola, are so dry that you're practically scraping the pigment so you can glue the scraps down with eyeshadow primer. While others, like So Good, is actually so good. 
The palette gives more users every shade they could need to complete varying looks. It is a great companion palette to have, especially if you only wear colorful looks on days you're feeling frisky. There are better quality eyeshadows on the market, if you're willing to pay a higher price.
All three influencer-backed eyeshadow palettes have taken over the social media feeds of every cosmetic enthusiast with a wifi connection. As these palettes restock, just remember that these influencers are called influencers because they can influence you, too.