Parson's Chicken & Fish offers delectable food at reasonable price
The Lincoln Park neighborhood of Chicago offers a diverse list of restaurants, bars and cafes right off the Fullerton CTA station. The bustling people, DePaul campus and more fill the area with constant energy. Such an area was the perfect location for a new Parson's Chicken & Fish restaurant.
The new location gives an older style diner vibe on the outside with a classic white and red theme. The restaurant's Christmas lights are still up, which really  addto the charm. Inside it takes you into a very modern and industrial style with a hint of green. Although it is named Parson's Chicken & Fish, the restaurant's aesthetic doesn't feel like that is the type of food you'll get.
The two page menu offers all things fried and  some not – starting with what they call fresh and moving to fried. There are plenty of options for food and their extensive drinking menu complements the selection. There is a section for beer, canned beer and even beer cocktails, on top of frozen slushies, cocktails and wine. The point is, do not worry about leaving with an empty stomach.
There were far too many things to choose from, but I was lucky enough to be able to try a solid nine things off the menu and not one single thing was disappointing – the small chair maybe, but that's about it. It is a big space and did not feel overcrowded and you couldn't hear word for word what the table next to you was saying.
The restaurant lets you seat yourself, which I personally enjoy has a customer, but can see how it could cause disorganization as an employee. Nonetheless, the service was stellar and the waitress broke down the menu as well as giving her recommendations with a splash of humor and pinch of sass.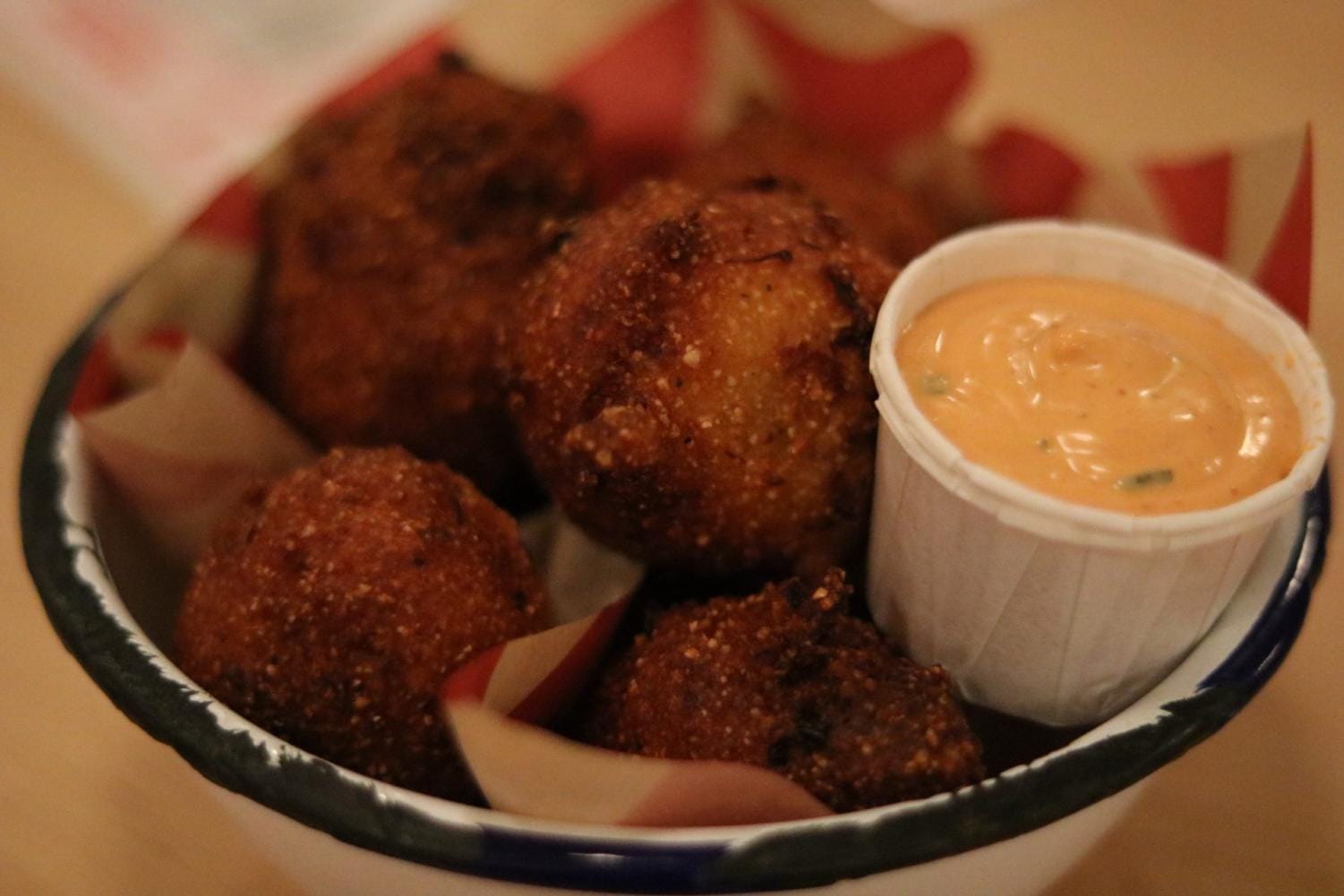 I was able to try the mac and cheese, mashed potatoes and gravy, texas toast, hush puppies, fried chicken sandwich, fried fish sandwich, and fried chicken. If reading that doesn't make your mouth water, it should. Although the menu is somewhat expensive, I will say that for the quality and amount of food, it is worth it. Justifying $4 on toast is easy when they give you six slices to munch on.
The sides of mac and cheese, potatoes and texas toast all felt and tasted homemade. The potatoes in particular  tasted like they came straight out of a Thanksgiving feast.. The mac was delectably creamy and gave you that baked crispy topping we all need and love. The toast was a surprise. With what just looked like regular toast came with a hint of spice and salt. The toast comes seasoned and paired well when dipped in the gravy covered potatoes.
The main course, which consisted of the two sandwiches and fried chicken, were just as perfectly cooked as the sides. Of course, anything fried here was bound to be delicious. Parson's has mastered the perfect amount of crisp and juiceness. Both the fish and fried chicken sandwich paired well with the american cheese, hot sauce and a plethora of other toppings. Nothing can beat the perfect balance of a crispy piece of meat on a toasted buttered bun.
The two pieces of fried chicken, a thigh and a leg were so juicy that one bite in, my cheek was hit with lava I'd assume. I powered through due to the incredible fried skin. The dark meat was wonderful and you can tell the recipe has been mastered. There was not one thing that didn't taste great with the fried chicken, but that is not surprising.
The Moscow Mule and Cosmo-Not were used to wash down the taste explosion. Though fruity and sweet, they fell short with the alcohol. They were reasonably priced drinks, but I expected a strong alcohol flavor.
Parson's Chicken & Fish chose the right location and is bound to be a hit once it gets warmer, with a fun outdoor area and bar with plenty of room to dance with inviting lights and what looks like wooden bleachers to sit on when you are partied out.
Whether it is fried or not, the options give anyone the chance to enjoy these home cooked flavored foods, great people and atmosphere.