Nation & World Briefs: Oct. 20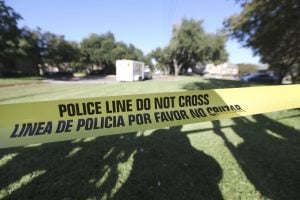 Ebola exposure spreads further to Dallas nurses
Federal health officials said Thursday they still don't know how two Dallas nurses caught Ebola from a patient, as criticism increased from lawmakers who questioned whether the nation is prepared to stop the deadly virus from spreading in the U.S.
The revelation that one of the hospital nurses was cleared to fly on a commercial airline the day before she was diagnosed raised new alarms about the American response to the Ebola outbreak in West Africa. The death toll is expected to climb above 4,500 in Africa, all but a few within Liberia, Sierra Leone and New Guinea, the World Health Organization said.
The first nurse stricken in the U.S., Nina Pham, who contracted Ebola after treating a Liberian man in Dallas, was being flown to the National Institutes of Health outside Washington on Thursday, while a second nurse has already been transferred to a biohazard infectious disease center at Emory University Hospital in Atlanta.
The two nurses, Pham and Amber Joy Vinson, had been involved in providing care to Thomas Duncan, who died of Ebola last week.
In Washington, President Barack Obama directed his administration to respond in a "much more aggressive way" to the threat and, for the second day in a row, canceled his out-of-town trips to stay in Washington and monitor the Ebola response.
In a hearing on Capitol Hill, the chairman of a House committee cited "demonstrated failures" in the government's response. Rep. Tim Murphy of Pennsylvania said the "trust and credibility of the administration and government are waning as the American public loses confidence each day." Seated before him were leaders of the Centers for Disease Control and Prevention and the NIH.
Dr. Tom Frieden, director of the CDC, testified that despite the latest incidents, "we remain confident that our public health and health care systems can prevent an Ebola outbreak here."
Additional shooting reignites tensions in St. Louis
Police arrested dozens of protesters during the final of four days of rallies and civil disturbance to express anger at the fatal shooting of Michael Brown, a black 18-year-old, by a white police officer in a St. Louis suburb.
Organizers of the Ferguson October protests dubbed the day "Moral Monday" and committed acts of civil disobedience in and around St. Louis. More than 50 people were arrested.
Hundreds of protesters marched on Ferguson police headquarters where they stayed for almost four hours to mark how long Brown's body was left in a Ferguson street after he was killed.
Some protesters used a bullhorn to read the names of people killed by police nationwide. Christian, Jewish and Muslim clergy members — some of whom were among the first arrested — led a prayer service before marching to the police station two blocks away.
Protests have been common since Brown, who was unarmed, was killed by Darren Wilson on Aug. 9. Tensions escalated last week when a white police officer in St. Louis fatally shot another black 18-year-old, Vonderrit Myers Jr., who police say fired the first shots.
"My faith compels me to be here," Bishop Wayne Smith of the Episcopal Diocese of Missouri said outside Ferguson police headquarters. "I want to show solidarity, and call attention to the structural racism of St. Louis."
Protesters were met by about 40 officers in riot gear. Several clergy members approached individual officers and asked them to "repent" for Brown's killing and other acts of violence. Some officers engaged the protesters, while others ignored the efforts.
"My heart feels that this has been going on too long," Ferguson officer Ray Nabzdyk told the clergy. "We all stand in fault because we didn't address this."
Outside Emerson Electric headquarters in Ferguson, six people were arrested for failing to disperse after blocking a street, St. Louis County Police spokesman Brian Schellman said. Emerson is one of the region's largest employers.
Among several other rallies, about 100 protesters blew whistles at St. Louis City Hall that echoed off the marble walls. Protest leader Kennard Williams presented a list of four demands to Jeff Rainford, chief of staff for Mayor Francis Slay. Slay was not in the office Monday.
The demands called for an end to participation in a program providing military equipment to police, body cameras for all officers, a civilian review board for police and mandatory independent investigations whenever police kill someone.
Rainford said St. Louis is not part of the militarization program; he promised the other demands would be taken seriously.
Ferguson October began Friday with protesters marching to the St. Louis County prosecutor's office and renewing calls for charges against Wilson. A grand jury is reviewing the case, and the U.S. Justice Department is conducting a civil rights investigation.
Kim Jong-Un reappears after long public absence
After vanishing from the public eye for nearly six weeks, North Korean leader Kim Jong Un is back, ending rumors that he was gravely ill, deposed or worse.
Now, a new, albeit smaller, mystery has emerged: Why the cane?
Kim, who was last seen publicly at a Sept. 3 concert, appeared in images released by state media Tuesday smiling broadly and supporting himself with a walking stick while touring the newly built Wisong Scientists Residential District and another new institute in Pyongyang, part of his regular "field guidance" tours. The North didn't say when the visit happened, nor did it address the leader's health.
Kim's appearance allowed the country's massive propaganda apparatus to continue doing what it does best — glorify the third generation of Kim family rule. And it will tamp down, at least for the moment, rampant rumors of a coup and serious health problems.
Before Tuesday, Kim missed several high-profile events that he normally attends and was described in an official documentary last month as experiencing "discomfort."
Archive footage from August showed him overweight and limping, prompting the South Korean media to speculate he had undergone surgery on his ankles. Some experts thought he was suffering from gout or diabetes.
In Washington, State Department spokeswoman Jen Psaki said the U.S. didn't have any reason to doubt the authenticity of the latest images, although she added that because of the opacity of the North Korean regime, there's always a question about the reliability of publicly available information.
A South Korean analyst said Kim probably broke his media silence to dispel outside speculation that he wasn't in control and to win sympathy from a domestic audience by creating the image of a leader who works through pain.