Steppenwolf Theatre's 'Animal Farm' brings Orwell tale to the stage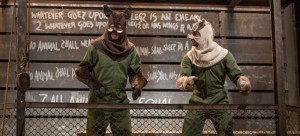 The productions presented in Steppenwolf for Young Adults may be geared toward a younger audience, but they seem to somehow always transcend their genre. These shows contain something powerful and entertaining for every age group that comes to experience them.
This fall, Steppenwolf's "Animal Farm" provides a wealth of thematic importance for young students and adults alike. The show is a theatrical re-telling of George Orwell's classic novel, in which a group of animals enact a revolution against their terrible master and create a society of their very own.
"It's a really good adaptation in terms of the book, to my understanding," actress and DePaul graduate Celeste M. Cooper, who is an understudy for two of the production's main characters, said. "The animals take over the farm, which is called Manor Farm, and they turn it into Animal Farm because they are thinking, 'Oh, we won't have to be a slave to the man any more.'"
Though the main characters within the story are animals, the message they convey rings true for all people.
"They have animal masks on, but it is real people today," Cooper said.
The responsibilities that she will be taking on within the production are no small feat, she said.
"I am an understudy for two roles, Old Major and Julia," she said. "Old Major is an old sow and Julia is a cow. Old Major actually is in the show probably the first 10 minutes and then she dies, but she is the one who brought about this revolution. She is the one who has this voice and presence that gets the animals to a place where there are not going to allow this man to abuse them any more."
Though "Animal Farm" is labeled as theater for young adults, it provides so much more than this label implies.
"It's going toward our middle and high school students," Cooper said. "But at the same time, as an adult, I am blown away by all the different themes and things that come up within this show."
Though Cooper's career is taking off, she said she's grateful for the roots that she established in college and all she was able to learn at DePaul.
"I absolutely love The Theatre School," she said. "They have had a huge impact on how my career has gone. I know that DePaul students, in The Theatre School in particular, we are respected and I feel like a lot of us work. I think it's because we have been taught so many things by our professors.
"The things we got from that university … they are amazing, and I owe them a lot. I am so thankful that I went there. They have helped quite a bit, and they are people who I am still able to come talk to. I completely think that they have a lot to do with my success."
Cooper also had a wealth of advice to offer young actors and actresses who are aspiring to make their way in the world of theater today.
"I would say one of the best things that I think they can do is be spiritually grounded," she said. "It's OK to have those insecure moments, that's natural and that's normal. But if you don't believe, then no one else is going to. So whatever they need to do, whether it is something that is some type of spiritually or connection or whatever it may be I think find it and stay with it."
Cooper said to be a successful actor, you have to work hard and you have to treat people how you want to be treated.
"That goes for everybody," she said. "It doesn't go just for your director or for your teacher. It goes for the person in the cast, the person working the lights board, the stage manager, the house manager. Everybody is so important in the making and breaking of your career."
"Animal Farm" is playing at Steppenwolf until Nov. 9.