Changing the political agenda vote by vote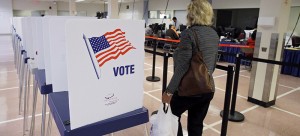 With only one week left before Election Day, the stakes could not be any higher. With control of the Senate up for grabs and the Illinois governor's race in a dead heat, there is a lot left to be decided. Of course, with it being a midterm election, one would expect a drop-off in voter participation. This lack of urgency is particularly noticeable on college campuses.
Certainly, students are among the many Americans frustrated with Washington and the way things are (not) happening. Since the GOP took control of the House in 2010, the government has been largely gridlocked, ineffective and moving from crisis to crisis with no long-term plan to move the country forward. Look at any poll and it will say that a majority of Americans disapprove of the president's job performance, Congress' performance and think that the country is headed in the wrong direction.
And, yes, there is a lot to complain about, especially when it comes to issues important to young people. Student loans, the post-college unemployment rate and issues of social justice all come to mind.
Yes, there are problems, but with every problem comes a solution, and this one is as easy as it gets: Become educated on the issues, vote and tell your friends to do the same.
Despite all the problems facing the country, Americans get to make their voice heard every two years at the ballot box. It is a fundamental right that should be treated as a privilege seeing how so many around the world are denied the opportunity.
Of course, one may think that their vote does not count at the end of the day. This feeling may be magnified by the Supreme Court's decision in 2010 that stated unlimited sums of money in politics are protected by free speech.
Despite this, more money does not equal more votes. A vote from a DePaul student carries the same weight as a wealthy Lincoln Park resident. Everyone is equal, if they choose to be.
In 2010, according to a study conducted by the Center for Information and Research on Civic Learning and Engagement at Tufts University in Boston, only 24 percent of eligible voters in the 18-to 29-year-old age group voted in that year's midterm election. Compare that to eligible voters in the 30 and older category who voted at double              that percentage.
Simply put, there is a reason why Medicare and Social Security are still around while federal aid for college students has not kept up with rising tuition costs. Senior citizens vote; young people do not. Politicians do not listen to us because they are not afraid of us. We may get frustrated, but we do not vote and hold them accountable to our needs.
Young people are the future of this country. Young people will have to take on the problems that our current leaders could not, or choose not, to deal with. Therefore, young people should be considered when leaders make these decisions; whether it's the future of our city, our state, our country or our world.
To be taken seriously, young people must use the power of the vote to assert their voice in the discussion. After all, no one  has the right to complain about the actions and inactions of our political leaders if they decide to stay home on Election Day.
It is amazing how committed DePaul students are to their clubs, activities, and a shared fight for social justice. Let's bring that passion with us to the voting                    booth on Nov. 4.
Former President Franklin D. Roosevelt once said, "Nobody will ever deprive the American people of the right to vote except the American people themselves and the only way they could do this is by not voting."
Let's not sell ourselves short. Whether we vote on Election Day, participate in early voting, or vote by mail, it makes a difference. No matter which way you do it or which candidate you back, vote.