The ghoul next door: Undead among us throughout many Chicago neighborhoods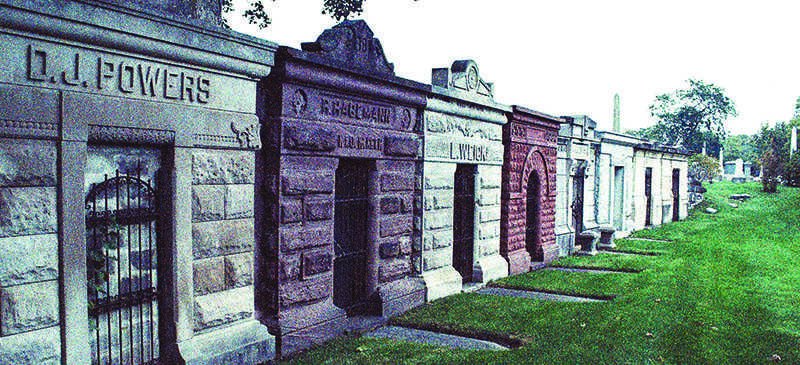 Chicago doesn't need a dark and scary night for a good ghost story. The city's long history of gang violence, roaring fires and freak accidents is enough to haunt your nightmares with ghosts and ghouls for the next 100 years.
Well, that is if you believe in that kind of thing.
"I've never experienced a ghost but I think the concept is interesting," DePaul junior Megan Thall said. "But I'd be freaked out if I ever saw one."
Whether you take stock in tales of the unknown, there is something to be said in the stories these apparitions are based on. DePaul Professor Joyce Miller Bean teaches a class called Haunted Chicago: The Ghost Story as Oral and Written Narrative at DePaul. The course dives into the folklore surrounding the neighborhoods of Chicago while visiting some of the most haunted locations in the city.
This idea is the foundation for a class steeped in Chicago's most haunted history. The class focuses on ancient folklore, gothic tales and collecting ghost stories from Chicago's ethnic neighborhoods including Lincoln Square, Andersonville and Ukrainian Village.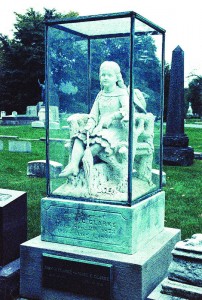 The class treats students to a bus tour by Ursula Bielski's Chicago Hauntings company. The tour takes riders to the Iroquois Theater, Jane Addams' Hull House and Graceland Cemetery. Bean's students have experienced a few encounters of their own while on the tour.
One instance occurred near the Chicago River, the location of the Eastland boat sinking of 1915, a tragedy that took the lives of hundreds of people.
"One of my students called us over and said, 'You guys aren't going to believe this,' " Bean said. "But he captured what really looked like a face coming out of the water."
It's not just seeing ghosts that have spooked students. A frequent occurrence while visiting these haunted locations around the city is the disabling of recording devices such as cameras and cellphones. At both the Hull House and Death Alley at the Iroquois Theater, visitors won't be able to record or take photos because their equipment will often mysteriously stop working.
"Some argue that the energy of a horrible murder or the alley behind the Iroquois Theater was almost embedded into the bricks of the building and that energy is what conflicts with our electronics," Bean said.
Adriana Henriquez, a senior at DePaul, said she had a supernatural experience while at the Hull House on the Chicago Hauntings tour with the DePaul Activities Board in 2013.
"On my camera you could see a white blur in the house,"  Henriquez said. "It was pretty creepy."
Though the experience was spooky, she still isn't convinced.
"I'm a bit skeptical about ghosts just because even though I got a picture I never felt like there was any other evidence that proved they were real," she said.
But Chicago's landmarks might not be the only places in Chicago to experience phantom activity. According to Bean, several of the dorms on DePaul's campus may also be haunted.
"One of my students actually moved out of her dorm because she had woken up the previous Saturday and there was a man standing in the shadows of her room," Bean said. "She freaked out and started screaming, of course not thinking it was a ghost. The man looked at her and she heard people running down the hall toward her but she was too afraid to move. She sat up in bed and the man walked calmly, didn't even look at her, right through the wall."
The incident occurred four or five years ago, she said. Bean even experienced seeing a ghostly figure on an early weekday morning nearly two years ago, in the bathroom of one of the academic buildings. The encounter inspired her to write her first book of ghost stories.
So, be careful this Halloween as you step out in your banana costume or Miley Cyrus ensemble. You never know when you might be stepping into ghostly territory.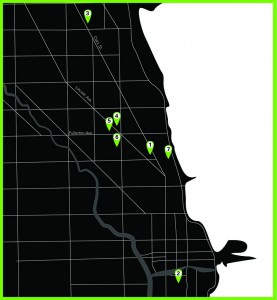 1. St. Valentine's Day Massacre
Chicago's deep history of mob violence culminated on Feb. 14, 1929 in the St. Valentine's Day Massacre. Seven men associated with Al Capone's rival, George "Bug" Moran, were murdered in a garage on Chicago's North Side. About 70 rounds of ammunition were used by a group of men dressed in police uniforms on Moran's men. Though the crime was never officially pinned on Capone because he was in Florida at the time, people widely thought he was responsible. According to legend, you can hear the screams of the seven men, along with the sound of rapid gunfire even though the building itself is no longer there.
2. The Iroquois Theater
Just 32 years after the Great Chicago Fire, another fire left its mark on Chicago and took the lives of 605 people, earning the title of the fourth-deadliest fire in American history. In 1903, the Iroquois Theater opened its doors, claiming to be "fireproof" with plenty of fire exits. But during a Dec. 30 performance of "Mr. Bluebird," an overhead stage light caught fire and quickly engulfed the theater in flames. The faulty doors prevented many of the theatergoers from escaping, with some jumping from the balcony exits only to fall to their deaths in the alley below. The alley today is referred to as Death Alley. Visitors can expect to sense the souls and hear the voices of those 605 people who died horrifically that day.
3. Graceland Cemetery
Graceland Cemetery opened in 1860 after Chicago city officials announced the closing of Chicago City Cemetery. The cemetery is the resting place for several Chicago legends including Marshall Field, Phillip Armour and George Pullman. The most famous young resident is young Inez Clarke. According to legend, Inez Clarke, 6, was visiting the park when a rainstorm blew in. A bolt of lightning struck Clarke killing her. A beautiful, lifelike statue was built in her honor. Some visitors to the cemetery claim they can feel the spirit of the girl near her statue, while others say they've seen a girl playing by the monument dressed in old-fashioned clothes.
4. Biograph Theater alley
In 1934, as the notorious bank robber and Public Enemy No. 1 John Dillinger exited the Biograph Theater on Lincoln Avenue, he was gunned down by federal agents who had been searching for him. The outlaw had taken several precautions to make sure law enforcement officers wouldn't recognize him, including facial surgery and dyeing his hair. There are some conflicting accounts as to whether the man shot in the alley was truly Dillinger. Either way some eyewitnesses say at night, they have caught a glimpse of what appears to be a man wandering through the alley. Is it Dillinger? Or the ghost of the man who took the fall for him?
5. Red Lion Pub
Bars and pubs have long been a place where people can get away, indulge in an alcoholic beverage and steer clear of their troubles. The Red Lion Pub on Lincoln Avenue is no exception. Except, patrons of this bar don't ever seem to want to leave. Eight ghosts are said to roam the halls of the Red Lion from the previous owner's father to a 1920s-era ghost who makes herself known via apparition. She is a mischievous ghost who likes to lock doors and keep female patrons or workers trapped in the bathroom and after a period of time, the door will mysteriously re-open. Late at night and on Sundays are supposedly the best times to take a quick a glimpse of these apparitions.
Video below: DePaulia Focus Editor Erin Yarnall and Asst. Design Editor Carolyn Duff explore spiritual activity in Chicago.