'One big team working together': Federal charges loom over Illinoisans who participated in Capitol breach
March 7, 2021
CHICAGO — A Chicago HVAC worker, a real estate agent, a downstate married couple and a suburban tech company CEO all have one thing in common: they participated in the breach of the U.S. Capitol on Jan. 6.
In some cases, those arrested in connection with the Capitol insurrection had a criminal history, including one Chicago Heights man who for three years made threatening phone calls to members of Congress while posing as a military veteran. 
Hundreds of people gathered at the Capitol on Jan. 6 for what started as a rally, but quickly turned into a mass riot resulting in six deaths, several injured members of law enforcement and destruction of historical property. Rioters broke glass windows, pushed past Capitol police and entered the Senate Chamber where lawmakers were certifying the results of President Joe Biden's victory over Donald Trump in the 2020 Presidential Election.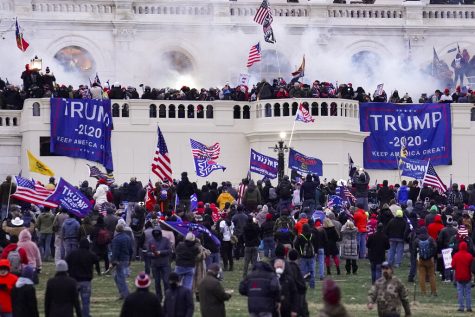 As of March 7, there are 271 federal cases against individuals involved in the Capitol insurrection, according to George Washington University. Of those cases, six Illinois residents are facing federal charges for their involvement in the events that occurred in Washington D.C. last month. 
Several additional Illinois residents have received attention from news outlets for social media posts about their presence at the Capitol on the day of the riot, and in some cases, have been fired from their jobs. 
Trump was acquitted on Feb. 13 in his second impeachment trial with enough senators deciding to not convict him for inciting the insurrection. This comes just 14 months after the U.S. House of Representatives voted to impeach Trump over charges that he abused the power of his office and obstructed Congress in its investigation. 
The Senate impeachment trial that began on Feb. 8 ended the following Saturday with seven Republican senators joining all 50 Democrats voting to convict.
Even prominent Republicans, including Senate Minority Leader Mitch McConnell, blamed Trump for inciting the violence that ensued on Jan. 6 and his lack of action to stop the chaos once it began. 
"The leader of the free world cannot spend weeks thundering that shadowy forces are stealing our country and then be surprised when people believe him and do reckless things," McConnell said immediately following the impeachment trial vote, despite voting to acquit Trump.
Many of the Illinois residents facing charges related to the breach of the Capitol also said on social media that they were inspired by the former president to take action on Jan. 6.
DOJ Press Release by DePaulia on Scribd
"They thought they were one big team working together," said Rep. Jamie Raskin, D-Md., and House impeachment manager during the final hours of the impeachment trial on Feb. 13. "[Trump] told them their great journey together was just beginning and now there are hundreds of criminal prosecutions getting going all over the country….The president who contacted them, solicited them, lured them, invited them, incited them, that president has suddenly gone quiet and dark. Nowhere to be found. He can't be troubled to come here and tell us what happened and tell us why this was the patriotic and constitutional thing to do." 
Lawyers representing those facing charges might find it difficult to rely on such an argument. Former U.S. attorney Ronald Safer told The DePaulia federal prosecutions of the Capitol rioters will differ, "because someone who is charged with trespassing in this case will be handled very differently from someone facing battery or assault charges, for example."
"Does the president have the right to invite you into the Capitol building under any circumstance?" he said. "…It may not turn on actual authority, it could turn on apparent authority. I think that is a stretch when you have police officers who erect barricades and you have to break windows in." 
FBI agents continue to search for those involved in the riots on Jan. 6, and have a running "Most Wanted List" with photos.  
Chicago HVAC worker 'had a dream'  
On the Northwest Side of Chicago in the Gladstone Park neighborhood, Kevin James Lyons was getting ready to make his journey to Washington D.C. Treating it like a road trip, according to federal records, Lyons mapped out a route from his home to the nation's capital.
The 40-year-old HVAC technician was one of many who stormed the U.S. Capitol. One week later, FBI agents showed up to his home to arrest him in connection to the insurrection. Lyons is facing charges for willfully joining a crowd of individuals who unlawfully entered the U.S. Capitol that impeded, disrupted and disturbed the orderly conduct of business by the U.S. House of Representatives and the U.S. Senate. 
According to the affidavit from the U.S. Department of Justice, following the insurrection, law enforcement reviewed posts Lyons made on his now-deleted Instagram page, @chi_hvac. One photo posted on Instagram was captioned, "I refuse to tell my children that I sat back and did nothing. I am heading to DC to STOP THE STEAL!"
Kevin Lyons Affidavit by DePaulia on Scribd
In an interview with federal law enforcement agents two days following the incident, Lyons said he went to Washington D.C. as a tourist attending a Trump rally. He said he was walking around Pennsylvania Avenue and found himself in a crowd of people who pushed toward the Capitol Building. Lyons claimed that he could not escape the crowd because he only weighs 140 pounds. 
 When questioned about the events of the day, according to federal documents, Lyons said he didn't see people damaging things but that he had a dream where he saw "a lot of banging on doors, paper being thrown about and a mob of people." 
Lyons' facade fell when he was shown a picture that was posted on the @chi_hvac Instagram account taken outside of the door of Speaker of the House Nancy Pelosi's office. 
"Wow, you are pretty good. That was only up for an hour," Lyons said to FBI agents.
Officers then asked if Lyons would be willing to provide a copy of a video of people walking around inside the Capitol, according to the affidavit. 
He gave his account of what happened once inside the building, including taking the picture outside of Nancy Pelosi's office. He said her office was a "good size" and there were approximately 20 to 30 people in it. He left her office after a Capitol police officer told him to leave. Once he made his way outside, he stated that he got back in his car and left D.C.
Lyons' views were known by some in his neighborhood, according to Marc Bilek, a neighbor of Lyons.
"Yes, I've had interactions with Kevin," Bilek told CBS 2 reporter Charlie De Mar. "Generally, he seemed a nice guy. He was opinionated. He had opinions about stuff. That's all I could say."
When asked to elaborate, Bilek said Lyons was a Trump supporter and "a Republican in every way" and that Lyons was mad about the abuse, or perceived abuse, of the government on the people. 
WBBM Radio reported that Lyons was suspended without pay from his employer, American Weathermakers. The company did not return requests for comment. 
Lyons had prior run-ins with law enforcement. According to police records, Lyons has a record stemming from a prior arrest in 2014 for obstructing an officer. However, the Chicago Tribune reported that the charge was dismissed shortly after it was filed.
Lyons now faces federal felony charges for his actions at the Capitol, including entering and remaining in a restricted building, doing so "with the intent to disrupt the orderly conduct of official business" and disorderly conduct.
Lawrence Wolf Levin, a longtime Chicagoland criminal defense attorney who is representing Lyons, did not return emails or calls requesting comment. 
Real estate agent posted she deserved a 'much-needed glass of champagne after storming the Capitol'
Standing feet away from the Capitol doors, Libby Andrews, adorned in a Trump hat and pink face mask that was hanging around her neck, posed smiling from ear to ear and holding up a peace sign. "History! It's not done yet!" is how she captioned the photo on her Facebook post dated Jan. 6. 
Later that day, she updated her Facebook friends with a photo of celebratory champagne and a caption that read, "After storming the capital a good glass of champagne is needed."
The 56-year-old Chicago entrepreneur and real estate agent who works largely in the Gold Coast neighborhood has not been charged with involvement in the riots that took place last month, but has plenty of social media posts to prove she was a member of the crowd that day. 
And her former employer, @properties, noticed. Andrews was fired from her job at the real estate brokerage company via a post. 
The company shared on Twitter shortly after the Capitol insurrection that they had terminated her position. "…Effective immediately, @properties is terminating this agent, who acknowledged on social media that she took part in 'storming the Capitol.' @properties does not condone violence, destruction or illegal activities."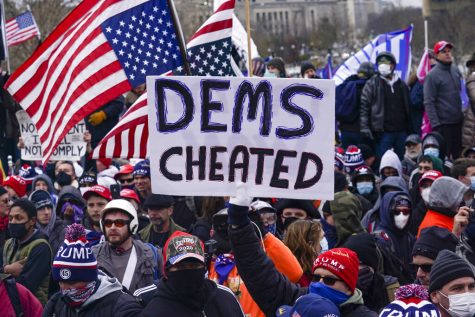 In an interview with Crain's Chicago Business, Andrews stated that she was not contacted by @properties before this statement. In the same interview, Andrews stated any and all violence at the insurrection occurred after she had left and that she was not involved in any destruction or violence. Andrews did not respond to a request for comment. 
Though the original posts have disappeared from Andrews' social media profiles, some remaining posts show her avid support of Trump, including posts from the right-wing conspiracy theorist group QAnon. Comments on one Facebook post of Andrews from the night before the insurrection show her warning others of what was to come the following day, telling them to "enjoy the show."
An inspection of Andrews' LinkedIn profile shows she is also the founder of East African Partners. Her bio on the company website reads that "Libby is a strong believer that making America great again is achieved by making other countries great as well."
Since her exit from @properties, Andrews began working for Kristine Farra, head of Gold Coast Exclusive Brokerage. Farra's Instagram shows she follows several pages related to Trump as well as the official page for the Republican Party.
When The DePaulia tried to reach Farra over the phone on the afternoon of Feb. 13, she hung up before an interview could begin and did not return a request for comment left via voicemail. As of Feb. 18, Farra and Andrews still could not be reached by phone. 
Former tech CEO left a money trail of donations to the RNC and Trump campaign 
For two weeks following the Capitol riot, the only post from Bradley Rukstales' Twitter account was an apology. 
"In a moment of extremely poor judgment following the Jan. 6 rally in Washington, I followed hundreds of others through an open set of doors to the Capitol building to see what was taking place inside," Rukstales writes. "…Without qualification and as a peaceful and law-abiding citizen, I condemn the violence and destruction that took place in Washington." 
But what the Inverness, Illinois, resident failed to mention is that at the time he was arrested, Capitol police officers found him with a crowd of six others on the upper level of the Capitol Building near the door to the House Atrium where people were "making loud noises, kicking chairs, throwing an unknown liquid substance at officers and spraying an unknown substance at officers," according to a Department of Justice affidavit.
Bradley Rukstales Affidavit by DePaulia on Scribd
Rukstales was one of six people who refused to leave when ordered to do so by law enforcement. The six individuals — Rukstales, Terry Brown, Thomas Gallagher, Cindy Fitchett, Michael Curzio and Douglas Sweet — are all facing charges for entering and remaining in a restricted building or grounds without lawful authority, impeding and disrupting government functions, using threatening or abusive language and parading or demonstrating in any of the Capitol Buildings. 
Rukstales, a Schaumburg tech company CEO, was fired after his employer, Cogensia, placed him on leave. Cogensia officials could not be reached for comment. Rukstales did not return requests for comment from The DePaulia.
His involvement in the events last month was not a random act. Rukstales has poured thousands of dollars into ensuring Trump's success. 
Between June and December of 2020, Rukstales donated $25,205 to Republican candidates, committees and causes, according to data from the U.S. Federal Election Commision.   
He donated the following in 2020: 
$8,550 to WINRED, a Republican fundraising platform

$5,300 to Donald J. Trump for President, INC. 

$5,000 to Trump Victory 

$2,455 to the Republican National Committee

$2,250 to Jeanne Ives, former Illinois State Rep who ran for the Illinois 6th Congressional District seat in 2020 but was defeated by Freshman Democratic U.S. Rep. Sean Casten

$500 to House Minority Leader Kevin McCarthy, R-Calif. 

$500 to John Curran, R-lll., 41st District

$400 to Trump Make America Great Again Committee

$250 to Georgians for Kelly Loeffler 
Western Illinois couple on a mission to defend their president 
On Dec. 18, 2020, the Twitter account "We the People Have Woken" tweeted a photo of Abraham Lincoln with the following words across the image: "We the people are rightful masters of Congress and the courts, not to overthrow the Constitution, but to overthrow the men who pervert the Constitution." 
Though the Twitter page's profile photo showed Donald Trump's face, the man behind the screen was Jason Gerding, a 50-year-old Quincy, Illinois resident. 
He and his wife, Christina Gerding, 46, are facing multiple charges for involvement in the insurrection on Jan. 6, including a charge for violent entry and disorderly conduct on Capitol grounds, according to a DOJ affidavit. 
Jason Gerding Affidavit by DePaulia on Scribd
The now-deleted We the People Have Woken Twitter page that was linked to Jason Gerding by the handle @gerding_jason has a banner with a large gold "Q," which the affidavit described as a "loosely affiliated network and community of people who believe in a number of conspiracy theories."
Jason Gerding called out to his fellow "anons" via Twitter in hopes they would have hotel recommendations. Just before midnight on Dec. 21, 2020, Jason Gerding Tweeted proof that going to the Capitol was not a spur of the moment decision. 
"Anons…I need help just booked a flight to dc (sic) [for] the 6. Best place to stay close to rally," he said. He tweeted again five days later. 
"So much disinformation is coming out I don't know what is real what is fake (sic)," he wrote. "I trust the plan…. I'll be heading out to DC Jan 6th, but my head is starting to hurt." 
And they made it. "Quincy made it in," Christina Gerding posted on Facebook on Jan. 6. 
Christina Gerding Affidavit by DePaulia on Scribd
The couple wore matching red Trump 2020 shirts, black hats and blue jeans. They held hands up high in front of a painting labeled the Declaration of Independence that sits in the Capitol rotunda, according to law enforcement records. The photo had three likes on Twitter, according to the screenshot obtained by the FBI. 
The couple was arrested on Jan. 28, according to the Chicago Tribune. 
And this isn't their first run-in with the court system. 
Jason and Christina Gerding have been involved in several small claims court cases with the debt collection agency Gem City Account Services and Chase Bank, according to Adams County Circuit Court records. 
The Quincy Herald-Whig reported in November 2014 that Jason Gerding faced charges for financial exploitation of the elderly. Quincy police said Jason Gerding wrote $6,995 worth of checks from his mother's checking account to himself or to cash in during an 11-month period from Feb. 2013 through Jan. 2014. 
According to the Herald-Whig, Gerding's mother, Sally Gerding, 71, signed a document that gave her son the right to act on her behalf after she suffered a stroke in January 2013. 
The Gerdings could not be reached for comment. 
Pretend Marine veteran with an affinity for making threatening phone calls to Congress
Four years ago, Louis Capriotti made his first threatening phone call to a member of Congress. Since then, he has racked up a record of several calls and voicemails to U.S. officials, saying that he was a nine-year marine veteran who was trained to kill. 
In Oct. 2019, Capriotti left disturbing, anonymous voicemails to members of Congress in Washington D.C. According to police records, he had been leaving similar threatening messages on congressional voicemail systems from a cell phone. 
When FBI agents first met Capriotti early last year, they confirmed that he had used a cell phone to leave messages on officials' voicemails. During the Feb. 2020 interview with FBI agents, Capriotti also admitted to never having served in the military. 
He told agents that he was "just f—–g" with the members of Congress and "didn't mean any ill will." 
Agents asked him to stop. He did not. 
According to an FBI affidavit, Capriotti left voicemails for two unidentified members of Congress in Dec. 2020. Capriotti, speaking in reference to the inauguration of Biden and Vice President Kamala Harris, said in voicemail in late December, "We will surround the m—–f—— White House and we will kill any m—–f—— Democrat that steps on the m—–f—— lawn." 
Capriotti, 45, of Chicago Heights, was arrested last month and faces felony charges of transmitting threats by interstate commerce. He is being detained while awaiting trial.