OPINION: Covid-19 vaccine mandates, education will keep DePaul's community safe
DePaul's Covid-19 vaccine mandate ensures that all students will be safe from infecting themselves and others  from both the virus and new strains. As a freshman student, I would not have considered returning to campus in the fall if DePaul had not mandated the vaccine. There is too much risk of exposure and infection if a majority of the campus is not vaccinated. 
The CDC and Illinois Public Health Department have demonstrated that all three vaccines are highly effective in protecting against the virus. Moderna is 94.1 percent effective,Pfzier being 95 percent effective and Johnson & Johnson is 66.3 percent effective, according to the CDC. The vaccine is too good of an opportunity to pass up, especially when everyone over 16 is eligible to receive one in Illinois. 
There is nothing more I want than to return to normal. DePaul made the wise choice in realizing we have to do it safely. 
"I feel a lot more safe about coming on campus knowing that everyone will be vaccinated," said incoming DePaul freshman Lauren Hunt. "I think DePaul made an excellent choice mandating it."
Students are eager to do whatever it takes to get back after losing a year of school- especially when a majority of college and high school freshmen have never experienced on-campus life before. But students like Student Government Association (SGA) Senator for First Year Students Alik Schier realize that the benefits of the vaccine outweighs the low risk of deadly side effects. 
"I really want to go to campus and I want to have kind of a somewhat normal college experience," he said. "That's really important, but it has to be safe. The biggest step in that is making sure that everyone gets vaccinated and is doing everything they can to prevent the spread of the spread of Covid-19." 
However, DePaul needs to take the extra step and realize with such a controversial decision there still needs to be vaccine education. 
We can't take people who are reluctant to receive the vaccine at face value as being automatically anti-vaccine. DePaul needs to realize that students are going to be more hesitant and resistant if their genuine questions are met with dismissal or criticism. We need to foster confidence in the vaccine. 
Luckily, SGA Executive Vice President of Diversity and Equity Robbie Merkel knew this, and started a campaign to enhance understanding and trust in the vaccination process. SGA's vaccine campaign included a town hall with the Office of Health Promotion and Wellness and Division of Student Affairs where students could get real time answers from professionals about Covid-19 and the vaccine. 
"One reason why I chose to start this campaign is because I saw the necessity for easy access to educational materials and personal stories from folks who have already taken the vaccine," Merkel said.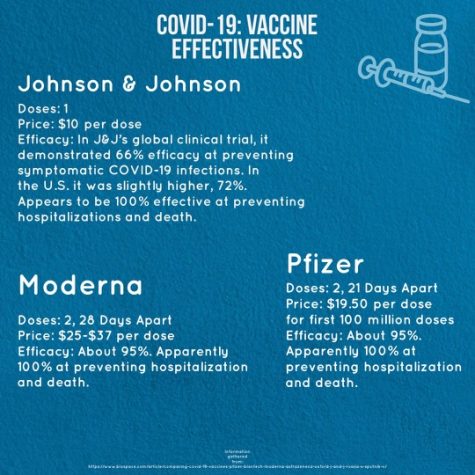 We have to foster confidence in the vaccine or else students are going to become resentful in DePaul's decision. 
Students will feel more secure if they personally know someone who advocates for the vaccine. The personal connection will fuel more trust rather than seeing high-profile celebrities or public figures telling us it's safe. 
"I think that there is a lot of vaccine hesitancy and a lot of misinformation out there regarding the vaccine," Schier said. "I think it's really important for us as a prominent student organization to have someone that you know [get the vaccine]."
We also have to recognize that due to a variety of reasons, such as medical or religious, not everyone will get vaccinated. However, that does not mean they should be overlooked. 
"People get vaccinated to protect themselves but to protect their grandparents, parents, sisters and brothers, their siblings," Merkel said.  
When we get vaccinated, we don't do it just for ourselves, but for others too. I got mine because I don't want to infect my family members who are under the age of 16. I want to be able to interact with my older family members who are at more risk. 
So when people talk about their personal liberties being violated, I can't help but wonder why they don't consider the safety of others as well. The refusal to not get the Covid-19 vaccine based on the argument of personal liberties only shows that some people think their lives and choices are the only ones that matter — and that their choices don't have consequences. 
"Public health is entirely more important than personal liberty," Hunt said. "While the death toll is slowing, people are still dying and 576,000 people have already died in the United States alone."
There are going to be medical and religious exempted students in the fall, they deserve our protection. 
"I think so many people think that that's all about individual freedom instead of collective freedom," Schier said.
I don't think we can neglect that fact that people who claimed personal freedom also prolonged the pandemic in the U.S. by refusing to wear masks, social distance and follow guidelines. If you are tired of it, get vaccinated so we no longer have to do it. We can't continue to complain about the pandemic if we are not taking the steps to prevent it as well. 
"This expands freedom because later on, cities like Chicago and other venues, like concerts, will require folks to be vaccinated," Merkel said. "So really this is expanding your freedom to be able to help get things back to normal, our daily lives back to normal, without worrying about being infected by Covid-19."
Several vaccines, such as measles and tetanus, have always been required to attend DePaul as well. Students who are highly uncomfortable with this mandate can either opt to stay remote or chose not to attend DePaul at all. DePaul, as a private institution, is within its rights to mandate vaccines. 
I'm excited to finally be on campus and have a genuine college experience. As I meet new people, go to class and explore Chicago, I know it will be worth receiving the vaccine. However, I hope DePaul will continue to foster education about Covid-19 and vaccines throughout the summer before fall quarter. 
DePaul must continue to do what must be done. 
View Comments(1)