How Covid-19 impacted the opioid crisis in Chicago
In March 2020, Illinois enacted a stay-at-home order in response to the coronavirus outbreak. The rules were simple: socially distance, limit travel and stay at home. The very thing that would save thousands of lives from Covid-19 was the same thing that would kill hundreds from an overdose.  
The opioid crisis is a serious national health emergency that has been ongoing since the late 1990s. The misuse of and addiction to opioids includes prescription pain relievers, heroin and synthetic opioids such as fentanyl.
The Covid-19 pandemic has had a profound effect on the deaths due to opioid-related overdoses in Cook County. From the stay-at-home order to the disruptions in treatment and recovery services to the potential loss of social support, attention to people with substance use disorders fell to the back burner.
"One of the biggest correlates, or variables, that covary with overdose death is isolation," said Greg Scott, a professor of sociology at DePaul and documentary filmmaker who focuses on the sociocultural dynamics of drug-using communities. "When you are in a situation of using opioids alone, the chances of an overdose becoming fatal escalate greatly because, clinically speaking, you cannot save yourself from your own overdose."
According to a 2020 mid-year report by the Chicago Department of Public Health (CDPH), there were 573 opioid-related overdose deaths in Chicago from January to June of 2020. This was a 55 percent increase from the same time period in 2019. 
A morbidity and mortality weekly report by the CDC found that during the 11-week stay-at-home order in Illinois, the overdose death count averaged 43 people per week. Though a spike in deaths was reported during quarantine, the death count prior to the pandemic was already on a gradual incline. The same report found that at the beginning of 2019, the death count averaged 23 deaths per week — by the end of the year, it was at 35.
 "If there had been no pandemic, we would have seen an incline increase [in deaths], but the pandemic spiked things in the very early stages," said Maryann Mason, co-author of the CDC report and professor of emergency medicine at Northwestern University. 
The weekly CDC report also states that 18 weeks after the stay-at-home order was lifted, weekly deaths declined to around 31 people per week. This is still a relatively high number in comparison to pre-pandemic levels.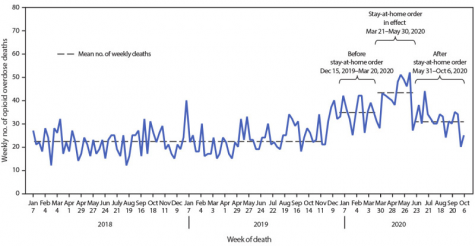 A 2021 report by the University of Illinois Chicago (UIC) found that mortality rates in Cook County are similar to overall rates reported by the rest of the United States. Cook County also mirrors racial, gender and age trends reported across the country.
"The big increase in overdose fatalities seems to be among older adults and among persons of color, specifically Black persons," Mason said. 
According to the UIC report, since 2016, there has been a sharp increase in opioid overdose mortality rates among Black residents in Cook County, specifically in middle-aged men aged 35 to 64. This group has a mortality rate three times higher than other demographics.
CCDPH Opioid Epidemic Report 2.18.21 (1) by DePaulia on Scribd
In Chicago, these overdose deaths are concentrated primarily on the city's West Side, which as the CDPH report states is home to a little less than half of Chicago's Black population. An analysis of the CDPH mid-year report found that Humboldt Park had the highest number of overdoses in the city followed by West Garfield Park. 
In Chicago, nearly 60 percent of fatal overdoses have occurred in Black individuals even though they make up less than a third of the city's population. 
Although the purchase and use of illicit drugs is not uncommon in older adults, prescription drugs continue to pose a major threat to older individuals.
"One of the things that the opiate [crisis] has told us is that really, people who have chronic pain shouldn't be prescribed opiates long term because they will get addicted," said Richard J. Miller, professor of pharmacology and psychiatry and behavioral science at Northwestern University.
Though prescription opiates are what initially sparked the opioid crisis, currently, illicitly manufactured fentanyl is the No.1 driver in overdose deaths in the United States. Data from the CDPH mid-year report found that synthetic opioids like fentanyl were involved in 82 percent of overdose deaths in Chicago in 2020. This was a 56 percent increase from 2019.
Right now, researchers and activists like Mason and Scott believe the opioid crisis is going to worsen before it gets better. However, amidst the rise in deadly overdose deaths, innovative strategies to reverse the mortality curve are being taken into consideration.
In several cities across the country, including Denver, Philadelphia, New York and Chicago, proposals for supervised consumption sites have been brought to city councils and legislation. These are facilities that are staffed with nurses, counselors and trained overdose responders who supervise people using drugs on-site. More than that, these facilities provide health care services that engage people using drugs, they are critical points of care.
According to Changing The Narrative, a network of reporters, researchers and scholars who work to provide humane and accurate information on drug-related news, harm reduction models — including safer consumption sites, free HIV testing, medication-assisted treatment and many more strategies — work to reduce stigmas, misinformation and harm associated with drug use while also working to reduce the number of overdose deaths.
"Harm reduction is all around us, we've agreed on it except when it comes to certain classes of people, like people who use drugs — certain kinds of drugs," Scott said. "Research has demonstrated that all kinds of harm reduction intervention actually are effective, they produce appreciable behavior change and they reduce death."