Covid-19 crisis in India exacerbated by cyclone
India is facing one of the world's most brutal Covid-19 waves in the world, exacerbated by Cyclone Yaas.
Even though India took a step forward with a decline in Covid-19 cases, the country was forced two steps back this past week when a category one storm system known as cyclone Yaas slammed into the country's eastern coast on May 25, which forced millions of people to evacuate across the coast, sparking concern about another potential influx of Covid-19 infections while people shelter in place.
Covid-19 experts and economists have voiced criticism of Prime Minister Narendra Modi's decision to reopen the economy and relax Covid-safe practices such as social distancing, and the Prime Minister's decisions backfired by the end of April when the number of Covid-19 cases in India grew rapidly after a three-month stagnation.
The seven-day average of new reported Covid-19 cases in India was just over 15,000 on March 1 and jumped to nearly 400,000 by May 1, according to data collected by Johns Hopkins University.
DePaul Professor Emeritus of Economics Animesh Ghoshal said this is the "worst crisis faced by India since it became independent in 1947."
"The immediate cause of the crisis was complacency," Ghoshal said. "Second, the long run cause of the situation being so dire is the underinvestment in public health over many decades.
With India's low case count from January to March and the start of one of the largest vaccination drives in the world, authorities and residents of India loosened their enforcement, and the current wave of infection blindsided many in the country.
 In addition, some economists thought the Indian government had "misplaced priorities," according to Ghoshal. While the government was trying to run the industrial sector (e.g., airlines and steel mills) from the 1950s to the early 1990s, economists believed they were neglecting the health and education sectors.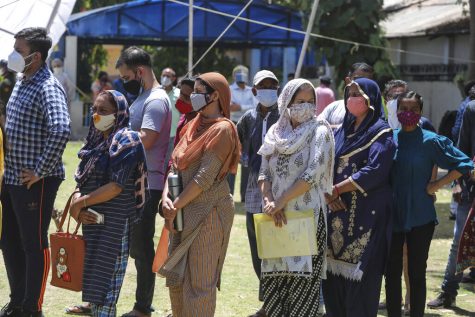 In 2018, the World Health Organization reported India spends only 3.5 percent of the country's GDP on healthcare.
 Modi finally spoke out on April 20, acknowledging the severity of the Covid-19 crisis and putting in place emergency measures to relieve states and hospitals. But some critics of Modi say it was too late.
 According to DePaul professor of international studies Shailja Sharma, there has been a lack of funding put toward public health, worsened by Modi's slow response to the surge.
"He has not directly engaged with people who have been suffering," Sharma said. "He has not reached out to states, which are ruled by other [political] parties than his own. There are no initiatives to alleviate the shortage of medicines, hospital beds, or vaccines. It has been a real abdication of responsibility."
 For many Indians, their religious or cultural practices demand that certain traditions be upheld when a person dies. But because of the long-existing lack of medical infrastructure, some families are not able to find their loved ones after they've died, let alone conduct a traditional, religious memorial service.
"At this point in India, all Indians, Hindus and Muslims, are suffering equally," Sharma said. "People can't find the means to cremate or bury their family members. While there is a huge religious and anti-minority issue in India, under Covid, all are suffering and dying in equal numbers."
 India's infection rate is on the decline. However, as of May 27, the seven-day average of new cases was just over 200,000, according to data collected by Johns Hopkins University.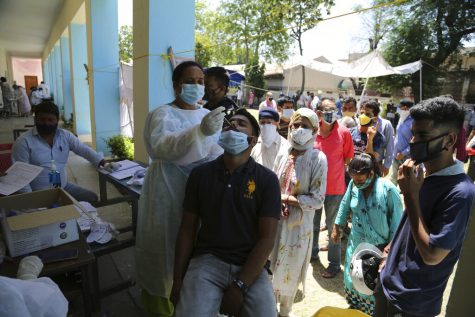 At the same time India is wrangling Covid-19, the country is grappling with fallout from another threat — Cyclone Yaas, a category one storm system.
 Thousands of emergency personnel were deployed in the Indian states of Odisha and West Bengal for evacuation and possible rescue operations in the days leading up to the cyclone's landing.
 In Odisha and West Bengal, before the cyclone touched down on May 25, authorities managed to evacuate people from coastal districts and the Sundarbans mangrove forest days in advance, preventing thousands of potential fatalities, according to West Bengal disaster management minister Javed Ahmed Khan.
 "We [had] to evacuate nearly half a million people [sic] to schools [and] government offices, which have been turned into cyclone centers to provide shelter to these people," Khan said in an interview with Al Jeezera.
 With Covid-19 looming in the shadows, Odisha's Chief Minister Naveen Patnaik said in a televised address the Monday before the cyclone to wear double masks and maintain social distancing practices while in cyclone shelters. Patnaik also requested that disaster authorities distribute masks to the evacuated people.
 "We have to face both the challenges simultaneously," Patnaik said in the broadcast.
 India's air force and navy are also on standby to carry out relief work throughout the country.
 The Prime Minister's office asked in a public address on May 27 that states affected by the cyclone ensure normal life is restored "at the earliest" and relief is appropriately disbursed to people affected by the cyclone.
India reports approximately three cyclone-related deaths, but exact data won't be available until the country conducts a complete assessment of the cyclone's impact.
To offset the effects of the pandemic, countries around the world sent aid to India to provide emergency supplies. The U.S. sent supplies at the end of April worth over $100 million, including 15 million N95 masks, over 3,000 oxygen cylinders and concentrators, Covid-19 vaccine manufacturing supplies, among other materials and resources.
Talks with Pfizer company revealed shots won't arrive in India until July, which means the country will have to rely on and ration aid from allies around the globe until vaccines arrive.
It's not yet known when or how the country will be able to start rebuilding on its own.
For more information on India amid the Covid-19 pandemic and in the aftermath of Cyclone Yaas, visit www.projecthope.org or call Project Hope at 1-844-349-0188.