Statues of limitations: future of 41 monuments up in air as Chicago reckons with its nation's past
Whether they're made of bronze or marble, apparently not all of Chicago's monuments are set in stone.
On July 17, 2020, amid a nationwide racial reckoning triggered by the murder of George Floyd by former Minneapolis police officer Derek Chauvin, a violent clash between police and protesters broke out after the protesters attempted to topple the city's statue of Christopher Columbus in Grant Park, resulting in 12 arrests and at least 18 injured officers.
One week later, the statue was "temporarily" removed at Mayor Lori Lightfoot's discretion, and on August 12, the mayor's office announced a citywide review of public monuments through what would become known as the Chicago Monuments Project.
The project consists of a 30-person advisory committee made up of city officials, artists, scholars, curators, architects and community leaders dedicated to assessing the city's public works. The committee gathers input from community members and eventually will release a report with recommendations on how the city should handle its more controversial monuments, as well as a list of potential new monuments that could be commissioned.
"We have spent about six months in this process of [public] consultations," said John Betancur, a member of the advisory committee and urban planning and policy professor at the University of Illinois at Chicago. "Before that, we spent about three months in internal conversations. At this point, we are trying to synthesize what we've heard — although the consultations continue — and eventually, we will produce a report to the Department of Cultural Affairs with recommendations."
Of Chicago's over 500 public monuments, the committee has selected 41 for review. Potential issues being assessed include the promotion of white supremacist narratives, presenting oversimplified views of history, showcasing inaccurate characterizations of Native Americans and failing to sufficiently include the stories of marginalized peoples.
Several of the monuments in question depict Native Americans. Some, like "The Defense," call back to specific instances of violence with settlers, while others depict Native Americans in stoic poses atop horses or simply staring off in the distance.
"They either romanticize what the Native Americans were not, or they put them in a relationship with white civilization," Betancur said. "Those monuments put them in a perspective not of who they are, but how white men saw them."
Another group of monuments being considered as potentially problematic depict some of America's most revered historical figures — including Benjamin Franklin, Ulysses S. Grant and Abraham Lincoln, all of which sit in Lincoln Park.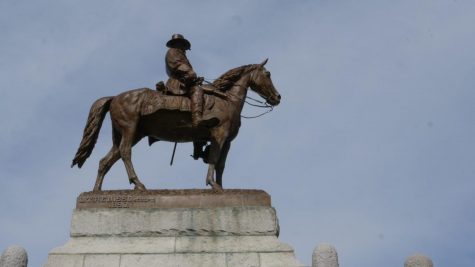 In the case of Lincoln, one of the committee's main considerations is reassessing the former president's treatment of Native Americans — in particular, the transfer of land from natives to U.S. settlers through the Homestead Act of 1862.
DePaul associate history professor Colleen Doody notes that while many of these figures have made great contributions to the U.S., not even they are immune from criticism.
"As a historian, I always want people to interpret statues and not deify figures," Doody said. "What I would love to come out of this debate is a discussion of these various figures in thinking about, well, what did they do? Rather than just see them as gods that we should celebrate, we need to view them as men of their time who made a series of choices — some good, some bad."
And as for Grant Park's Columbus Statue? Its future, along with two of Chicago's other statues of the famed explorer, is also up in the air.
Euan Hague, director of DePaul's School of Public Service, notes that all three sculptures were installed between 1893 and 1933, largely due to a growing Italian American population's efforts to claim their identity through influencing the public landscape. Largely because of this personal connection to Columbus, there is nearly always heated debate when the explorer's legacy is questioned.
"People's identities get tied up in monuments precisely because they offer a public view of history with which they agree or disagree," Hague said. "And I think that publicness of monuments, putting them in our everyday landscapes, is what gives them the power to speak a message that people interpret positively or negatively."
Other statues currently being assessed include a monument to Italian fascist Italo Balbo, a plaque commemorating Chicago's "first white child" and the polarizing statue in honor of policemen who opposed protesters during the Haymarket affair.
The project isn't only about considering preexisting statues, though; the advisory committee is also expected to make recommendations for possible new monuments that the city could commission.
Hague points out that with whatever new works may be added, the city may end up asking similar questions about those monuments down the line.
"Putting up monuments is about what your vision of yourself is," Hague said. "In the 1930s, we were putting up Christopher Columbus monuments. If we're putting up monuments now, who or what we put them up to tells us about our visions of ourselves in 2021."
Still, Betancur says that the recent call to recontextualize America's past is largely unprecedented, marking a major shift in how Chicagoans view their country's past.
"Nobody ever questioned [these monuments] because, in part, those monuments become very invisible," Betancur said. "People go by them and don't even notice them, in part because white hegemony is uncontested. And that's why the Black Lives Matter movement questioned them and tried to bring them down, because they wanted to send a message: We are in a new era of the city, and it's time to question our symbols, our heroes. It's time to question those legacies."
The Chicago Monuments Project advisory committee has not made any final decision on the 41 selected works or on potential new monuments, although they hope to finalize their report later this year.