DePaul's 'eco-friendly' dining services on campus leave much to be desired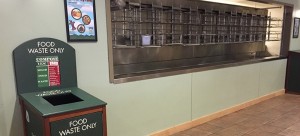 DePaul boasts its eco-friendliness as numerous compost bins surround the Student Center. Chartwells Catering Service, DePaul's dining service company, is equally enthusiastic about these bins.
The company's website boasts that it has been composting at DePaul since 2012. The process involves the food being put into clear waste containers, which are picked up by an EPA-certified waste management company and sold in local hardware stores. However, peering over the edge of one of DePaul's compost bins reveals images of napkins, plastic utensils, and Styrofoam plates and containers.
Chartwells said employees are aware of their "impact on the communities in which (they) do business and on the environment," yet, they constantly utilize harmful resources and leave minimal remedy for the issues.
Potentially obsolete compost bins aside, the primary substance for plates and the only substance for to-go containers is Styrofoam, one of the most environmentally harmful materials available. Used in the Student Center for its light weight, this petroleum-based matter is infamous for the astoundingly long time it takes to decompose — up to millions of years, according to the Earth Resource Foundation.
DePaul offers no means of recycling Styrofoam. So that plate you used yesterday is sitting in a nearby dump, sentenced to millions of years of unproductive rotting. During this time, an animal will likely be harmed trying to eat it. If not, the Earth Resource Foundation said the Styrofoam would produce "troposapheric ozone," an incredibly harmful pollutant.
"Toxic chemicals leach out of this product into the food it contains," chemicals that "threaten human health and reproductive systems," according to the Earth Resource Foundation. We eat off this stuff every day.
A receipt is printed for every purchase made at our dining services. Plastic cups are just slightly too big for the bottles and cans recycling option and are more often than not tossed into waste. Bins for compost are riddled with napkins, receipts and Styrofoam. The dishwasher runs, empty.
But, fear not. Chartwells focuses on "recycling, resource conservation, and waste reduction," which ensures that "the resources we use today will be available for future generations." Thank goodness.
Though the environmental sustainability of our dining service is certainly lacking, we're not hopeless. Joe Arcus, Student Government Association Senator for Sustainability, said he and the SGA are taking steps to improve the situation.
Arcus said SGA is aware of the enormous Styrofoam issue, and said that they will soon "be replacing most of the Styrofoam used in the Student Center with biodegradable containers, which will decompose in landfills and won't leave a lasting mark on the environment," he said.
In the meantime, it's imperative that students remain environmentally aware of their actions. Arcus said while most DePaul students "make the conscious effort to be more sustainable by recycling their waste," many students "may not always know what to recycle or where to recycle it. Our university's sustainability rests on the awareness and actions of students, supported by our facilities and operations. Student action is key."        
Chartwells hasn't been perfect, and SGA is doing everything it can. But the only possibility of our school improving its eco-friendliness is in the hands of the students on campus. The extra second it takes to walk a plastic bottle to a recycling bin, rather than throwing it in with other waste, could make all the difference.
The key to being less environmentally harmful isn't making enormous, drastic changes in our lives. We only need to start by being aware.