Ebola epidemic: We can't operate out of fear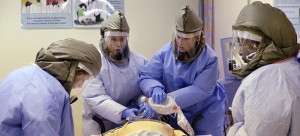 The Ebola virus has left thousands in West Africa, specifically Liberia, Guinea and Sierra Leone, fighting for their lives. These countries lack the human and infrastructural resources needed to overcome the rapid spread, resulting in thousands fatally infected. But they don't lack the resources to overcome Ebola on their own because they are located in Africa. Their lack of resources stems from their emergence of lengthy wars of conflict and instability in the region.
Liberia, the leading nation of those infected by the Ebola virus, has resorted to reaching out to foreign aid.
Liberian President Ellen Johnson Sirleaf said in a letter to the world, "When people are at their darkest hour, humanity has an amiable ability to act with bravery, compassion and selflessness for the benefit of those in need."
Sirleaf announced this two weeks ago while the World Health Organization (WHO) declared the outbreak of international concern in August. Two months later, international donations have so far fallen well short of the amounts requested by U.N. agencies and aid organizations.
Why are we so hesitant to help? Why are those helping treated indecently? New Jersey Gov. Chris Christie ordered that nurse Kaci Hickox be confined and quarantined in a tent for three days after her  return from Sierra Leone. A tent won't help, let alone prevent, Hickox and others from Ebola. The answer to why the uninfected are hesitant to help is their  lack of knowledge about the virus and compassion for those infected.
There are many misconceptions of the transmission of Ebola. The Centers for Disease Control and Prevention (CDC) reported that Ebola is mainly transmitted by family members in close contact with those infected, health officials caring for Ebola patients and most recently, funeral home workers dealing with the burying rituals of those fatally infected. Transmission can occur through coming in contact with blood or body fluids (urine, saliva) of a person sick with Ebola. But the disease is hard to transmit early on.
People are also afraid. For 20 years, DePaul has taken students to Ghana on a study abroad trip. Because of the Ebola epidemic, the university found the trip to be too much of a liability and canceled the trip, despite the fact that not a single non-medical visitor had been diagnosed with Ebola. Ghana is currently free of the Ebola virus and always has been. The proximity of Ghana to the infected countries is similar to the proximity of Chicago to Dallas.
"The world sees the continent of Africa instead of many individual nations in one vast continent," Derise Tolliver Atta, a co-director of the trip, said. "We can't operate out of fear. We aren't able to see clearly to make decisions that are in our best interests."
To help cope with the disappointment of the cancellation, Atta encouraged her students to seek information for themselves, and be able to sensor the facts from hysteria.
The Ebola epidemic shouldn't be an issue only for West Africans. Liberia, Guinea and Sierra Leone are not the only ones affected. We shouldn't respond to the epidemic with fear, but with compassion and humanity. This doesn't include senseless quarantines, but meaningful aid and research. The best way we can treat Ebola is to educate ourselves and understand that the severity of this epidemic is beyond ourselves.