Survey Says: Mental health is increased by watching game shows
It's a weeknight, approximately 7 p.m. Someone is clicking the channel button, perusing through the infomercials and soap operas, looking for something the whole family can enjoy because no one can agree on a movie or a TV show. Suddenly, the words "This is Jeopardy!" are spoken by a narrator's voice followed by thinking theme music as contestants are introduced.
This is the typical experience when discovering a game show. DePaul junior Caylah Johnson said her first experience with game shows was in her early childhood.
"I have very fond memories [of game shows]," Johnson said. "The suspense they created with the challenges had me in knots right along with the contestants. I would always proclaim that I could easily accomplish the challenges despite being, like, five years old."
Johnson is not alone in this, many students at DePaul experience watching game shows in their youth, especially with the rise of cable TV in the late 1990s to the mid-2000s. Many DePaul students like Johnson and sophomore Emily Townley said they associate game shows with happy memories from their childhood, specifically with their families in the evenings.
"My family and I watch 'Family Feud' at 7:00 and 'Jeopardy!' at 7:30, at least when I am around," Townley said. "My absolute all time favorite game show is 'Jeopardy!.' This is no part due to how awesome Alex Trebek was. His humbleness and intelligence never ceased to amaze me. I moved around a lot, and one of the most consistent things about my life was sitting down to watch Jeopardy."
In March, the Journal of Psychological Rehabilitation and Mental Health conducted a study on the correlation between game shows and mental health. The study found peoples' mental health increased when watching game shows. This is due to their interactive nature, allowing the mind to be engaged in something other than what may be deterring their positivity, therefore establishing a more positive space.
But, junior Lazarus Howell said he disagrees. "I would not link game shows with my happiness nor with my mental health at all," Howell said. "I believe it's just a form of content for people to consume. [Game shows] have not helped me through tough times."
Johnson said she agreed with Howell. She said game shows made her feel happy in her childhood and made her feel smarter, but they no longer serve that purpose. "Game shows don't necessarily boost my happiness now because now that my grandmother is gone I don't really have anybody I enjoy watching them with," Johnson said.
"Plus now that I'm older, it's harder to watch the contestants and know that they are playing because they genuinely need the money. It's not a game they play for fun, it's a game they play to pay [their] mortgage or fund their children's tuition. There are real people struggling in America that are on these shows. As a kid I thought it was encouraging that there were people just like me, just as smart as me, who [have] the chance of winning thousands and pulling themselves out of debt! Now, it's frightening to think that people just like me could be put in stressful financial predicaments simply because of systems that have failed us that we as a society refuse to improve."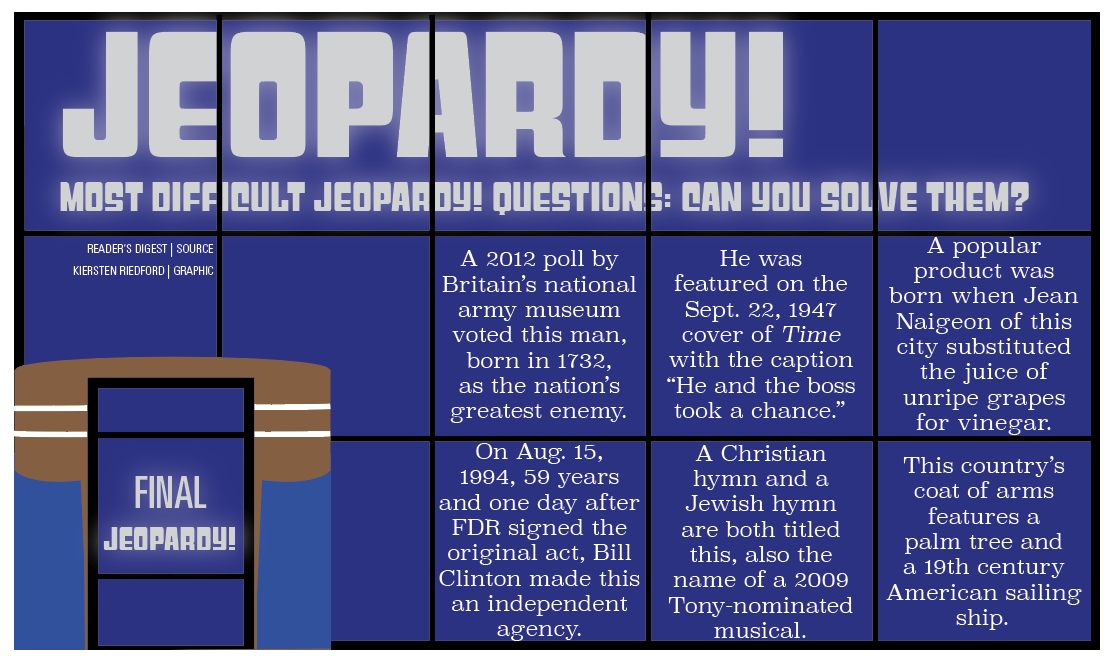 Townley disagreed with Johnson and Howell. She said the study aligned with her experiences, especially during the pandemic. "'Jeopardy!' made the pandemic slightly more bearable," Townley said. "[Game shows] definitely boost my mood. Watching 'Jeopardy!' takes my mind on things that stress me out. Whenever I watch it, my goal is to play along with the characters, and not to focus on what is going on around me."
Despite these positive correlations between mental health and game shows, Johnson said she does not go out of her way to watch them, they just happen to be on at home or in a public setting.
"Game shows were something I used to watch when I had to watch live TV," Johnson said. "Now that we live in a day of age where one can pick and choose what television they watch at all times, I usually just pick fictional shows to watch or reality television."
While game shows were applicable to peoples' happiness, especially in their childhood, many do not relate as of now, especially with the age of streaming shows. But, Game Show Network (GSN), the cable network that televised "Family Feud," "Wheel of Fortune" and others, has adjusted to the recent trend of streaming. Currently, GSN is streamed on Philo, Sling TV, FuboTV and DirecTV Stream. It is also still televised on cable.