Born in the wrong century: The fashion of Grace Koehler
Garbed in a dark bodice and flowing skirt, freshman Grace Koehler glides through the quad like a figure straight out of a Monet painting. Her heels click elegantly across the dry stone pavement as the sun washes over her overcoat; in every sense, she appears to be a silhouette misplaced in time.
However, Koehler's journey into the world of 1890s fashion was far from an uncoordinated leap.
"I've only been submersed in the realm of historical fashion for two years," Koehler said. "Originally, I had two separate passions, fashion and history, but through YouTube I got exposed to the worlds of Edwardian and Victorian styles."
The video platform boasts a range of channels and recordings, from tutorials on reconstructing bodices to in-depth explanations regarding the history that gave birth to such embellished looks.
"My personal favorite creators are Bernadette Banner and Zack Pinset," Koehler said. "They're both pretty famous within the historical costume community, personally I love their unapologetic enthusiasm about their niches and their willingness to express and share the world of historical fashion with everybody."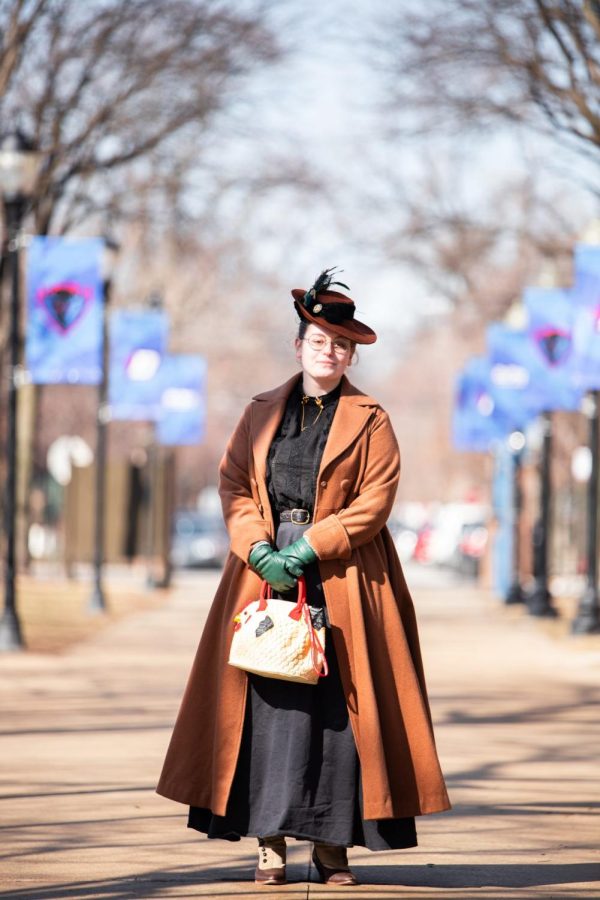 As for her journey within fashion, Koehler explained that it started small.
"Initially it just began as designing costumes to take photos in, but honestly, I realized that my creations manifested how the interior of my brain looked outwards which is something that I always wanted but never got the opportunity to figure out until now."
Koehler smiles as she pages through Edwardian Fashions: A Snapshot in Time from Harper's Bazar 1906 by Kristina Seleshanko, one of the many style books that dot her shelves.
"My clothes make me feel like who I was always meant to be, it's a good feeling."
DePaul freshman, Michelle Alaiza, a friend of Koehler described her as being devoted to her clothing style.
"Grace is never not in period wear,  which is really impressive especially since the Chicago weather has been extremely cold. She also is extremely committed to having clothes that are that specific time period." Alaiza said.
However, transitioning from traditional clothing such as jeans and sweaters possessed its setbacks.
"The main tension came from my immediate family, there was a lot of pressure that my style would affect both my public perception but also my ability to receive fundamental opportunities such as fitting in amongst my peers."
Since her diagnosis with autism, Koehler believes it's imperative to both her identity and fashion.
"Autism is very related to the way I pursue the things I'm interested in such as late 19th and early 20th century clothing," Koehler said. "Being on the spectrum definitely relates to my pursuit of style. I've never had a problem wearing clothing that's different from the mainstream because with autism you don't process social cues automatically. Despite being aware of societal pressure and judgment, I don't feel affected by it, nor do I notice or care if someone stares or takes it upon themselves to make a rude comment."
For Koehler, fashion and design have become the bridge between anatomy and the psyche.
"With autism there is often a disconnect between the body and mind, I don't always feel comfortable in my own skin," Koehler said. "The clothing has become a way to feel at home in my own body by taking what's in my head and translating it into a physical space."
As a major within the field of costume technology which centers around the physical act of designing clothes, Koehler illustrates the future of her fashion.
"I've been looking into a museum studies minor; my goal is to one day work as a curator in the department of historical dress."
Like artwork, historical garments are imperative to understanding the past.
"When you truly see a piece of clothing beyond its shape on the body, you can learn a lot about the time it was crafted in, from the socioeconomic status to resource shifts and social traditions." Koehler said.
Like many members of DePaul's student body, Koehler finds both self-expression and jubilation in her dress style. However, many still struggle to step out of their boundaries when it comes to the daunting world of fashion.
"Dressing for yourself in a way that makes you feel good is incredibly fun and freeing. There is truly nothing more authentic than putting on an outfit for yourself rather than those whose path's you cross."
As for fear of judgment, Koehler's message remains simple.
"It's your body, not anyone else's," Koehler said. "It's a hard understanding, that sometimes people want to place their specific way of life on others, but once you know what works best for yourself, it becomes easier to ignore unwarranted scrutiny."
For Koehler, adorning wide-brimmed hats and lacy collars has become as routine as waking up, making her feel the way she was always supposed to. When asked for any lingering thoughts, she remained true to herself.
"If you have something that makes you happy, definitely pursue it. It doesn't matter if people deem it unnatural, in the end it's what you want, not them," Koehler said.
View Comments (5)