Becoming a marijuana influencer: Student recounts their journey to cannabis fame
Like many rituals, the motions required in rolling a joint become unconscious the more you do it. Eventually, it gets done without a second thought. For Caroline Sands, a senior marketing major at DePaul, this is certainly true.
She wraps the joint in Juicy J strawberry wrapping paper. She then lights it carefully to test the paper. Sands is testing the joint for a review on Juicy J, a hemp rolling paper company.
Sands created an Instagram account centered around her love for cannabis, where she rolls and reviews different rolling paper brands.
For Sands, social media is a place where she can express her love for cannabis and rolling joints to an audience that's just as interested as her.
Social media is full of influencers of all kinds, from lifestyle to fashion to cooking, but it is rare to find an influencer who's centered their brand around cannabis, especially given that cannabis is not federally legal. In 2022, only 18 states have fully legalized recreational marijuana use, along with the District of Columbia.
There is a fine line for the cannabis industry advertising on social media due to the different legal statuses of marijuana across the country, said Steven Kelly, an associate professor and creator of MKT 420, a cannabis marketing course at DePaul.
"Companies that don't actually deal with the leaf but sell cannabis accessories can advertise whatever they want," Kelly said. "They may not mention cannabis, but everyone knows what to use them for. I expect a lot of growth to come in from these types of companies."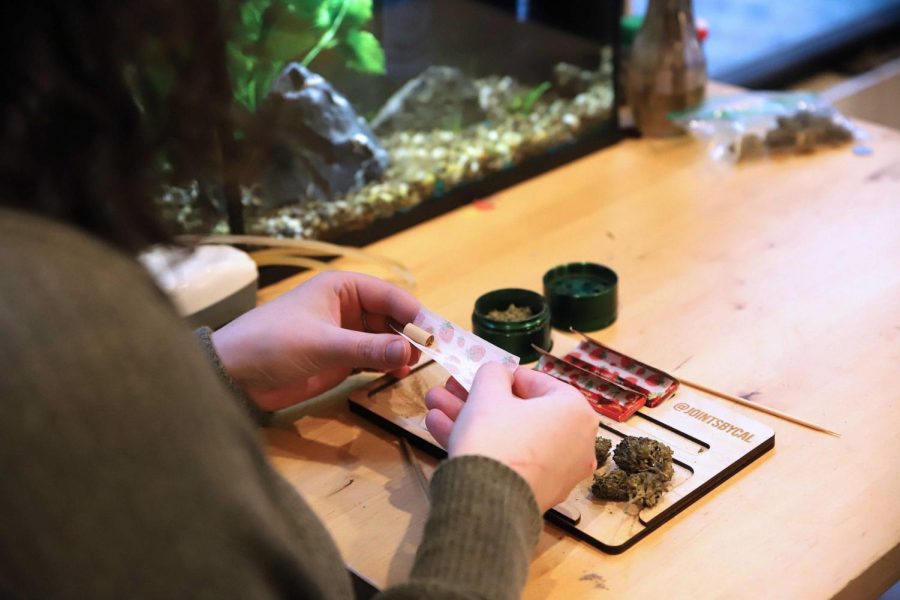 In a place such as Chicago, where marijuana is legal for recreational use, Sands saw an opportunity to combine her love of marijuana with a need for expressing her creativity.
Sands explained that she started her Instagram account, @jointsbycal, as a way to not feel so lonely and connect with a community she yearned for during the peak of the Covid-19 pandemic.
Samantha Close, an assistant professor in the Department of Digital Communications and Media Arts at DePaul, said many students like Sands use social media as an outlet during times of loneliness.
"Social media allows you to feel closer to people you're physically distant from," said Close.
Since Sands created her Instagram account, she's garnered about 100 followers; though it may not be a large number, it hasn't prevented her from connecting with other cannabis influencers and more prominent names in the cannabis industry.
One of Sands' most memorable moments with her Instagram account was when Marlon Francis, another cannabis Instagrammer (@outdatrunk_market) and supplier of Maji Water Rolling Papers, reached out to her.
Francis complimented Sands on her posts and mentioned that he would love to see her use his rolling papers for future posts. From there, he offered to send her a free package full of cannabis accessories, such as rolling papers, cones and even a customized rolling tray with Sands' Instagram handle inscribed.
In return, Sands filmed and edited a video of her using Francis' rolling papers to post on her and Francis' pages.
"I was so excited when I got the package because nobody's ever sent me anything for free before," Sands said. "It was an incredible experience for me, and it's great that we both support each other's pages."
Josh Kesselman, the CEO of RAW rolling papers, messaged Sands after she posted a rolled joint using his papers. After talking over Instagram, Kesselman sent Sands a free delivery of authentic rolling papers.
Even without the support from other influencers, Sands loves posting on her account and hopes it can one day be her full-time career. In the future, Sands wants to create cooler posts and more content once she graduates college, which would give her more free time to invest her energy into her account, she said.
With over 6,000 cannabis brands, Kelley believes that cannabis will be fully legalized nationwide at some point in the future, which will allow the industry to grow. We may start seeing more and more influencers specializing in cannabis.
Becoming an influencer is difficult since the social media landscape is constantly evolving. A lot more goes into building an account rather than just posting.
"Social media influencing is not a 9-to-5 job, and it isn't very stable," Close said. "You're dependent on the whims of your audience."
Close explained that it is all about emphasizing the importance of building connections with people who have similar levels of followers or a little bit more.
For now, Sands sees herself investing more time into her Instagram account to make it into a full-time career.
View Comments (1)