Ebola overload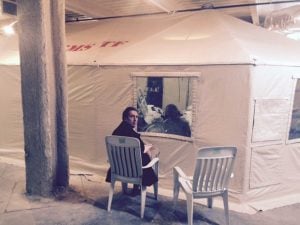 Disease scare, sensationalism leads to stigmatization of Africans in America
Upon his return from Guinea — a West African nation — on Oct. 17, Dr. Craig Spencer from New York City tested positive for Ebola. As the first confirmed case in the Big Apple, Spencer's diagnosis gave birth to a new wave of hysteria.
Spencer, 33, is the ninth Ebola case in the United States. Other people infected with the disease include Thomas Duncan, a Liberian native here visiting family; Nina Pham, a nurse who helped treat Thomas Duncan; Amber Vinson, another nurse who treated Duncan; Dr. Kent Brantley, a U.S. missionary; Nancy Writebol, a colleague of Brantley; Dr. Rick Sacra, also a missionary; Ashoka Mukpo, an NBC cameraman; and Kaci Hickox, a nurse who went to Africa and refused her quarantine upon return.
As the number of confirmed cases in the United States increases, so does the national fear of contracting the disease. Americans, without much explanation or compassion, are shown daunting statistics of the disease abroad with its death toll exceeding 4,400. Without the knowledge to guide their fears, Americans have resorted to ignorance, spreading rumors as a method of protection.
That ignorance has led to the stigmatizing of all Africans, regardless of descent or reasonable proximity to the disease. According to The Daily Beast, Navarro College — a community college in Texas — wrote in a letter to a Nigerian applicant that they wouldn't be admitting students from countries with confirmed Ebola cases. Although the outbreak was restricted to merely six countries in West Africa — with the World Health Organization (WHO) having declared the outbreak over in Nigeria and Senegal — Africans from other regions are faced with the same discrimination. Reports have shown people moving away from Africans on public transportation, refusing to shake their hands and employers asking them to leave work.
The resulting hysteria is dispelled by way of two platforms: Media and the government. However, much of what has been said outside official government sources has been reduced to mere conspiracy theories, and therefore dismissed. Rush Limbaugh, radio talk show host, accused President Barack Obama of welcoming Ebola to the United States in retaliation to slavery. Singer Chris Brown said in October via Twitter: "I don't know … but I think this Ebola epidemic is a form of population control." In September, a Liberian newspaper, The Daily Observer, published an article claiming Ebola as an entity quite contrary to popular belief — calling it a bioweapon created by American military to depopulate the planet.
Nation of Islam leader Louis Farrakhan also wrote on Twitter: "There is a weapon that can be put in a room where there are Black and White people, and it will kill only the Black and spare the White, because it is a genotype weapon that is designed for your genes, for your race, for your kind."
However, the U.S. government and the Centers for Disease Control and Prevention (CDC) are trying their best to produce information and new protective measures to reassure Americans of their safety. Airport screenings at Hartsfield-Jackson Atlanta International, Chicago's O'Hare International, New York's John F. Kennedy International, Newark Liberty International and Washington Dulles International began on Oct. 11.
Nearly 40 years after the Ebola virus first reared its head in West Africa, it still remains: Without an official drug, people continue to victimize Africans at exponential rates, and a notion of misinformation persists amid people worldwide. Ideally, the best form of protection begins with people becoming educated on Ebola — and that means not relying solely on the government or sensationalist sources for information.