Sketching Chicago: How the Chicago Urban Sketchers draw their way across the city
In the Chicago Urban Sketchers group, hundreds of people are recreating scenes of the Chicagoland area in pencil, ink and watercolor.
Urban sketching is the practice of drawing the scene in front of you, on-location and in real-time. Whether drawing a mundane scene or a famous landmark, both seasoned artists and total beginners alike have found creativity and community in the Urban Sketchers groups.
In 2007, a news artist for The Seattle Times started an online photo forum as a place to share the artwork he made while documenting different scenes in his city. Today, Urban Sketchers is a global organization with more than 300 chapters in cities worldwide.
Alex Zonis founded the Chicago chapter of Urban Sketchers in 2012. She had heard about the group, and after discovering there wasn't yet a chapter in Chicago, she took it upon herself to start one. Today, Zonis says Chicago is the second largest chapter in North America, with about 1,700 members in their Facebook group.
The very first meeting had an attendance of only five people, but now Zonis said a group sketch can draw a crowd of 70-90.
Zonis is an administrator for the group's official Facebook page along with nine other people, all volunteers, who help maintain the group and coordinate large sketching meetups once a month. The group has sketched places like the Lincoln Park Zoo, the Shedd Aquarium and the Chicago Cultural Center.
Currently, the larger meetings have been on hold due to the pandemic. But even during times of strict restrictions, the group found a way to keep its signature camaraderie and on-location drawing focus.
The administrators decided to take turns coming up with drawing prompts each week that people could do on their own, and the members would share their finished works on the Facebook page.
"We got very familiar with each other's closets and kitchens and bathrooms," Zonis said.
The group is still using this online format, but members will also meet up on their own in smaller groups. They'll sketch their local cafés, shopping malls or Metra stations, leaving friendly comments praising each other's work online.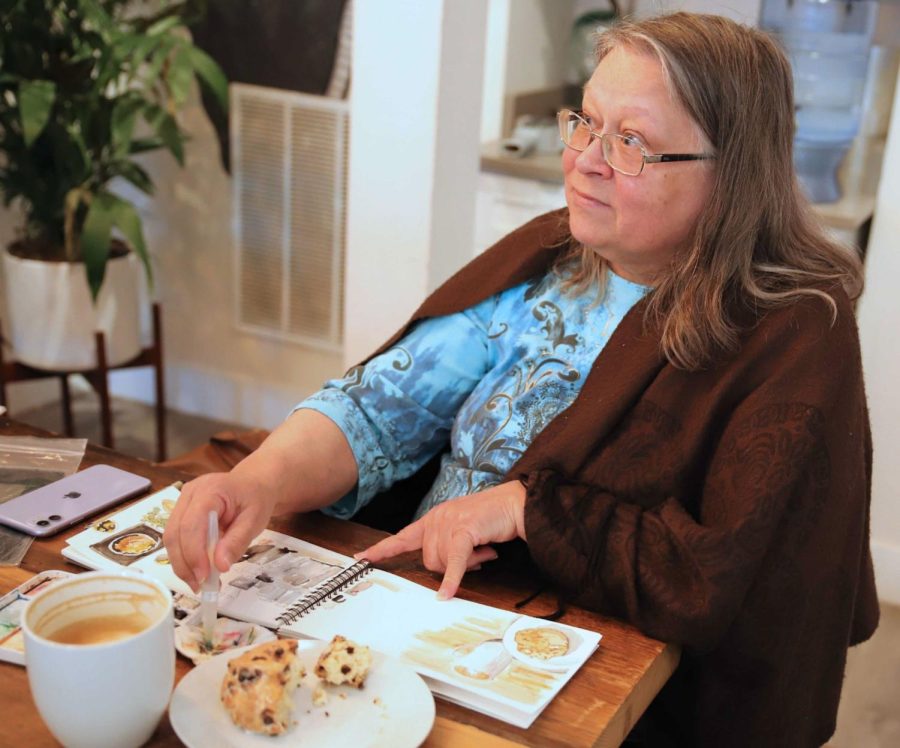 The group is made up of many people with creative professions, including a good number of architects and graphic designers, and a few professional artists who've even displayed their sketches in galleries. But part of the charm of urban sketching is how accessible it is.
"We have professionals …and then we have somebody who started yesterday," Zonis said. "They have their wobbly lines and naive figures, or no figures at all, and that's fine."
The goal of urban sketching is to simply capture the moment instead of making a detailed work of art means it's incredibly welcoming to newcomers. And while many members love to collect fountain pens and high-quality notebooks, all you really need to sketch is a piece of paper and a pencil.
One member, Sherry Smith, had no previous experience in art, even as a hobby. But after finding urban sketching through a workshop in early 2020, she's immersed herself in the art world.
"It was like a light bulb went off," Smith said.
Sherry Smith sketches the cafe at Revive Coffee Roasters in Evanston, Ill. on February 25, 2022. She's retired, but after falling in love with sketching in 2020, she joked that it may be her new career path.
The members all seem to agree there's something special about drawing on-location.
"There's something kind of zen about it," Smith said. "From the very first day that I tried it, I loved the spontaneity of it. I loved trying to capture the moment."
After they've captured a space, the sketchers' notebooks serve almost as a visual diary, capturing the energy and feeling of a space in a way the click of an iPhone simply can't.
"It's better than a photograph," said Mary Jo Ernst, another administrator.
As Zonis and Ernsts sat together and flipped through their filled sketchbook pages, they reminisced on the stories behind each drawing. Whether it was a beautiful scene from Zonis' trip to Amsterdam or a simple drawing of her husband cooking dinner, each page brought them back to that unique space.
Sometimes, Ernst said she's more focused on the people than the art itself.
"We have the most amazing connections," she said.
With the Chicago winter finally melting away, the group has planned their first in-person large group meeting since last summer. A free event that's open to anyone, you can join them in sketching Lurie Garden in Millennium Park on Saturday, April 23.