Patrons enjoy Immersive Frida Kahlo Experience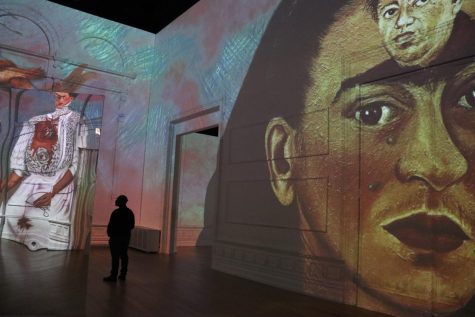 At the "Immersive Frida Kahlo Experience" art gallery, patrons are emotionally and physically transported into Frida Kahlo's art and legacy.
Frida Kahlo was a Mexican artist in the 1930s whose art embodied "resilience and perseverance" according to the exhibit.
Unlike a traditional museum where art is separate from the viewer, the Immersive Frida Kahlo displays the art all over the space. Kahlo's art is animated and will transition from multiple pieces with the same themes to another. A curated soundtrack accompanies the storytelling. Additionally, the immersive element refers to the "generating a three-dimensional image which appears to surround the user" through a computer.
Upon arrival, you're immediately engulfed in Kahlo's life. Every inch of the 500,000 cubic feet is covered in her art, including the floor. It was unique to feel a part of the exhibit as well.
The exhibit plays on a loop for about an hour and takes a non-chronological approach to Kahlo's lifetime. I did not feel confused when I walked in like I walked halfway into a movie. It was cool to piece together everything once the exhibit looped back around.
To respect the experience, everyone was quiet. The music drowned out any whispers but the audio was integral for getting the most out of the exhibit. This was not any ordinary background music. The soundtrack enhanced the art through their similar tones. Kahlo's involvement with the Mexican Communist Party was matched with intense drums and vocals about revolution.
I was a Kahlo fan before the exhibit, but one does not leave without discovering something new about her. Despite the exhibit lacking a lecture sharing the intimate details of Kahlo's life, patrons can learn simply through observing.
Kahlo channeled her trauma and life through her art. It is inevitable that patrons will uncover something they did not know about Kahlo or themselves. This is where the immersive experience becomes key to finding similarities between yourself and Kahlo.
I found this through Kahlo's countless self portraits.
She is known for her infamous unibrow which is not considered attractive by modern beauty standards. However, her unibrow was a symbol marking her uniqueness. I thought about how I used to be ashamed of my big bushy eyebrows when I was younger and plucked them to be thin as I got older. I stopped plucking my eyebrows in January and now they're slowly returning to how they once were. As odd as it seems, I had this self reflection during the exhibit and found myself relating to Kahlo.
I'm a visual learner, but this experience truly highlighted the importance of delving yourself into something completely in order to learn. There is truly nothing like an immersive experience. This was unique because it focused on Kahlo and her legacy, not just her art. The exhibit gives everyone a chance to have an intimate experience with Kahlo.
For an hour, forget about everything and allow yourself to engage with art. I'd recommend turning off your phone, going with a friend and experiencing art on a new level. The Immersive Frida Kahlo experience will engage all of you into the exhibit.