OPINION: College students should be worried of recession
After coming out of the global COVID-19 pandemic, America is facing another obstacle: the rise of inflation and fear of another recession.
America likely will enter another recession if inflation continues to increase at its current rate. The Inflation Reduction Act, which Biden plans to sign into law next week, is a huge victory in the fight against climate change, but will not help the Americans suffering from a financial crisis as a direct result of the growing cost of consumer goods.
The Consumer Price Index, a measure of goods and services related to the cost of living, rose 9.1% for all urban consumers in June. This is the fastest it has grown since 1981. Since the pandemic, costs have surged for gasoline, groceries, rent, and dental care. While prices increase, workers' wages continue to fall, decreasing by 3.6% over the last year.
Former Federal Reserve economist and associate professor of finance at DePaul University, Lamont Black said he believes the rise of inflation is due to the supply chain disruption caused by the Covid-19 pandemic. Black also said the government's response to the pandemic, including the distribution of monetary stimulus, and the war in Ukraine impacting food and gas prices have also played a major role. 
On Aug. 26, Fed Chair Jerome Powell gave a speech at the Fed's annual economic symposium in Jackson Hole addressing the government's plan to decrease inflation and what to expect in the coming months. According to Powell, the Federal Open Market Committee's (FOMC) focus is to bring inflation back down to the 2%  goal. To reduce inflation, Powell believes restoring price stability should be the primary focus.
"As the Fed raises rates, it will cause inflation to come down but will also cause the economy to slow," Black said. "This will likely cause a recession."
In his speech, Powell warns that the Fed's tactics to bring down inflation could also bring pain and job losses to many Americans.
"The burdens of high inflation fall heaviest on those who are least able to bear them," Powell said. "While higher interest rates, slower growth, and softer labor market conditions will bring down inflation, they will also bring some pain to households and businesses."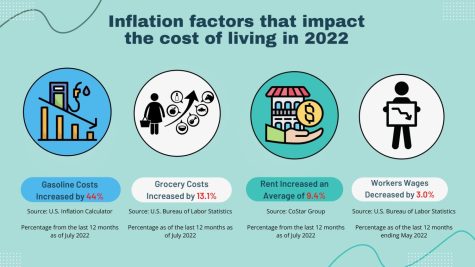 According to Black, preventing a recession and restoring the economy may be more challenging than it was in the Great Recession of 2008. 
While the last recession was caused by the collapse of the housing market, this recession would be caused by the pandemic and supply chain shortages. Because of these differences, using the same methods from the past to restore America's economy will not work again.
Powell made it clear that the central bank is trying to tackle inflation without kickstarting a recession by addressing demand and raising the cost of credit. Regardless, even though the central bank can find ways to mitigate demand, it is not equipped to fix supply chain shortages or end the war in Ukraine.
In response to the rise in inflation, the Senate recently passed the Inflation Reduction Act of 2022 which tackles climate change and lowers the cost of prescription drugs. Although, Black believes the act will have little effect on decreasing inflation.
"The Inflation Reduction Act will likely have very little effect because there is not much the government can do in terms of price controls," Black said.
In a communist government, prices could be regulated, but in America's capitalist society, price control is not feasible. 
College students should especially be aware of the possibility of another recession that could be more impactful than the one that occurred shortly after the pandemic.
Education inflation continues to increase as the U.S. economy continues to steadily decline. 
According to the Education Data Initiative, the cost of tuition at a public four-year university increased 31.4% from 2010 to 2020. Adjusted for currency inflation, tuition has increased 747.8% since 1963. With inflation increasing at its current rate college students can expect tuition to increase at about twice the general inflation rate.
In addition to tuition, students also face price increases for housing, food, utilities, and travel expenses, making it harder for students to get by. For many college students, drastic price increases could have a substantial effect on their ability to pay for school and living expenses. To make matters worse, the Fed is expecting a considerable hit to the job market if a recession were to occur. This would make it more difficult for students to find internships or jobs in their chosen field once they graduate.
Individuals can help mitigate personal impact in the case of a recession. Students can start preparing by investing more money into their savings, cutting back on everyday spending, and securing a job before the market crashes.
A junior at Oakland University, Erika Head said she decided to cancel her 2022 housing contract and live at home as a result of inflation. She has also been taking other precautions like changing her class schedule to avoid driving to and from campus as often as a commuter student.
"There is likely a recession coming so students should think about starting to cut back on their spending because things are likely going to get worse," Black said.
Connect with Sam Moilanen: @sam_moilanen3 | [email protected]