Volleyball sweeps DePaul Invitational
After a long awaited first home match at McGrath-Phillips Arena, the Blue Demon women's volleyball team showed that the losses to start the season were just a fluke. 
The Blue Demons swept the field, going 3-0 at the DePaul Invitational Saturday, while losing a total of three sets over all three matches. A win streak and boost of confidence is what the team got as the season only gets tougher. 
Following six consecutive losses to start the season, at both SMU DoubleTree Invitational and Falcon Invitational, Saturday was a must win scenario for DePaul in the three matches. 
"It was a tough competition, our first two weekends," head coach Marie Zidek said. "We played really good teams that didn't make a lot of errors, that forced you to beat them. Those weekends really prepared us for [this weekend]." 
For the fourth year in a row, the Blue Demons hosted the DePaul Invitational as a way of opening up their season slate of home games. The three teams invited were the Virginia Tech Hokies, Eastern Michigan Eagles and the Saint Louis Billikens.
As soon as the opening whistle blew, the Blue Demons were hitting strides. Defense translated to good attacking offense, and both setters in the 6-2 offense found rhythm and spread the ball all over the court. 
DePaul was disciplined for nearly the entirety of the invitational. They were able to eliminate the self-inflicted mistakes of missing serves and errors in serve receive, giving both sophomore setters Maggie Jones and Ashley Cudiamat time to interchangeably perform on the offense. 
"Serve, receive and serve are two of the things we do every single day in the gym." junior Jill Pressly said.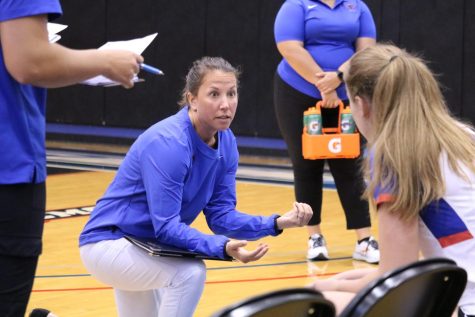 Even after dropping a set, the Blue Demons never became rattled. Each team they faced possessed different situations, but as Zidek told her team late in the fourth set against Virginia Tech, "stay smart and composed." 
In the opening match and throughout certain sets during the weekend, the Blue Demon offense seemed stagnant at times. After winning the opening set which they did in every match, the Blue Demons appeared to slow down and sink to their opponents' level. 
There was clearly a turning point in those matches, either a Zidek timeout that allowed the women to gather themselves and side-out, or a game changing block. Against Saint Louis, the turning point came in the first set. Sophomore middle hitter Aly Kindelberger teamed up with senior outside hitter Bailey Nelson to stuff Saint Louis' outside hitter on match point to win 28-26. 
It seemed as though everyone shined throughout the matches. Junior outside hitter Jill Pressly led the team with a combined total of 49 kills. After being named to the All-Big East Team in 2021, she was unanimously placed on the preseason All-Big East Team for 2022. 
Pressly understands that her consistent and balanced performances are key to the team's success.
"I think my team relies on me in a lot of different situations," Pressly said. "Knowing that gives me comfort, because I am able to be in those pressurized situations and I'm happy to do that for them." 
This 2022 roster is composed of younger players. Nelson is the only senior Zidek has who is ready for moments like these. Freshman Taylor Underwood is an underclassman that has taken the opportunity of playing and ran with it. 
Underwood had 40 kills combined in the three matches. The 6-foot-2 outside hitter has incredible length allowing her to be quite versatile. Underwood's game is efficient for a young player. She makes the defense adjust to her. 
"It makes me feel [good that] there is so much support around me… I feel like I can do me and be aggressive and it works," Underwood said. 
In all three matches, the Blue Demons outperformed their opponents in the six main statistical categories that get ranked in a match: kills, digs, assists, points, aces and blocks. The fluidity of DePaul's play was constant and made for strong starts, allowing them to stay ahead and play their brand of volleyball. 
Not everything was a positive for DePaul in the invitational. Junior libero Rachel Krasowski sustained an injury on match point in the third set against Saint Louis. While returning a dig, Krasowski collided with Pressly and wasn't able to return to play in the fourth set. 
Up until that point, Krasowski did well to execute her duties as the defensive specialist. She was able to dig up 85 balls keeping critical possessions alive for the Blue Demons. 
Zidek, with little time to decide, called junior Julia Nagy's number to replace Krasowski into the fourth set. Nagy, a defense specialist, picked up where Krasowski left off. 
"I thought Julia did great," Zidek said. "It was an easy decision. She has been practicing really well. She is in that backup libero role for a reason in training, and she trains as our starting libero, she's gotten plenty of first team reps and it's really cool to see her go in and make the most of the moment." 
When called upon, Nagy was ready to make an impact.. Her positive energy and confidence allowed her to give her best. 
"In those moments, you really have no choice but to step up and just go for it," Nagy said. "I think that was my perspective I need to fight to help my team win." 
The Blue Demons leave the invitational with a new sense of confidence, having gained traction in the win/loss column. Next, DePaul will compete in the Chicago Cup, which starts Sept. 16 and 17 against Northwestern University, Loyola University and University of Illinois Chicago. 
"It shows tremendous resilience for our team that they are able to walk into a home weekend fight through as a group and push through to victory," Zidek said. "They did a great job starting with [Friday night's match]. It's been a theme of winning pressurized moments and that is what you saw tonight, you saw everyone contribute to beating a really good Saint Louis team."