Surrealism through a new lens: Explore DPAM's new art exhibits
DePaul Art Museum (DPAM) opened two new exhibits: "A natural turn" and "Solo(s)," Sept. 8th highlighting Latinx and BIPOC artists.  
These exhibits bring representation, through self exploration of the artist's identities. 
"All of the artists are women and they are all exploring their own identities in different ways. Nature also plays a very important part," Depaul museum curator Ionit Behar said. 
Fragmented body parts hang from the ceiling as guests walk in. "#Dominican Women's Google Search" shows the sexualization of Dominican women, focusing on outward perception.
 "She's taking exotification to the next level," Beher said. 
Pieces like this combat stereotypes of surrealist art which tells stories from different perspectives, many personal to the DePaul and Chicago communities. 
The museum opened its doors after months of closure into between exhibits. Guests were invited to browse and meet "Solos(s)'s" Chicago-born artist Krista Franklin for her first opening. Artists highlighted in the exhibit, Maria Berrio, Rosana Paulino, Joiri Minaya and Kelly Sinnapah Mary, joined over Zoom.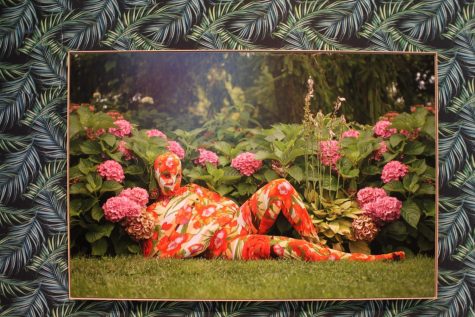 Open to the public on opening night, hundreds of community members, students and staff came to explore the exhibits. 
 Museum director Laura-Caroline de Lara gave opening remarks about the exhibits along with Beher. Drinks and a spread of food were provided for visitors.  
"These exhibitions invite us to rethink the relationship between the South, the other, and the world. A world that is defined by openness to transformation," Beher said. 
 Museum collector Tom Wilson and Dean of College of Liberal Arts and Sciences, Guillermo Vazquez de Velasco, gave remarks as well. 
"We are activists at DePaul. Us as a collective. So this project is a wonderful representation of what we are about," Vazquez se Velasco said. 
Exhibits will run until February 2023. Virtual and in-person public programs are running through December. These include movie screenings, book readings, artist lectures, tours and gallery talks. More information can be found on the museum's website and through the QR code down below.
A natural turn:
"A Natural Turn" uses surrealism to push the boundaries of one's  identities. Surrealistic art is historically created by European male artists. Highlighting female artists from different parts of the Americas who speak different languages, made it even more crucial. 
"[We're] trying to blur how we talk about identities," Beher said.
These shows are a follow-up from the previous Latinx exhibit, which is all part of the Latinx Initiative, a multi-year research inquiry focused on Latinx heritage. The museum focuses on contemporary art and questions representation with artists. 
"It became very much apparent that we were lacking artists from Latinx backgrounds and BIPOC artists," Beher said. 
As part of the university, the museum wanted to show representation of the student body and Chicago, 19% which are Latinx at Depaul according to 2021 data. 
Dominican artist Joiri Minaya uses pictures of women in restrictive body suits, based on sexualized images found when searching "Dominican women"' on the web.
 "I love what they can do with the refusal of the gaze," museum attendee Lola Ayisha Ogbard said. "The camouflaging refuses a gaze, a stereotype."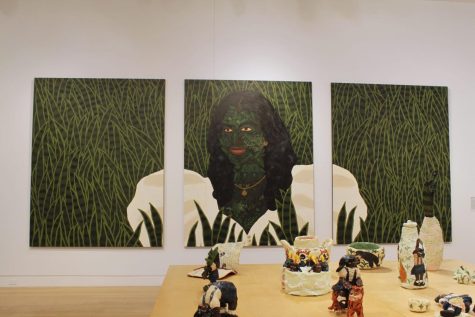 In her short film "Containers" played in DPAM, she uses herself and a tropical wallpaper to describe stereotypes. 
"It was a beautiful short film and you need to sit through and watch the whole thing unfold," museum attendee Leslie Wilson said. "Not only about histories of colonialism but also representation about the environment."
Colombian artist Maria Berrio uses Japanese paper to make large-scale interactive pieces. 
"All of her work was kind of a theory of human nature. There's no clear distinction of when one begins and one ends," Beher said.
 Her pieces refer to cultural myths, pieces from history and her personal background moving to New York. Using clay, she displays figures of children dismembered into parts and surfaced on a wood table. 
In a wall-length self-portrait, Indo-Guadeloupeen artist Kelly Sinnapah Mary references "Notebook of no return," written to explore self and cultural identity, diaspora, and colonialism. 
"It's not about the land, it's not about the nation. But it's more than that, it has so many layers," Beher said. 
Growing up in Guadeloupe, Sinnapah Mary always thought she was African Caribbean as her parents tried to assimilate to the culture. In her adult years, she found that her family was  Indian and her parents tried to hide the past as the French colony was using Indians as indentured servants. 
As a black woman living in Brazil, Rosana Paulino examines the persistent racial violence and discrimination in the area. The series of drawings highlight nude portraits through different natural senses and combats what the western world has ignored.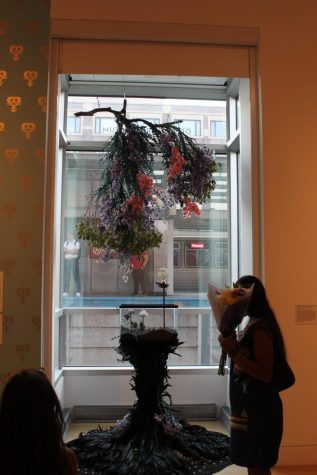 "Solo(s):"
On the second floor of DPAM, hundreds of people came to visit Krista Franklin's "Solo(s)" exhibit. Franklin uses collage, and a myriad of materials to tell a story focused on collaboration and love.
 Franklin has used collage to make covers of several books, which are displayed throughout the exhibit as well as her poetry.
"There is so much care put into the placement and presentation that you could tell immediately," Wilson said. "It's not like your standard floor plan that you would expect pieces just lined up. The activation is really beautiful, and it's more stunning than I could even imagine." 
 Eight years ago Franklin displayed "A library of love," an interactive installation where visitors were encouraged to write cards to loved ones, listen to music and read a book while reflecting. 
"She did this at a time when Chicago was being called 'Chiraq.' People were thinking of Chicago as a place of violence," Beher said. "She wanted to change that." 
Franklin uses the walkway of the museum and paints it brown to convey the importance of the color in institutional buildings on the West Side of Chicago.
 "What Krista Franklin has done is remarkable with her subject matter and how she can story tell with the material usage," Ogbard said. 
Exhibits will run until February 2023. Virtual and in-person public programs are running through December. These include movie screenings, book readings, artist lectures, tours and gallery talks. More information can be found on the museum's website and through the QR code down below.
Connect with Una Cleary: @unacleary_ | [email protected]