How men's fashion is forming at DePaul this fall
The fall quarter has begun at DePaul and young men are coming back in full force with their personal expressions through fashion. Returning and new students have shared what exactly they are wearing and why. 
As Chicago enters the fall season, layers are embraced and enjoyed. Say goodbye to the 5-inch inseam shorts and oversized band t-shirts. Whether it's waffleknit crewnecks, long and loose jeans, or old flannels thrown over simple white tees, these are the kind of items we can find on young men all over DePaul now. 
When Hayden Faustmann, a film and television major was asked about his current outfit Faustmann said "I have a beat up pair of Air Forces I got about two years ago. I thrifted these jeans and the pockets broke, but I think they look good. A plain white tee and a cheap flannel. That's it." 
These are the sort of basic, minimal pieces Faustmann likes to keep on rotation. Putting together basic pieces that are worn in and comfortable in a combination then in a fashionable, creative way.  
"I like taking a basic thing and elevating it." Faustmann said.
Junior Kyle Hook enjoys putting together simple pieces and color blocking. 
"I love the black and white combo, it's always clean." Hook said.
Matching these two shades are in Hook's rotation, but he didn't stray away from louder pieces either.
"I am majoring in 2D animation," Hook said. "It's a passion and has influenced me to pick up more extravagant pieces." 
In every wardrobe, there should be a variety of simple clothing pieces, and statement pieces. A statement piece is an item of clothing that isn't necessarily bright and colorful, or has a specific fit, but is unique and does most the speaking for the outfit. 
More often than not, shoes are the main statement piece of a macsuline outfit, but Hook touches on wearing bolder shirts. He's picked up vintage button downs and polos with a mix of colors, patterns, and textures. Considered by some to be "Tony Soprano shirts." 
Hook also has a simple, but important accessory; a metal ring on his index finger, shaped as a cobra. A detailed, shiny, and loud piece of jewelry expresses so much in a simple outfit.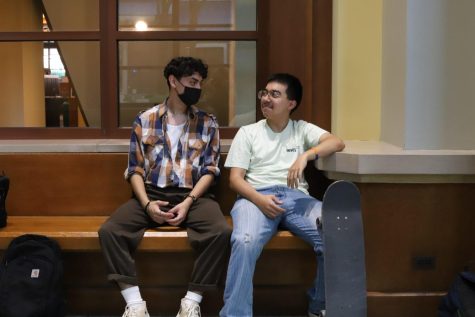 Two Chicago natives, Gabriel Murillo and Luis Caro, sat together in the library hallway and spoke on their fashion sense. Both are influenced by skater culture and their own self-expression. 
"I'm wearing brown dress pants, the Kim Jong Converse collab, a thrifted buttoned shirt and a tank top from Marshalls." Murillo said. 
Within this outfit, there are a number of important details. His pants are cuffed, showing off the entirety of his shoe, as well as white socks which contrast the dark pants. 
Murillo doesn't shy away from accessories. 
"I found this necklace on the floor my sophomore year of high school, cleaned it up and kept it," Murillo said. "Some of these are from Amazon, some from Hot Topic. They're really cheap so I use nail polish to make them pop a bit." The use of nail polish to brighten up jewelry is an excellent tip. 
Caro is an avid skater, and this part of his life  has clearly influenced his fashion. He goes for looser clothes when he's skating, so he can move around more.
"I got some jeans, classic Adidas, I'm not sure what they're called, but they exist, so," Caro said. "The aesthetic of skate culture has influenced me, it's a cool vibe." 
The fashion culture surrounding skateboarding is an ever growing trend. It has taken many forms, but most recently has got back in touch with the 1990s skater aesthetic of looser pants, oversized shirts, and skate shoes. Accessorized with chain and some rings. This is quite different compared to the fashion sense influenced from skateboarding from the 2014 to 2017 era, which leaned far more into form fitting, dark clothes. 
Caro and Murillo agreed that subconsciously they find the vibe of the day and match it with their clothing. 
The fashion on campus for autumn quarter seems simple, yet detail oriented. Young men are connecting their passions, expressions, and creativity to how they get dressed everyday. 
"When you dress yourself, you express yourself." Faustmann said.
Connect with Jonah Weber: [email protected]