Where to get the best coffee while having a good time
Whether you need a weekend to catch up on homework or a new place to study with friends, a coffee shop is a place to go; however, given the high pricing in Chicago, which coffee shops are worth visiting?
If you are tired of Starbucks, Dunkin' Donuts, or bad coffee from the SAC, look no further than the suggestions on our list for high-quality coffee, a relaxing workspace, or a new atmosphere.
Cafe Deko 
800 W Diversey Pkwy, Chicago
If you are looking for an Instagram-worthy cafe to enjoy specialty blend coffees and organic teas, head to Cafe Deko for the perfect Instagram story and coffee. This corner cafe has an Art Deco style and offers a "warm welcoming and creates an inviting environment." Enjoy a variety of specialty coffees or fresh pastries while feeling at home. Prices range from $3 to $7.
Colectivo 
2530 N Clark St, Chicago
This Wisconsin-born coffee roaster has five Chicago locations, including one in Lincoln Park. A 10-minute walk from the LPC, with a patio with plenty of seating and a partially heated and enclosed outdoor fire pit. There will be something for you to try, whether it is a Windy Ci-Tea or a Pumpkin Spice Fluff Latte. Prices range between $4 and $10.
Doppio Coffee House
3054 N Greenview Ave, Chicago
Looking for a tasty sandwich to eat while studying? Doppio is the place to go if you prefer open-faced sandwiches. It will be a tummy-filling experience with coffee beans from all over the world and a variety of coffee selections. Prices range from $4 and $12.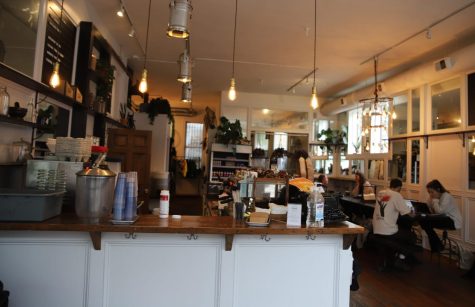 Heritage Bikes & Coffee
2959 N Lincoln Ave, Chicago
Whether you simply need a good cup of coffee or need a bike part, Heritage Bikes & Coffee has you covered. Heritage Bikes & Coffee serves Intelligentsia coffee, a local Chicago roaster, and also offers bike parts and repairs. If you are someone who regularly bikes to campus or around the city, this is a spot for you. Coffee drink prices range from $3 and $7. 
Jumping Bean
1439 W 18th St, Chicago
Jumping Bean is a local Chicago landmark. Located in the Pilsen neighborhood, Jumping Bean opened in 1994 to serve fantastic coffee and work as an art gallery. Whether you want a fantastic cup of coffee, a cubano, a fresh salad, or to see some lovely art, Jumping Bean is a great cafe choice, located in a historic neighborhood. Everything on the menu is under $10. 
Opsinium 
1117 W Belmont Ave, Chicago
"Drink coffee, stay high." That's Dark Matter's slogan. With locations all over the city, Opsinium is special. Right off the Belmont El stop, convenient for DePaul students, they offer strong coffee and an even better workspace, as well as pastries provided by local Chicago bakeries. They take pride in their music choices and collaborations with artists and musicians on their coffee roasts. Prices range from $3 to $6. 
Connect with Vanessa Lopez: @v_lopez__ | [email protected]
Connect with Jonah Weber: [email protected]