Behind one woman, stands hundreds more
Mahsa Amini, 22, was a Kurdish woman. On Sept. 13, she took a train to Tehran, Iran visiting her uncle. During her train ride, her hijab slipped from her head and she was arrested by the morality police once she stepped foot off the train.  
After her arrest, Amini was taken to the Vozara morality police detention center for two hours. At the detention center, while her brother was waiting outside for her, Amini was taken away by an ambulance when she fell into a coma and passed away Sept. 16.
Amini was allegedly beaten and tortured at the detention center. Amini's story is not the first instance of alleged brutality by Iran's morality police, but her death has sparked international protest.
The entire situation was kept from the public eye by everyone who played a role in the moments of Amini. Doctors refused to give updates about Amini's health despite her family's pleading, the coroner's office hid all evidence of abuse except for a bruise and cameras in the van that took Amini to the detention center was broken so there is no footage of the torture she suffered. 
"What we are seeing more and more in Iran is a patriarchal system taking away choice from women," Sufyan Sohel, Deputy Director and Council at CAIR-Chicago, said. 
Women are subject to face violence and sexual exploitation, segregation from men and a lack of political freedom and economic opportunity.
"The religion itself mentions nothing about harming women, embarrassing women," DePaul student Safa Saied said. "It's built on respecting one another."
"In China [and] France, it is the exact opposite, there is a difference in media coverage, there is something to be said about some kind of biases," Saied said. Through the media and patriarchal dictatorship,women are pressured to fit the mold society wants.
"Islam continues to affect people's lives and is sometimes justified as being somehow related to Islam even though, as you said they directly contradict what we find in the Qur'an and the example of the Prophet Muhammad," DePaul University's Muslim Chaplain Abdul-Malik Ryan said.
A negative image and perspective is placed on Islam based on stereotypes and stigmas. Perspective, education, and awareness are all necessary actions instead of harmful media perception of vulnerable communities.
The media relays and releases negative representations about Muslims or Islam. "On average, Americans gave Muslims a thermometer rating of 48 degrees, which was 8 degrees warmer than in 2014, when the center first posed the question," said the PEW research center. According to PEW, individuals choose to believe Islam is more likely to encourage violence compared to other religions. 
"Women had enough shit," Sohel said thus protests broke out and continue to take place. Reported recently by the Anadolu Agency, the death toll in Iran has risen to 92. The protests have reached  places like London,  U.K., New York City and Chicago.  
On Sept. 22, Chicago protestors gathered to avow anger towards the murder of Amini. They surrounded Federal Plaza where a memorial was set up for Amini. 
"I do think it should be [a] good reason to explore other causes, not just take these events as tragedies," Saied said. "[Other causes like] to educate or re-educate yourself, open up conversations."
Muslim Americans in Chicago are supported by the Council on American Islamic Relations (CAIR-Chicago), an organization dedicated to Muslim civil rights and advocacy groups. They are "working to normalize the image of Muslims in America," according to the CAIR-Chicago website. 
CAIR-Chicago provides resources, such as legal services, to any Muslim or non-Muslim facing hate or discrimination, Sohel said.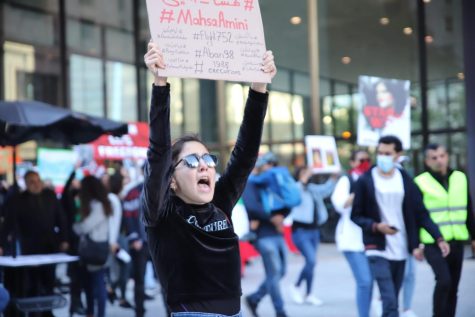 DePaul University's United Muslims Moving Ahead (UMMA) is an organization on campus. 
"People can get involved by coming to our programs or events or just visiting our space on the third floor of the student center," Ryan said. "In the midst of grief and anger and confusion to have to additionally deal with feeling like people are looking at your faith or your religious practices like wearing hijab in a negative light is an additional burden on some students."
A safe space, a community on campus, allows students of different backgrounds to feel welcomed and appreciated. 
"[It has an] awesome presence on campus," Saied said, a member of UMMA. She feels as though DePaul has a bit of an understanding. If there was no presence, she would be concerned, but more work could be done. 
As a Muslim hijabi, Saied had both good and bad experiences. She lost contact with friends, has been singled out in classrooms and was told she "would look prettier without it." . Despite these realities, she values the opportunities she has to talk with interviewers and educate people. 
"I think that a lot of times, once we set boundaries, we don't leave a lot of room for others," Saied said. "If you take in all this information and do nothing, it's very telling." 
The silence and secluded actions DePaul takes on any issue not aligned with the mission raises concerns. 
According to Saied, DePaul does poorly with releasing statements related to the population of their students in areas that impact them. Especially, if the school wants to be as supportive to its students as possible. 
Sohel believes there's a lack of understanding with much of the Islamic faith and gender. According to Sohel, Muhammed's first wife was his boss, who was a divorcee and proposed to him. 
"People have this conception that Islam is a very patriarchal faith," Sohel said. 
Saied believes the remedy for these misconceptions is self-education through credible outlets, and to not believe everything you read or see about the islamic faith online.
"Pay attention when it's not in the media! Before and after, it kind of goes to show, they need to be more aware," Saied said.