Nelson's career night helps DePaul snap 22-game losing streak to Villanova
January 11, 2023
DePaul secured its most impressive win of the season after besting Villanova 75-65, led by junior forward Da'Sean Nelson's career-high 24-point night. The Blue Demons improved to 8-9 on the season and 2-4 in Big East play with Tuesday night's victory at Wintrust Arena.
"Villanova is a very good basketball team," said head coach Tony Stubblefield. "They're a very well-coached basketball team and they got some really good players. We [knew we] were going to have to go out there and beat them. They weren't going to give us anything." 
DePaul snapped a 22-game losing streak against Villanova and won for the first time since Jan. 3 2008. The Blue Demons' double digit win was also their largest margin of victory all-time against the Wildcats.
"I made them very aware that DePaul has lost 22 games in a row," Stubblefield said. "We're trying to get this program off the ground. We're building something and this is where it starts. You have to beat the guys that are at the top." 
Tuesday night may prove to be Nelson's breakout game. Nelson was the key factor in DePaul's upset win, as the junior forward scored a career-high 24 points, shooting 9-for-12 from the field to go with a team-high eight rebounds.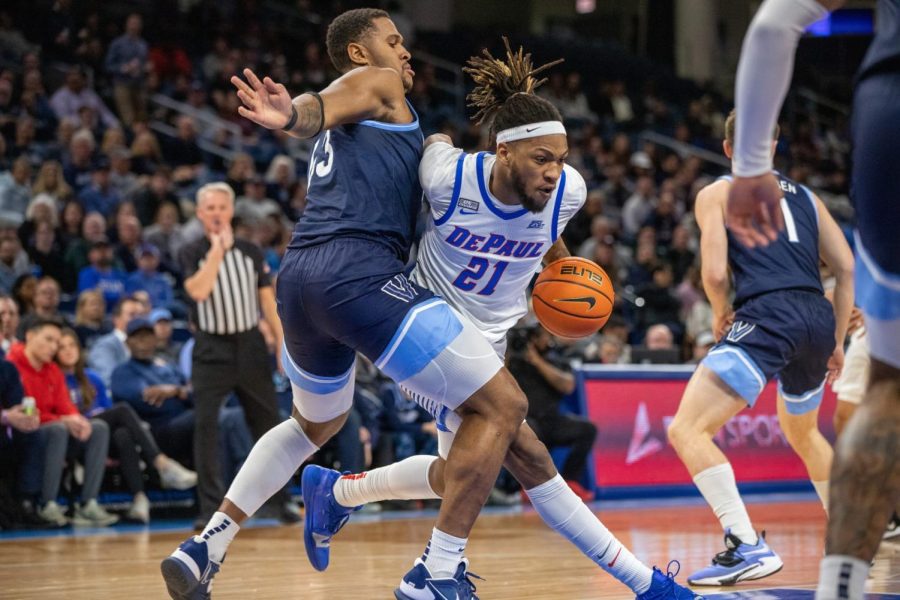 Nelson showed crafty post-play while matched up with Villanova's second-leading scorer and paint-presence, junior forward Eric Dixon. Tuesday was the third-straight impressive showing for the 6-foot-8 forward after scoring 14 points against Butler a week prior and 17 against Providence on New Year's Day. 
"From the beginning of the game, coach [Stubblefield] said you gotta stay strong and keep playing strong," Nelson said. "[I'm feeling] more comfortable playing on the block, transferring from being able to stretch the floor to playing down low as the five man." 
Villanova head coach Kyle Neptune credited Nelson post-game for his breakout performance.
"He's a good player," Neptune said. "He pivoted, took his time, made shots over guys, he was stronger than us. He got to the rim and he bullied us." 
Nelson has had a modest impact on the Blue Demons' play thus far, which makes Tuesday's performance more special. He comes off the bench, and before Tuesday, averaged 9.3 points and 5.3 rebounds per game.
"Da'Sean [Nelson] is talented," Stubblefield said. "I tell Da'Sean this almost every day that he's only going to get better. He's got to understand the intensity of these games and how hard you gotta play, the focus that you gotta have to give yourself a chance to win." 
Unlike the majority of the season, DePaul held their own from the opening tip-off and had maybe their most complete game of the year thus far. The Blue Demons shot 46% from the field and held the Wildcats to 41% from the field, Villanova's lowest against a Big East opponent this season.
"I feel like we played like lions tonight," said graduate forward Javan Johnson. "We wanted to just play strong… and be the aggressors as opposed to letting them throw the first punch. We wanted to throw the first punch today."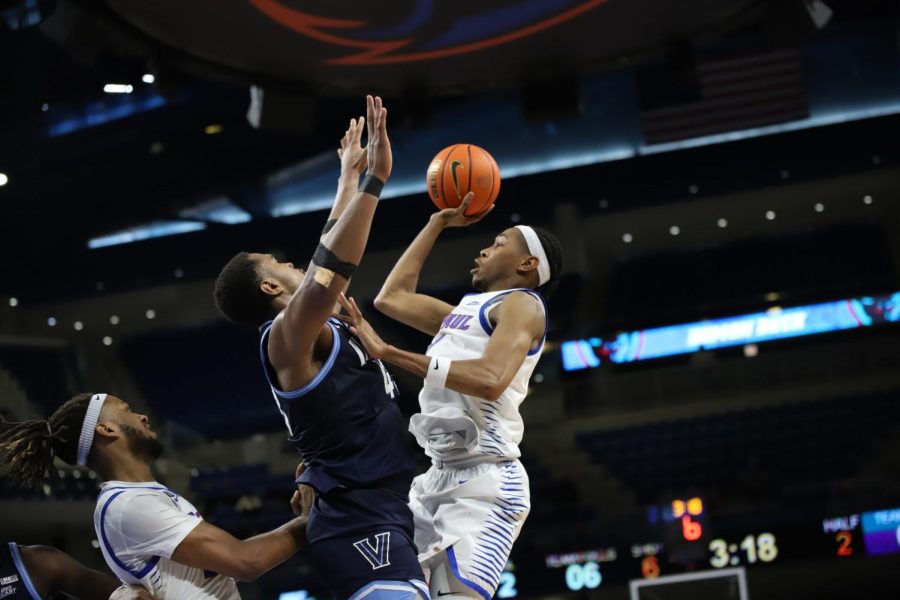 Johnson continued his stellar play against the Wildcats, scoring 18-points and connecting on 4-of-6 three-pointers. His impact on the defensive side of the ball paid dividends as he forced three steals and recorded a block that helped lead DePaul to victory.
"Every game we try to get deflections and each game we do, we end up on the right side winning the game," Johnson said. "I feel like [we've] got to continue to bring that every game and get in the passing lanes and force turnovers."
Stubblefield also found a way to keep potential NBA lottery projected forward Cam Whitmore in check, who scored just five first-half points. Whitmore finished the game with 16, but also committed four turnovers and ended with a plus-minus of -11.
DePaul's defense was stout during their double-digit victory on Tuesday night, recording seven steals and forcing 14 Wildcats turnovers. 
"[Defense has] been our main focus," Stubblefield said. "That's how we're going to have to win games and I thought our guys were very focused and locked in defensively."
A 15-3 second-half run for DePaul proved to be the game's turning point, which helped the Demons pull away and stay ahead for the remainder of the game. The run was highlighted by back-to-back three's by Johnson and senior guard Philmon Gebrewhit, which forced Neptune to call a timeout and regroup.
With students back, Wintrust Arena was louder than it's been all-season long and the team fed off the crowd's energy. 
The Blue Demons had five players not play, including Nick Ongenda (hand), Mo Sall (wrist), K.T. Raimey (coach's decision), Ahmad Bynum (coach's decision) and Caleb Murphy (wrist). Stubblefield confirmed postgame that Murphy's injury is not believed to be season ending and fans can expect to see him at some point.
"Very," Stubblefield said of his level of confidence that Murphy will play this season. "He practiced today, he just had some bad luck with injuries. He wants to be out there, but it's just a matter of him getting cleared. He will get out there at some point."
DePaul (8-9, 2-4) will continue their homestand when they host Seton Hall (10-8, 3-4) on Saturday morning with tip off scheduled at Wintrust Arena for 11:00 a.m. CST. The game will be broadcast on FS1.
"We're gonna have to lock in and get ready for this game," Stubblefield said. "Seton Hall is a very scrappy team and it's gonna be a major challenge for us. They can enjoy [Tuesday's win], but tomorrow we get back to practice, back to business and get ready for Seton Hall."