Heating up: Candidates vie for 43rd representation
January 22, 2023
From Diversey to Armitage, the 43rd Ward lines the limits of Lincoln Park, home to DePaul. Since the dividing of the 50 wards of Chicago in 1923, the alderman has served as the representative of each of these wards in Chicago City Council, each representing Chicago's unique neighborhoods. 
The race for electing alderman is underway in the 43rd Ward with Election Day on Feb. 28.  Candidates are focusing on public safety concerns, fiscal issues and public education for their campaigns. 
"[The 43rd Ward] held a disproportionate influence on the city's life," said Crain's Chicago Business reporter Greg Hinz. Hinz moderated the recent Aldermanic Candidates Forum hosted by the Lincoln Park Chamber of Commerce. 
Currently, Ald. Timmy Knudsen is running to keep his seat after Mayor Lori Lightfoot appointed the now youngest member of city council in September. The other five candidates running are Steve Botsford, Brian Comer, Rebecca Janowitz, Steve McClellan and Wendi Taylor Nations.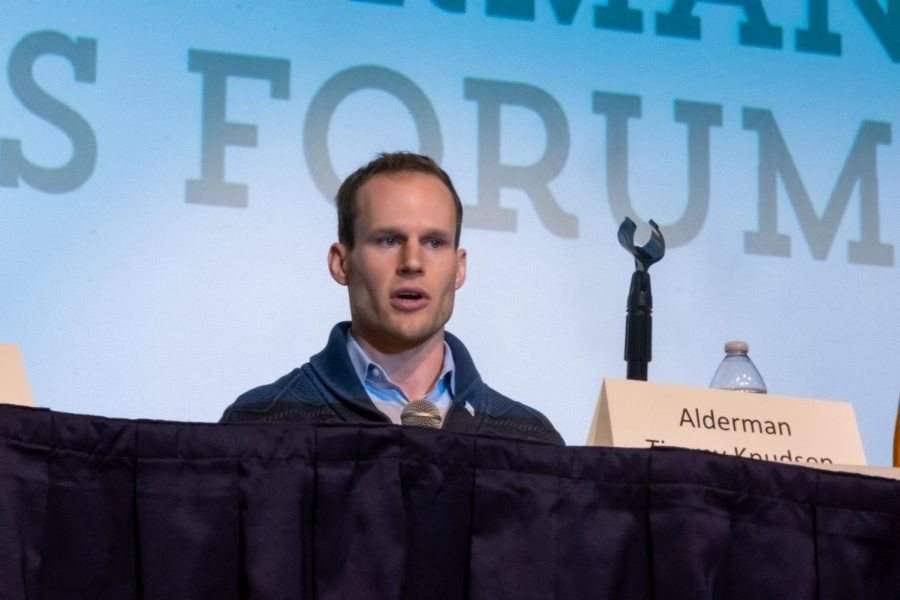 Candidates will go beyond legislating and sitting on committees if elected for alderman. 
"Being an alderman is not just about city hall meetings," Nations said. "It's long hours in the ward office, making sure that potholes are taken care of, streetlights are on, and most importantly, our streets are safe." 
For many Chicago politicians, aldermen can be a stepping stone for bigger offices like congress, and mayor. But for Janowitz, running for alderman is a step into her retirement from an attorney at the Cook County sheriff's department. 
"As I'm knocking on doors sometimes I think, why am I doing this?" Janowitz said. "I'm so glad to be running for alderman of this ward where there is work to be done, but there's [also] a possibility to get it done." 
At the aldermanic forum on Tuesday Jan. 17, candidates argued for and against the elected school board that is being implemented in Chicago. McClellan feels that having an elected school board will hold CPS accountable for how it allocates its funds. 
"How important it is for schools all over the city to have the same resources so you don't have to come over to the North Side just to get an education," McClellan said. "All of this ties into economic development, all ties into economic opportunity for these young individuals in the inner city."
 For Comer, the elected school board will present many challenges for the city. 
"If you look at Lincoln Park High School, it looks nice from the outside but it is crumbling from the inside," Comer said. "They are privately fundraising and they shouldn't."
According to US News, Lincoln Park High School has a graduation rate of 89% and is ranked 11 among Chicago Public Schools. The neighborhood of Lincoln Park itself is ranked 3rd in the richest neighborhoods in Chicago with a median income of $115,389. 
Chicago will have the largest elected school board of any major U.S. city with 21 seats assigned by Gov. J.B. Pritzer. aldermen can be appointed to the position.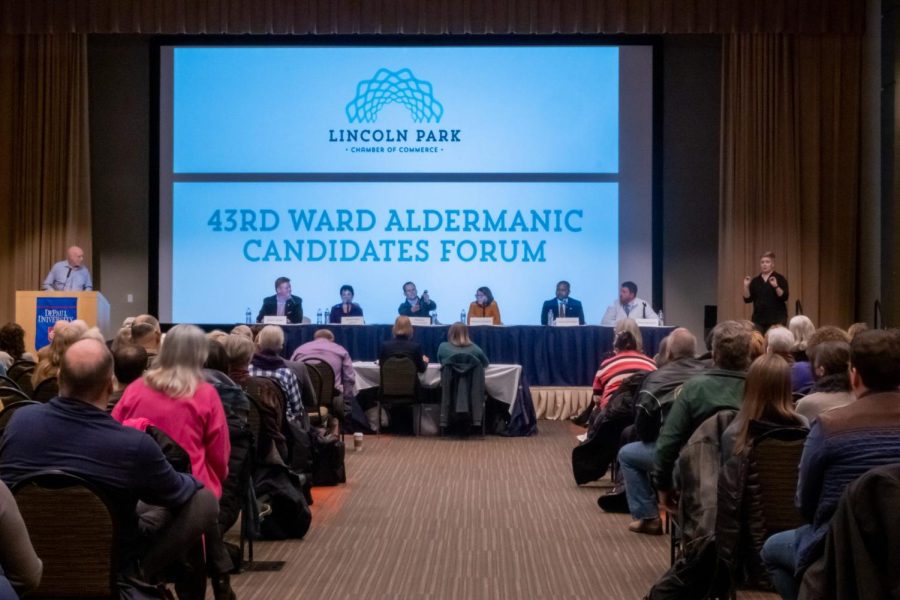 For the candidates, DePaul's relationship with the 43rd Ward alderman is crucial to the development of the neighborhood in many different ways. 
"If we lost DePaul, the 43rd Ward wouldn't be the way it is right now," said candidate Steve McClellan. 
With 17% of students living on campus, DePaul remains integral to the population of the neighborhood. 
"DePaul is the same way I will utilize our schools in a neighborhood," McClellan said. "[Aldermen should] get to understand what the school needs and what you need the aldermen to provide." 
The significance of the aldermanic election and local politics may feel meaningless to many students being from out of Chicago. But in the 2022 midterm elections, the turnout for voters aged 18 to 29 was the second-highest in the past 30 years.  
"[Young people] all have a voice and people overlook [it] all the time," McClellan said. "They don't think [youth] voices mean anything, but [they're] the future."
Staying involved with these elections and choosing which candidate voters align with is crucial to how their needs will be represented in the ward. Candidates urge students to go look at their neighborhood, whether that be the 43rd Ward or others, to see how they can get involved.
"Please vote," Janowitz said. "The only people voting are all old. We need young people to vote because we can't go on like this."
To vote for the 43rd Ward alderman, early voting starts on Jan. 26 and ends on election day, Feb. 28.