Timmy Knudsen appointed new alderman for 43rd Ward
Freshly appointed Ald. Timmy Knudsen (43rd) was confirmed by the Chicago City Council on Wednesday, putting him in charge of the ward he has called home since 2015. The 32-year-old is now Chicago's youngest alderperson, the seventh member of the LGBTQ caucus and the first openly gay alderperson of the 43rd Ward.
Knudsen was previously the chair of the city's Zoning Board of Appeals. He was appointed by Mayor Lori Lightfoot to fill the seat left by former 43rd Ward Ald. Michele Smith, who retired in August.
"I'm grateful for the faith put into me by the 43rd Ward Selection Committee, the council and Mayor Lightfoot," Knudsen told The DePaulia. "I get to go to work fast, you know, and that's a big responsibility."
Chicago's 43rd Ward is home to DePaul's Lincoln Park campus, and extends from Old Town to Diversey Parkway. It's an affluent area of the city, with a median annual income of over $150,000.
Improving public safety and schools were two of the issues that Knudsen identified as points of emphasis for his constituents. He has already floated the installation of new security cameras throughout Lincoln Park, Gold Coast and Old Town in an effort to reduce the rising crime in the 43rd Ward.
"Public safety is definitely at the top of my list," Knudsen said. "Other lakefront aldermen use their [aldermanic] menu dollars for things like stationary cameras… those cameras, we've been hearing, are a deterrent."
So far in 2022, the 43rd Ward has seen a 66% increase in robberies from last year and a 36% increase in carjackings. 
For longtime ward resident Eric Dulkin, these public safety concerns have gone unanswered for far too long. Dulkin has lived in Lincoln Park for 34 years and helped start the Lincoln Park Neighborhood Watch Program in an attempt to address these issues, himself.
"We have had a lot of issues with our safety, and I think it's imperative that we deal with it," Dulkin said. "I knew Ald. Smith for 10 years, but I don't feel she did much for the neighborhood at all, in regard to that."
Dulkin, who called for more police presence in Lincoln Park, hopes that Knudsen will be more accepting towards the requests of 43rd Ward residents like him.
"I want him to be receptive to the needs of others, to accommodate people when they ask for it," he said. "My mom is 75 years old, and she struggles with her health, and I struggle being permanently disabled and need accommodation in this neighborhood. You can't get it."
Knudsen said his time spent living in the ward, as well as his aldermanic campaign, has familiarized him with the issues of those in the area.
"It's a very engaged group of residents," Knudsen said. "Their concerns are my concerns, and their creativity and solutions are also my creativity and solutions… We share these issues that the 43rd Ward is facing with public safety. And everyone wants the strongest public schools here and, and we can get there, it just takes work."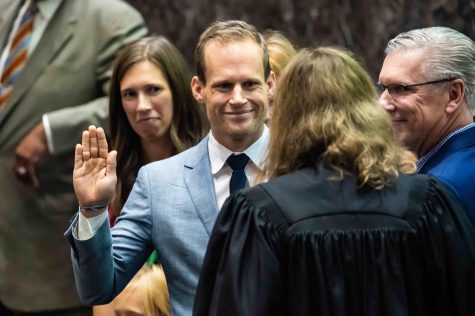 Prior to being appointed as the alderman of the 43rd Ward, Knudsen was part of Mayor Lightfoot's 2019 campaign finance team. He also worked as a lawyer at Croke Fairchild Morgan & Beres, where he is a partner. 
"In private practice, he counseled entrepreneurs to grow their businesses, and founded the firm's pro bono services which represents LGBTQ asylum seekers," said Cesar Toledo, political director of the LGBTQ Victory Fund.
The LGBTQ Victory Fund is a political action committee that aims to increase the number of openly LGBTQ public officials in the U.S. The PAC backed Knudsen's aldermanic aspirations, encouraged by his past work as a lawyer and community leader in the 43rd Ward.
"We are excited, and we look forward to his leadership, which is now more important than ever," Toledo said. "Not only is Timmy a millennial out gay man, but he will also bring a humble lens to support the hundreds of asylum seekers bused from Texas."
Knudsen is one of several alderpersons now collecting donations to support migrants being transported from Texas. So far, over 800 migrants have been bused from Texas to Chicago. This comes amid an ongoing battle over immigration policy between Republican Texas Gov. Greg Abbott and the Biden administration, which prompted Abbott to send thousands of migrants to cities with Democratic leadership like New York, Washington D.C. and Chicago.
"Greg Abbott's treatment of migrants is totally inhumane," Knudsen said. "All Chicagoans are really feeling a call to action on this… So for my first project, to really mobilize the ward members, let's donate food and goods that you can. Let's really give back."
After representing LGBTQ asylum applicants during his law career, Knudsen sees this new migration challenge as a way to unite his constituents around a common good.
"Let's welcome people," he said. "I think it will be a great way to engage the community, as well as show the things that are really important to me."
Knudsen will serve the rest of former Ald. Smith's term until February of 2023, where he will have to run for election to retain the seat.