Chicago aldermen house location for donations for Texas migrants
With busloads of immigrants being transported from Texas, Chicago officials are seeking volunteers and donations to help the migrants.
Mayor Lori Lightfoot stated that the city is coordinating with local organizations, but that they will need help to support the migrants.
Chicago has set up a website for those who want to volunteer, help migrants or donate items such as clothing, toiletries and other necessities.
"As a welcoming city, we know Chicagoans are ready to show their generosity and are looking for ways to support these individuals," the city's website states.
Many Chicagoans have been collecting donations for the migrants. The city has designated some aldermanic offices as drop-off locations for donations.
Ald. Michael D. Rodriguez (22nd) has been collecting donations and transferring them to the Illinois Coalition for Immigrant and Refugee Rights (ICIRR) and other community organizations.
Carlos Gamboa, the 22nd Ward's chief of staff, said that as soon as they learned that the governor of Texas was sending migrants to Chicago, they needed to act quickly to provide resources to their people.
"It's unfair and unjust that the Governor of Texas is shipping them to multiple cities across the United States with absolutely no resources or a plan," Gamboa said. "We will always help someone, regardless of their immigration status. We will treat everyone equally."
"I think that many second, third, and even fourth generation Mexican Americans are more aware of what is going on and want to make a difference by making it easier for immigrants to go through the process because they have family who have gone through the same suffering," Gamboa added.
Rodriguez's ward office is accessible from 9 a.m. to 7 p.m. Mondays and 9 a.m. to 5 p.m. Tuesday through Friday at 2500 S. St. Louis Ave in Little Village. 
Ald. Byron Sigcho Lopez (25th) added when people donate to their ward, they are making a bigger difference in the community than they realize.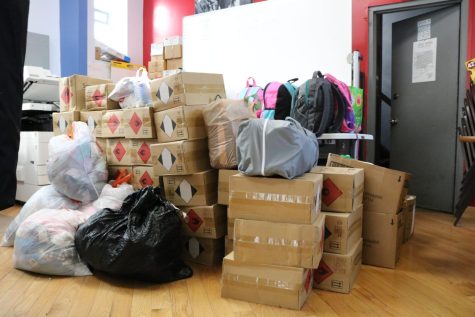 "It's the most vulnerable communities doing the government's job, which is a shame," Sigcho Lopez said. "Its those who do not have much who help those who do not have anything, and we need support, and this needs to be the talk of Chicago, because not a single person who arrived on a bus deserves this."
Chicago non-profits and community groups helping immigrant communities, such as The Resurrection Project, have also stepped in to help with donations.
Laura Mendoza, immigration organizer at The Resurrection Project, said they are there to help with anything from interpretation to handing out essentials that people will need.
"We put together hygiene kits, which include items such as deodorant, shampoo, and hand sanitizer, as well as other basic necessities that people would require for themselves," Mendoza said.  
"Helping them is important because they will become contributing members of our community," Mendoza said. "We just need to give them that little push with donations to help them be steady and stable. Then they'll be able to thrive as many other immigrants have in the past."
For those who are interested in donating, The Resurrection Project only accepts monetary donations.
"We have a large team of volunteers working with the migrants to provide resources because we care," Mendoza said. "We want to give them resources because they are important to the city of Chicago. They are human beings."
A list of items that are needed and can be donated to the alderman's offices or other organizations can be found here.
"Chicagoans should donate because they [migrants] have nothing," Gamboa said. "They didn't ask to come here. All they want is a better life."
 Donations are also being collected by other members of the City Council's Latino Council. Here are more offices where donations can be brought:
Ald. Susan Sadlowski Garza (10th) – Ward Office, 10500 S. Ewing Ave.

Ald. George Cardenas (12th) – City Hall, 121 N. LaSalle St.

Ald. Byron Sigcho-Lopez (25th) – Ward Office, 2242 S. Damen Ave.

Ald. Roberto Maldonado (26th) – Ward Office, 2511 W. Division St.

Ald. Ariel Reboyras (30th) – Ward Office, 3559 N. Milwaukee Ave.

Ald. Felix Cardona, Jr. (31st) – Ward Office, 4606 W. Diversey Ave.

Ald. Rossana Rodriguez Sanchez (33rd) – Ward Office, 3001 W. Irving Park Rd.

Ald. Carlos Ramirez-Rosa (35th) – Ward Office, 2934 N. Milwaukee Ave., Unit C
Ald. Gilbert Villegas (36th) – Ward Office, 6560 N. Fullerton Ave., Suite 118-A

Ald. Andre Vasquez (40th) – Ward Office, 5620 N. Western Ave.

City Clerk Anna Valencia – City Hall, 121 N. LaSalle St., 1st Floor
Connect with Vanessa Lopez: @v_lopez__ | [email protected]