U.K. transgender teen killed in suspected hate crime
On Feb. 11, Brianna Ghey, a 16-year-old transgender girl, was allegedly stabbed to death by two teenagers in the United Kingdom. Those suspected in this case were charged with her murder and are set to have their trial on July 10. While legal debate over whether this was truly an anti-trans attack or not, her story caused public outcry and this incident sparked conversations globally about the safety and protection of trans youth worldwide. 
According to Everytown for Gun Safety, murders of transgender people nearly doubled from 2017 to 2021 in the U.S. alone, an overall 93% increase over four years. 
Ghey's story, similar to the stories of other transgender victims, is brushed off in the media and not given proper awareness too. When looking up articles about her murder, scarce information is shared with the public. Josh Helfgott, a popular LGBTQ TikTok influencer frequently shares news stories regarding LGBTQ people. 
"Brianna was getting bullied frequently for her gender identity in school leading up to this incident. Five days before she passed, Ghey posted a video on this same platform talking about the exclusion she was facing," Helfgott said(@joshhelfgott). 
Despite the evidence online, police in the U.K. are still telling the public that they are unclear as to whether or not this was truly a hate crime. 
"I hadn't even heard of this story until this past Monday; trans issues definitely aren't being talked about enough. In this case, it might also be because of lack of immediate action by the local community to raise money and charge this murder as a hate crime," said Awiyn Lucido a transgender student in the communication graduate program. 
On top of that, when the U.K. press shared information with the public on this story, they referred to her using her deadname. 
A deadname refers to a name that transgender people were assigned at birth with and no longer associate with when being addressed. Deadnames hold negative weight and can be very dehumanizing for these individuals. 
"[They] are oftentimes intensely personal," Lucido said. "When these names become common knowledge in the media, it can be weaponized. It is a constant reminder the world does not see you as who you are, that living life that is true to oneself is a fight. It can also elicit a sense of dysphoria. It can be very similar or even more intense than being misgendered."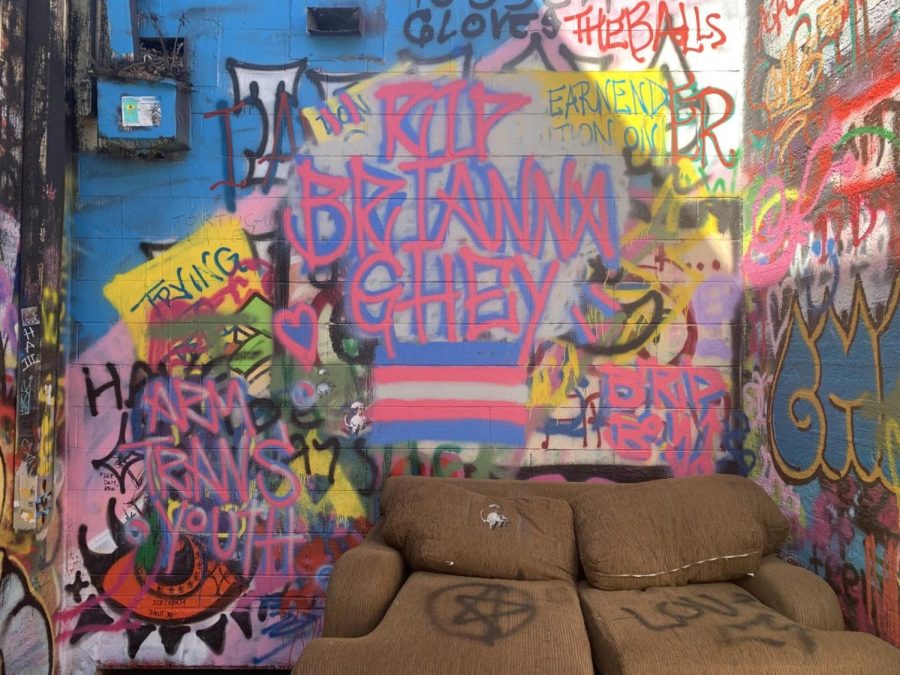 This public statement caused a lot of shock and anger towards both members of and allies of the LGBTQ community. Many felt this was betraying the community and showing lack of support for their issues. 
While there are certain acts and provisions put in place in countries such as the U.K. or the U.S. to protect trans youth. How critically these actions are put in place and adhered to is another story. Schools, both public and private, have some freedom to decide what to allow amongst their students. It could encompass anything between restrooms, changing facilities, pronoun usage and uniforms. This is where the ongoing issue lies in lack of protection of trans youth. They are not given adequate resources and support through their institutions from a young age, and this causes ongoing issues of discrimination and bullying. 
In terms of results, the two 15-year-olds have been charged and arrested. They will go to court in July to be formally tried and punished accordingly. Even still, the response from the U.K. public and the police force caused quite a commotion due to lack of outward support for the LGBT+ community and trans youth.  
Non-white and gender non-conforming persons are put more at risk because of both their gender identity and their skin color. While Ghey's tragedy was able to get in the public eye and enhance conversations on this issue, crimes and violence against transgender people of color often do not make headlines the way that Ghey's killing did.
"I'm, always torn in two, because each story like Brianna's is a person's entire life, and the importance of that demands so many emotions, but at the same time, these events are so frequent that one gets desensitized to the horror of it," said Reane Kelly, a transgender DePaul alum. 
"We're just living our lives, trying to find stability and happiness, and we're regularly thrown into collective mourning," Kelly said. "It's so hard to be hopeful, because it feels like mainstream society is becoming complacent, while laws that limit our existence keep being passed."
Stories such as Ghey's can be damaging and disheartening to learn about in the news, especially for transgender people and transgender youth. 
"This is something we hear about in the queer community but others remain unmoved," said Kai Merren, a transmasculine political science major at DePaul. "Ghey's story is felt throughout the trans community not only because it was a tragedy in itself, but because it's another reminder that this is an ongoing issue and a product of cultural feelings around trans youth in the public eye."
"The future of trans issues and protections for those in this community are unpredictable," Merren said. "We are in a climate where people in power get to decide how important our rights are, how important our lives are."
If you are a trans or genderqueer person who is struggling or need some further support there are hotlines, organizations, and other resources listed below: 
Trans Lifeline: https://translifeline.org/ 
US 877.565.8860
Canada 877.330.6366
The Trevor Project: https://www.thetrevorproject.org/ 
US +1 866.488.7386
TransEDU: https://www.trans.ac.uk/ResourcesInformation/Helplines/tabid/7257/Default.aspx 
UK 0300.330.0630