Playing possessed: Demons leave it all on the floor with valiant effort in Big East Tourney
Through disappointment and bittersweet heartbreak, DePaul's season ended on somewhat of a high note, winning its first Big East Tournament game since 2020. 
Senior Nick Ongenda's game-winning block against Seton Hall brought the fire and determination back into a team decimated by an injury-plagued season that was nearly minutes away from upsetting No. 15 Xavier at Madison Square Garden Thursday night.
"I'm proud of these guys and their fight and being a resilient bunch," head coach Tony Stubblefield said. "These guys went through a lot of adversity throughout the course of this year, and they could have gave into it a lot, dealing with all the injuries that we had and things that happened to our team. It wasn't what we envisioned it to be over the course of the summer and even in the fall, but these guys really stuck with it."
While the matchup against Xavier likely left a bitter taste in DePaul's mouth, its battle with Seton Hall ended a 12-game losing streak in an inspiring effort.
Seton Hall
In a season full of heartbreaks and underachievements, DePaul pulled off one of its most dramatic victories of the season, upsetting the Pirates 66-65 at the opening round of the Big East Tournament. 
Against the odds in the final minute, a wave of improbable plays kept the Demons' season alive.
"They easily could've given up a couple of times during the course of the game," Stubblefield said. "These guys really stuck with it and put their heads down and our motto has always been 'find a way.' These guys were able to get the job done tonight."
Wednesday night's wild victory ended DePaul's 12-game losing streak and advanced them to the second round of the tournament where they later lost 89-84 to No. 2 seed Xavier.
DePaul set multiple program Big East Tournament records, including the most blocked shots in a tournament game (6) and team 3-point percentage (50%). 
The final minute of the game is where the chaos started. The Blue Demons trailed the Pirates 63-58, when junior guard Jalen Terry connected with a deep, somewhat desperate 3-pointer near the logo at the 41.9 mark, narrowing Seton Hall's 63-61 lead.
Moments later, Seton Hall senior guard Al-Amir Dawes lost the ball while dribbling up court and bounced it off DePaul junior guard Caleb Murphy. The Blue Demons gained possession and as they stormed down court, senior guard Umoja Gibson lobbed an alley-oop to senior Nick Ongenda, but the center couldn't convert.
Still in DePaul's possession, Terry inbounded the ball looking for an open man and found junior Da'Sean Nelson, but Nelson missed a hook shot and Seton Hall gained possession with 18.8 seconds left. Stubblefield elected to foul and Seton Hall converted both free throws to make it a four-point game at 65-61.
Down four with 7.2 seconds left, Gibson caught the inbound pass and dished it down low to Terry, who made a layup to bring DePaul's deficit back to two points with six seconds left. 
As Seton Hall looked to inbound, Terry made his third — and most improbable — big-time play of the final minute. 
The Flint, Michigan native stole the inbound pass and dished it back to Gibson, who then threw up a 3-pointer. Gibson missed, but a hard foul was called on the play and Gibson was heading to the free throw line with 3.9 seconds remaining. Gibson, calm as could be, connected with all three free throws at the line, giving DePaul a one-point, 66-65 lead. 
After Gibson's free throws, Seton Hall inbounded the ball and raced down court for a final attempt. Pirates' guard Femi Odukale blew past defenders for a seemingly easy layup to give Seton Hall the win, but Ongenda chased him down and heroically blocked the game-winning shot at the rim as time expired to give DePaul the win. 
It was initially called goaltending, but upon review, officials stated it was a clean block and DePaul had taken down Seton Hall.
"I knew it was a block," Ongenda said with confidence. "They made great plays, but that's what I do, I block. I block everything, that's my specialty."
Ongenda ended the night with four blocks, which moved into fourth place all-time at DePaul with 132 career blocks.
DePaul started the game off strong on the defensive side of the ball, holding Seton Hall to just one point and zero made field goals for nearly four minutes to open the game. The Blue Demons controlled the matchup for the majority of the first half, heading into halftime with a 32-28 lead.
The start of the second half is where Seton Hall started to put things together, going on a 8-0 run after trailing 35-30. Stubblefield's defense struggled to stop senior big man Tyrese Samuel as he continuously secured second-chance points attempts for the Pirates, keeping possessions alive with his rebounding efforts.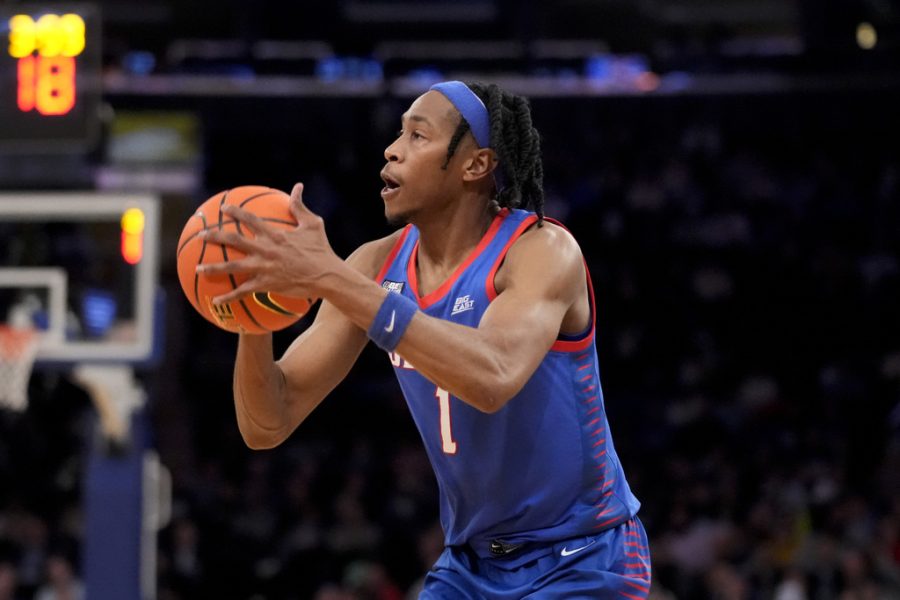 Samuel ended the night recording 16 points, 12 rebounds, two steals and a block, while shooting five for nine from the field and six for 11 at the free throw line.
During the second half, Seton Hall held DePaul without a field goal for nearly nine minutes straight, but graduate senior Javan Johnson went on a 8-2 run by himself, putting the offense on his back, and ending DePaul's offensive struggles.
Johnson led the team in scoring with 19 points and added four rebounds, three assists and two steals. Johnson played the entire 40 minutes of action and connected on five three pointers, single-handedly keeping DePaul's chances at victory alive. 
Xavier
After Wednesday's win, DePaul faced off with No. 2 seeded Xavier the following day with the winner securing a spot in the semifinals.
DePaul shot the best it has in Big East Tournament history at 61%, making 35 of 57 shots from the field. Still, the record numbers were not enough to overcome Xavier's success at the free throw line, as the Musketeers made 20 free throws and found a way to win after trailing for more than 36 minutes.
The undersized Blue Demons were only outrebounded by one in the gritty performance, equaling Xavier's point-in-the-paint total and scoring 19 more bench points than the Musketeers.
Stubblefield could not help but feel disheartened following Thursday night's battle.
"I thought we played well enough to win the game," Stubblefield said. "I think the biggest discrepancy was we won in a lot of areas but we didn't get to the [free throw] line enough. They shot 27 free throws and we shot seven. There's a difference of 20 free throws there. Just didn't get to the line enough and that's one area where we got beat."
The first half may have been DePaul's strongest of the season, shooting nine of 10 to open the game and take a 21-14 lead. The Blue Demons' lead reached as high as 13 points, which resulted in the team heading into halftime with an improbable 49-40 advantage.
DePaul had nearly a flawless performance offensively in the first half, shooting 69% from the field and 70% from three.
"We were really focused on getting stops more than anything because we were playing good offensively," Johnson said of the team's first half performance. "We were just trying to buckle down and get stops."
Gibson was the star of the first half for the Blue Demons against Xavier, scoring 13 points, highlighted by five 3-pointers. Before fouling out, Gibson ended his final collegiate game with 22 points and six assists, while shooting four for six from beyond the arc and a plus minus of six.
Gibson finished his accomplished collegiate career with 428 3-pointers, ranking 15th in NCAA Division I basketball history.
Xavier bounced back in the second half, outscoring DePaul 49-35 while holding the Demons to a 17% shooting performance from beyond the arc. Around the 16-minute mark, the Musketeers went on a 5-0 run that set the tone for the remainder of the game and found a way to force Gibson into foul trouble for the Blue Demons.
Even though Xavier only led for two and a half minutes, the team would not go away as DePaul struggled to finish off the Musketeers. A 14-2 run, led by Jones running the offense in crunch time, finished the game for Xavier and put a nail in the coffin of DePaul's season.
"We just kind of went straight set play, and we called [Jones'] and number quite a bit, not just because of his scoring but, number one, he can get fouled," Xavier head coach Sean Miller said. "Number two, he's a very good decision-maker. He can pass the ball and I thought the shots he was getting and we were getting going to him really set us apart and in my mind that was the difference in the game down the stretch.
Xavier's comeback win over DePaul spoke to the group's resilience  — the team's nine point halftime deficit was its largest of the season.
"We're thrilled to still be alive," Miller said. "I thought that DePaul played a great game. Could have easily lost that game three, five, 10 times over. But I think the resiliency of our group, the experience of these guys sticking with it and finishing the game that, quite frankly, wasn't going well for us throughout, it's a difficult task."
DePaul's season did not go as planned, but finding a way to win a tournament game could be seen as a step in the right direction for the program. 
Stubblefield is the only coach in program history to win a Big East tournament game their first two seasons as head coach.
"By no means am I happy with the year that we had," Stubblefield said. "I do think we finished stronger, but I think it helped that we had our entire team. Obviously, I was happy with the outcome that we had [against Seton Hall]. I thought these guys put a great fight up for 40 minutes tonight against a very, very good basketball team, and we've got to build upon this and take this to the next level. That's the reality of this."