Using the right side of the brain: Neuro-Zine event promotes Brain Awareness Week with art
Tucked away in a McGowan North classroom, students from the DePaul Zine Club and the DePaul Neuroscience Club gather for an afternoon of arts and crafts in a first time collaboration between the two organizations. The table is scattered with loose pieces of paper, scissors and markers while attendees doodle away in their unique zines, taking a break from classes to enjoy a moment of creativity. 
Doing more than just using their brains to expertly cut and fold their zines though, the clubs have taken it one step further — teaching attendees about their brains while crafting during their annual Brain Awareness Week.
"Zines can come in any form and while they have a rich political history, now they also have a rich social and entertainment value," said Madison Bosa, Zine Club president and junior. "Because of that, when my friends in the neuroscience club said they needed more creative and laidback events for Brain Awareness Week, of course I said Zine Club could help. Anything to spread the good word of the zine."
The Neuro-Zine Craft Night on April 12 was part of the Brain Awareness Week, hosted by the DePaul Neuroscience program. The zines, small self-produced booklets meant to hold any type of text or images, were chosen for the event to help students focus on something creative rather than schoolwork. Attendees were encouraged to make neuroscience-themed zines while learning about the brain but were free to be creative with them in any way. 
"They were supposed to be small education pamphlets on more niche topics in neuroscience, but we also just wanted people to be creative in that field," said Sophie Klippel, Neuroscience Club president and junior. "Neuroscience can be creative, but it's also a pretty scientific major, so we wanted to have a place for us to have that freedom."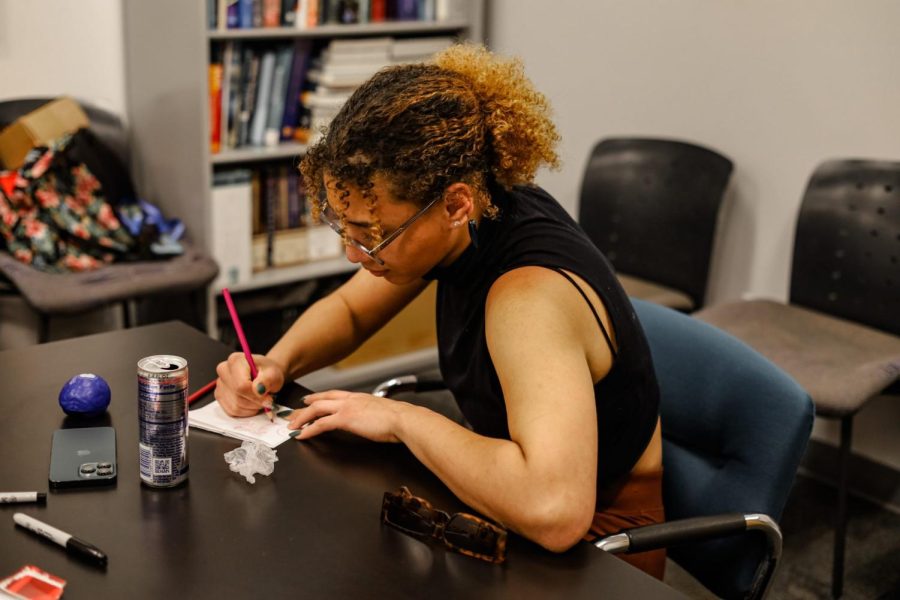 Freshman Quyen Cobb is a member of the Zine Club and attended the event to make connections with the Neuroscience Club. While talking with members of the other club, they made mini-zines filled with drawings they thought of on the spot. 
"I came directly from a class where we were talking about violence in media so coming here afterwards to decompress was pretty helpful," Cobb said. "I was feeling on edge so sitting there, hanging out with other people, and doing crafts was a good way of relaxing. It helped me so I hope it was also helpful to other people."
Cobb firsted started making zines during the pandemic as a creative outlet to help their mental health. When they saw the Zine Club booth at an involvement fair, they decided to join to continue the craft in college.
"I was having average high schooler problems with self doubt, and being isolated definitely exacerbated that," Cobb said. "Getting back into the groove of social stuff is way different after the fact. Using zines as a way to express myself though has been helpful to be more open."
The international week of awareness is meant to promote and encourage brain research. This year's theme is "Invest in Brain Health." The initiative was founded in 1995 by the Dana Foundation, a private organization aimed to advance neuroscience for the betterment of society. Klippel said the clubs hosting the week's events chose not to stick with a theme to fit in more appealing events.
Other events hosted during Brain Awareness Week included a virtual reality brain exploration, neuroscience-themed game night and trivia, and a talk with Dr. Igor Koralnik about the mental effects of Covid-19 and brain fog. 
"We just wanted to do a general brain week because there were events we wanted that weren't necessarily in a theme," Klippel said. "We felt it was just better to engage DePaul in a way that we thought would be the most appealing to students rather than fit into something specific."
Bosa said having the Neuro-Zine event added a much needed break from the content-heavy aspects of Brain Awareness Week. She said with the Covid-19 discussions, making zines was a way to remind people of the creativity they expressed during isolation.
"In the spirit of what people made during Covid-19, now that everyone is running themselves into the ground being productive, we still need to take a break," Bosa said. "By sitting down, talking with friends, and drawing some little doodles in a zine, we can get in touch with being a person again rather than a worker or student." 
Klippel hopes the Neuro-Zine event encouraged people to join the Neuroscience Club and help students in the neuroscience department meet people outside their major. The club does not currently have plans to collaborate with other organizations on-campus but hopes to continue teaching students about neuroscience outside of the classroom.  
"I want more arts with sciences so students can participate and explore that combination in their own studies," Klippel said. "You can be creative even in STEM, and we wanted a place for us to express that freedom during [Brain Awareness Week]."