Cin-Tea brings Latine Asian fusion to Humboldt Park
With over 300 Latine-owned small businesses booming in the Humboldt Park neighborhood, one young entrepreneur created the first-ever boba tea booth that blends traditional Asian and Latine sweets. 
"It was always the plan to open a fun and unique business that represented my personality," Cynthia Peralta told La DePaulia. 
Berwyn native Peralta was inspired by her parents to open Cin-Tea Boba on 4545 W. Division St. inside the Buyers Flea Market. Peralta remembers helping her parents sell funnel cakes during festival season, a moment she holds close to her heart and remains her main inspiration. 
From her booth location, she can look over her family's business and see the bright yellow banner that reads "Gaby's Funnel Cakes." A tribute to her late grandmother, who passed away due to complications related to Covid-19. 
Among her family, Peralta was able to turn to her mother and brother for guidance and support while building her small corporation.
Peralta set out to change how boba was introduced to older people, especially in the Latine community so she introduced familiar flavors that incorporated traditional Mexican treats like tamarindo, horchata, and a sweet mango treat, "mangonada." 
"It's a learning process for many people," Peralta told La DePaulia. "Many customers are trying boba for the first time and have questions about the menu." 
With a menu that contains matcha green tea, horchata, and piña colada boba, you are introduced to the young, Latina business owner and her love of creative concoctions.
"It's very cute to see younger people trying to teach their older parents about boba," Peralta said. "But it can be confusing for immigrant families to understand the concept."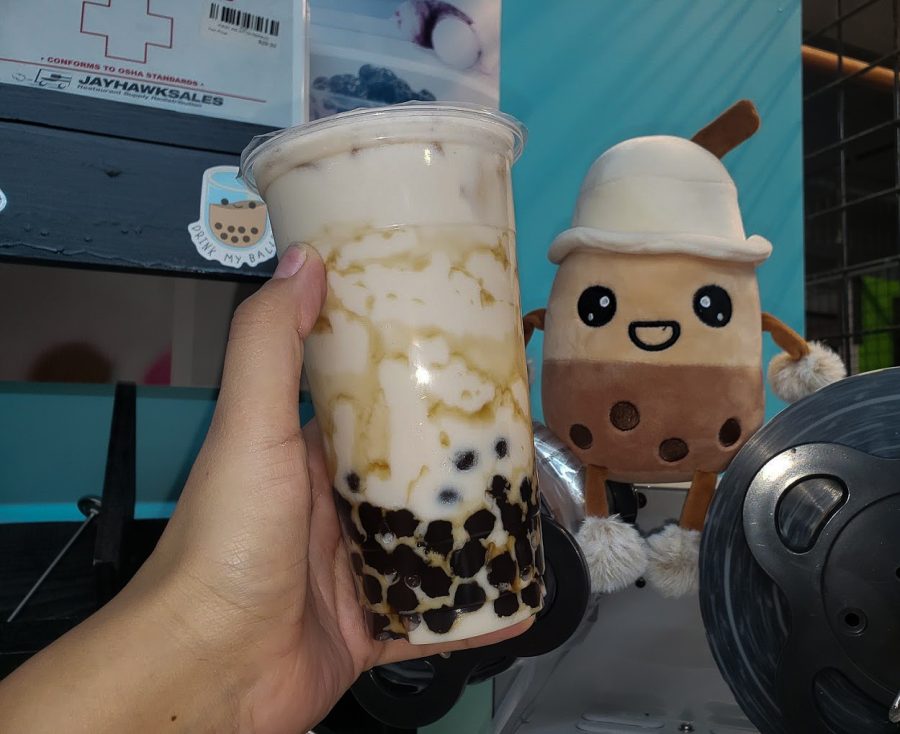 Like their popular taro milk tea, made with jasmine tea and taro root, patrons are introduced to new, eccentric flavors that derive from Asian cultures. Peralta brings a word of caution to new boba customers of the caffeinated drinks on the menu.  
She encourages everyone to create their own blend of flavors and expand outside their comfort zone, fashioning a mix of Asian and Latine flavors for families to enjoy.  
However, boba was not the original idea for Peralta's booth in the busy flea market. 
"I originally wanted to open a plant shop, but what I wanted more was to open something unique around the neighborhood," Peralta said. 
Wanting to remain close to her family's booth in the market, Peralta made the risky choice to apply. Seeing families gather every weekend in the flea market gave her the motivation to take the next step in entrepreneurship. 
Peralta joined the year-long waitlist during Covid-19, the market requiring her to submit an application and wait for an open spot within the market. At the time, she worked many outdoor Chicago festivals to earn money for new equipment and weekly rent for the booth.  With savings from the festivals and her own emergency savings, she was finally prepared to create a business of her own. 
Starting at festivals inspired Peralta to pursue a boba booth as she interacted with customers — from young children to older people,— creating a familiar bond that she always wanted in her business.
Peralta is no stranger to flavor. Her menu consists of classic milk tea boba to pistachio-flavored milk tea. With a quirky mascot on the cups, Peralta's shop stands out against other food vendors in the flea market. 
"If an entrepreneur can figure out a meaningful way to differentiate what they offer, there is always room for growth," said Maija Renko, a professor, and member of the department of management and entrepreneurship at DePaul University. 
The Buyer's Flea Market is a busy, community treasure that is accessible to everyone year-round. Peralta is eager to use the knowledge gained in the market to expand her small business into a corporation. 
"The mascot is so cute," said Daylene, a 13-year-old returning customer. Daylene was accompanied by her parents, first-time boba drinkers. "What I like most about her booth is the stickers you get." 
Peralta aims to please all her customers and with the addition of stickers on the cups. Children are eager to visit the booth. 
"I try to use stickers that appeal and stand out," said Peralta, who uses stickers from "Hello Kitty" and "Pokemon." 
Her use of online advertising, "secret menu" options and colorful banners bring many customers returning and new from the Chicago area. 
Seeing over 300 customers on any given weekend, Peralta told La DePaulia, "I hope to expand outside of the flea market by next year and keep both businesses alive." 
Renko said that loyalty from customers to support small businesses is growing every day, and the potential for the growth of a small business is certainly a successful one. 
Peralta's business is still young, only being in operation for five months, but her ambition to grow is inspiring. 
As Peralta sees an increase in revenue, her dreams to expand are becoming a reality. 
With warmer weather here, Peralta plans to go back to her roots and attend festivals with her three full-time employees manning the market booth. 
"Even with my plans to expand," Peralta said. "I will always remember working side-by-side with my parents and being glad knowing I'm following in their footsteps."