Find your fit: Insider tips for Chicago's competitive spring rental season
It is springtime in Chicago, and that means the surge of apartment-hunting is kicking off. 
As an exodus of Chicagoans leave with other life plans, the properties left behind create a competitive game for those coming into the city with new degrees, careers and plans for the summer. Real-estate scape is crafted every season: apartments are opening everywhere, but they are being claimed at a hasty pace. At the same time, the median asking rent price is at the lowest it's been in 13 months, falling 0.4% in March, according to Bloomberg. For a student moving out of the dorms or living on their own for the first time, this is surely an interesting time to find the right place.
It is a big decision, with a lot of varying factors to consider. From an amalgamation of perspectives and pointers, here is how you can soothe the search. 
Apartments near the Lincoln Park Campus 
Gavin Woodgerd is a sophomore that opted for an apartment in the surrounding neighborhoods near the Lincoln Park campus. He and three other roommates primarily searched for places in Wrigleyville because "it was cheaper."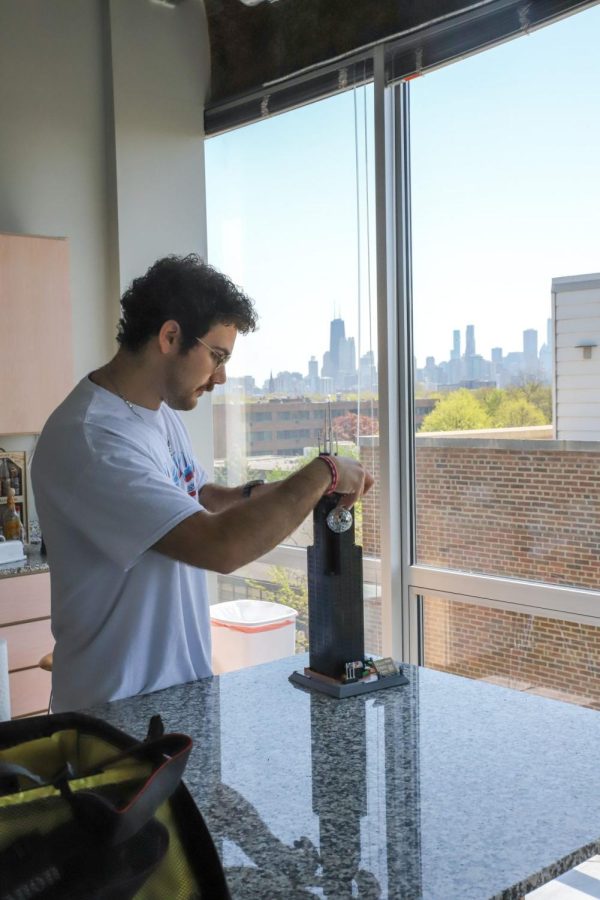 Rents in this LakeView area are 12% less than those in Lincoln Park, according to rental platform Zumper. 
The average price for a three bedroom apartment in Wrigleyville is around $3700 for a three bedroom apartment, according to Renthop. This is a much more attainable price for students and roommates, as a three bedroom in Lincoln Park would go for an average of $4800, according to rental agency Downtown Apartment Company. Lincoln Park tends to be a more expensive housing option, so it is more common for students to settle in the Uptown and Lakeview areas, where the rates are consistently more affordable. 
The Belmont area is specifically popular for DePaul students, as the prices are cheaper and the neighborhood has plenty of bookstores, accessible groceries, and nightlife available. The neighborhood also tailors to a variety of arts, as both the Vic Theater concert venue and The Annoyance Theater are within five minutes of the Belmont stop. 
That being said, many students are keen to point out that the neighborhood attracts so many people that it can be rather rowdy and loud at night. 
For Woodgerd, he liked the nightlife energy and social scene of his neighborhood.
"I come out of my apartment and have a bunch of people that are excited to be around on game nights and stuff, which is a lot of fun," Woodgerd said. 
Game nights are not for everyone though– fans can crowd the train stations or stay out late at the number of bars in the area, causing a lot of noise and disruption that doesn't appeal to many residents.
Considering both the pros and cons of each neighborhood is needed when deciding a place to rent. Woodgerd's search highlights the importance of a likable—and close—neighborhood. With the CTA's unreliability these expected times are often elongated. From his apartment, Woodgerd has access to both the Belmont and Addison Redline stops. Depending on the route he chooses, a typical commute for Woodgerd can range from only 10-20 minutes to the Lincoln Park Campus. For the Loop campus, it can take about 30 minutes on the Redline trains, according to Google Maps. 
Although, the environment can't make up for everything for him and his roommates. Woodgerd has experienced multiple property issues and conflicts with his landlord. Over the course of the year, Woodgerd and his roommates have experienced flooding, gas leaks and fee overcharges from his landlord. 
When asked to provide a tip for prospective apartment owners, Woodgerd stresses that you prioritize communication with your property management and landlords for issues and concerns. 
"Landlords are supposed to provide things for you," Woodgerd said. "And if they don't, I don't think we should be afraid to fight back a little bit." 
The Ion Apartments 
The Ion Apartments are home to many DePaul students, as Ion is a five minute walk away from campus. Although it is not affiliated with the University, the Ion experience is almost inextricably linked with DePaul life. Jonah Elbaum is a sophomore living in a corner apartment in the Ion Apartments, who has much acclaim for the property.  
"For the year, it's definitely been a win for me," Elbaum said. 
Elbaum notes that the location attracts many DePaul students in close proximity to campus and Fullerton.  He explained that the large number of college students in the building generates a lively social atmosphere and said the place is "definitely a party building."  
"One of the great things about Ion is a lot of my friends live in this building," Elbaum said. "It feels just like the dorms in that way." 
Being friends with his roommates was a helpful part of his experience. 
"If you have the right people, you can make any place your home," Elbaum said.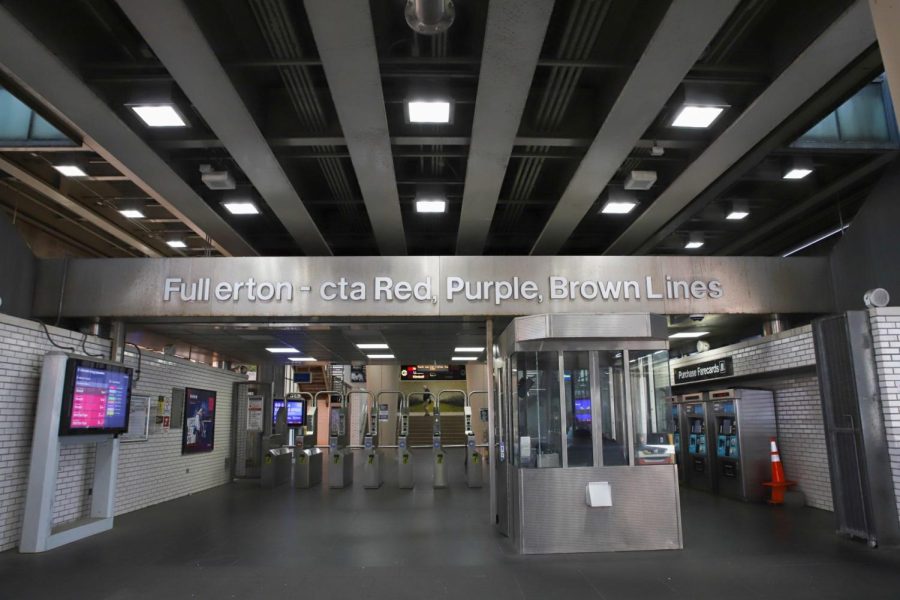 Rae-Anne Sutschek is a Chicago real estate agent who works with people who are looking to buy and sell homes. Along with Elbaum, she said that roommates are a crucial part of the apartment process. 
"Make sure you're compatible with your roommate," Sutschek said. "There's nothing worse than living with someone and you live two different lifestyles. That can make it really hard when you're stuck in a lease." 
To find the right match, she suggests setting up an interview to get to know your potential roommates. If you can inquire about a typical day in their life, their habits and their preferences, roommates can sort out whether schedules will align or clash. 
Elbaum explains that he moved in with friends he met his freshman year at DePaul, and that they have made his living situation "a really fun living space." 
Besides its apartments, Ion offers a gym, laundry, WiFi and other amenities within the building.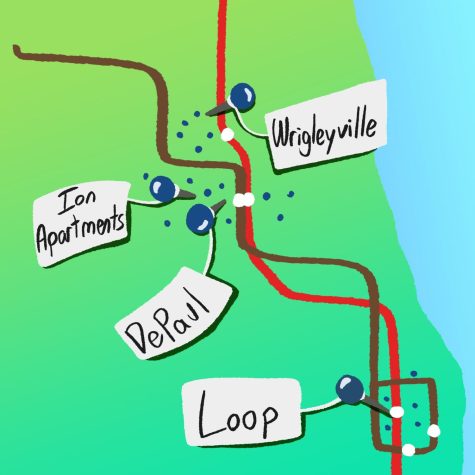 The proximity and his friends were enough to make Ion a happy living experience for Elbaum. However, this is not the case for everyone under the same roof. 
Students have certainly voiced their complaints about the space too– citing the poor management and industrial feel in the design. Additionally, prices at Ion tend to be loftier than apartments elsewhere in the city. 
Elbaum is leaving the building after this year to go live with some other friends of his. As he begins the search once more, he offers advice for readers. 
"Start looking now," he said. "If you start looking now, you'll have an idea of what's out there, and you'll be able to kind of know what you're looking for and know the vibes." 
Apartments up North 
Rogers Park resident Omar Khalid Jumlana, used accessibility to food as a factor when considering his apartment. Rogers Park is one of the most affordable neighborhoods in Chicago, with an average rent of $1,295 per month for a one bedroom, according to Zumper. However, the commute can be a little bit longer for students. From the Morse Redline station in the neighborhood, the commute to Depaul's Lincoln Park campus can take around 30 minutes. To the Loop Campus, the commute is around 45 minutes on the Redline, according to Google Maps.
As an international student from Pakistan, Jumlana says he first moved to the area because of the high population of Pakistanis and Indian people there. 
"There are a lot of restaurants and South Asian people so that kind of gives new people a homey feeling," Jumlana said. "And it's kind of nice when you're really craving something from your country, and you can have a hint of it at least." 
Jumlana adds that he likes cooking, so the kitchen in his apartment played a big role in his decision. In fact, he says a lot of what he likes about his situation is the inside space of the apartment.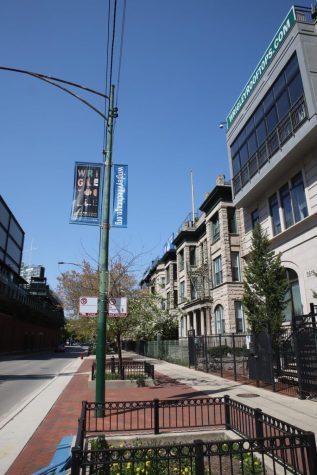 Real estate agent Sutschek is emphatic about finding the right space. 
She notes that especially with other people, personal space should be a main priority. 
"Make sure you have enough room to separate things," Sutschek said. "If you're trying to use the hangout space where you also must study, it's going to be hard to do all from one space." 
Jumlana was able to settle in a place with lots of space between him and his roommates. Jumlana favorably described the interior of his apartment.
"It has a huge living room, a lot of windows, the closets are nice," Jumlana said. 
It was not easy to find a place with these kinds of features. In fact, Jumlana went through four different living situations in five months just to get to his current point. 
For advice, Jumlana instructs students to be careful and thorough with their search. 
"Don't be too impulsive about it, even if you love the place,"  Jumlana said. "You have to check every aspect of it and make sure you're making the right decision." 
Finding the right apartment can be difficult, but Sutschek reminds students to remain calm in their search. She is understanding of the chaos that exists within finding the right place to live. In the end, her biggest piece of advice is to remember that the search can be more simple than you think. 
"It's the first time you're ever living alone, so you do get that higher anxiety," Sutschek said. "Just know what you're wanting in that space, and you can make it feel like home."