DePaul's Loop Campus is known for the city-feel one imagines when they think about going to school in Chicago. It is also known for the dreaded commute at 9 a.m. for a 10:10 a.m. class.  
Instead of sitting in class hoping no one hears your stomach growling because you missed breakfast, here are some options on and near the Loop campus to get your morning started off right.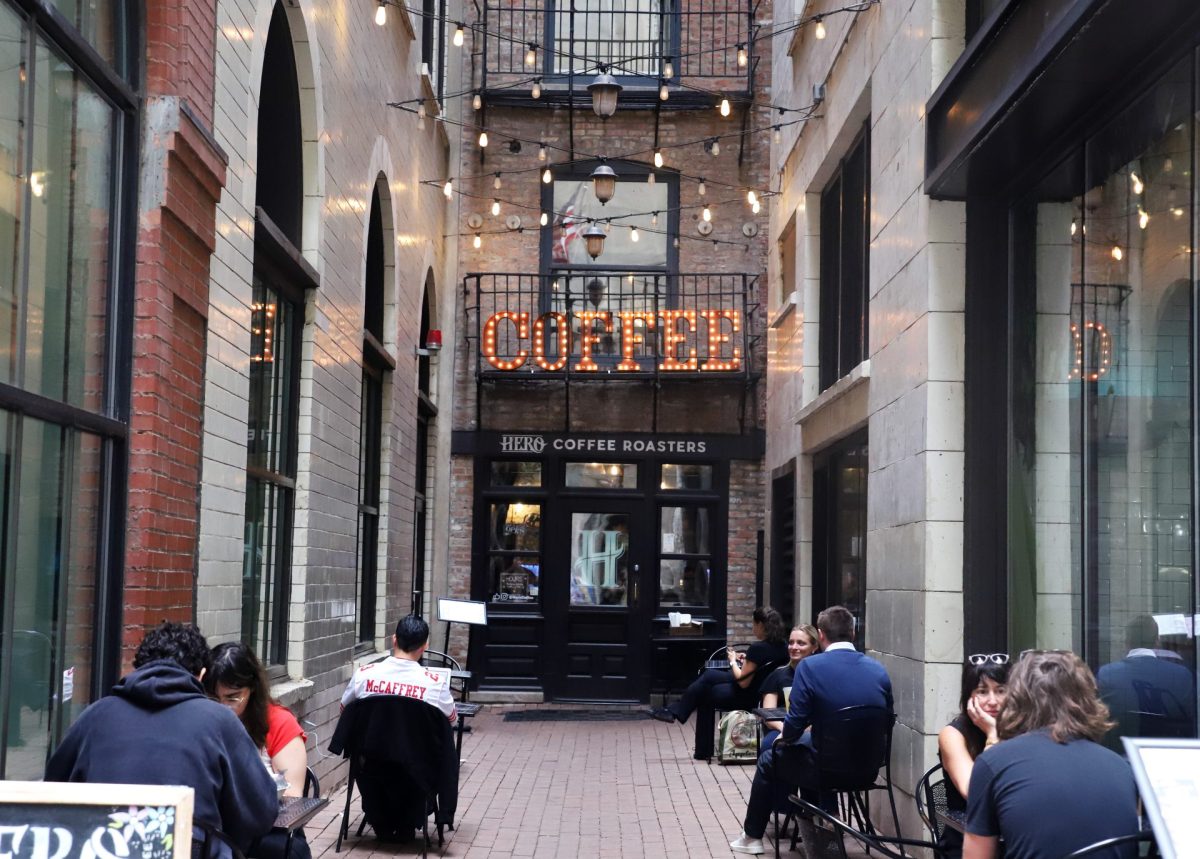 HERO Coffee Bar
A TikTok favorite and hidden gem, HERO Coffee Bar can be found in the alley between Just Salad and BIBIBOP Asian Grill at 20 E. Jackson Blvd. 
HERO offers an extensive coffee menu, as well as bagel breakfast sandwiches reminiscent of Chicago Bagel Authority. They also offer pickup, which takes about 20 minutes on average– perfect to order on your way to campus. 
Best for a quaint and quick experience, HERO is a two-minute walk from the Jackson Red Line stop and opens at 8 a.m., Monday through Saturday. Sit outside on a nice day and watch people's faces show their piqued interest when they find this hideaway shop.
Dining Hall-DePaul Center
Although it opens at 10:30 a.m., considerably later than the other options mentioned, the dining hall on the 11-floor of the DePaul Center at 1 E. Jackson Blvd. is a great option consisting of different food stations, as well as a convenient market that offers options for those on the go. 
"Honestly, don't sleep on the dining hall options," says senior Natalie Krenik said. "I've gotten some great sandwiches and snacks up there." 
Starbucks
It is popular for a reason– and most importantly, right on the Loop Campus. Located at 55 E. Jackson Blvd., across the street from the College of Law, Starbucks offers a wide range of grab-and-go items such as granola bars, juices, hot breakfast items and of course, coffee.
Open from 5:30 a.m.to 7:00 p.m., Starbucks is a three-minute walk from the Jackson Red Line station. They also offer a pickup option, and with continued use of the app, you can earn points that later turn into rewards that can be used for free drinks and merchandise.
Beatrix Market
If you want a good people-watching spot, check out Beatrix Market at 23 E. Jackson Blvd., stationed across from the College of Communication. 
Beatrix Market offers breakfast from 8 a.m to 11 a.m. which includes a buffet where you can build your own plate, as well as a coffee bar with pastries and delicious seasonal drinks like pumpkin matcha. If you are really in a time crunch, they also have a section of grocery items that you can check out and head out in less than a minute. 
Fortunately, Beatrix's most popular times are not until the afternoon, so if you find yourself needing a spot to sit down and finish homework at the last minute, Beatrix has two floors with seating and free Wi-Fi. 
"You're in control of whatever you'd like to eat,"said Thalia Krick, general manager of Beatrix Market in the Loop. "It's kind of where healthy meets delicious." 
7-Eleven
Last but not least, let us never forget about the nationwide convenience store that will be there for you 24/7–7-Eleven. 
The location at 30 E. Jackson Drive is there to get you through your early mornings or late nights. 
With everything from hot breakfast sandwiches to snack apple pies, 7-Eleven will satisfy any craving you have before your morning classes. And for those who want to watch their wallet, it's the most cost-effective option. For example, a 12-ounce coffee from Starbucks would run you $2.95; the same order at 7-Eleven would only cost $1.79. 
"Listen to your body in the morning,"said Maya Steel, teaching assistant professor for DePaul Health Sciences "Your body needs proper nutrients to start a day to function. Eating breakfast is an ordinary daily routine worldwide and is positively associated with overall health and well-being."
No matter how you get your first meal of the day in, just make sure you get it in — period.