The Lincoln Park neighborhood looks far different than it did in 1970 when Hila Frontany bought her house on Diversey and Sheffield.
The once Puerto Rican neighborhood has evolved to become one of the richest neighborhoods in Chicago. 
She was one of many Puerto Ricans forced to leave Lincoln Park due to gentrification propelled by former mayor Richard J. Daley's urban renewal project, according to the Black Metropolis Research Consortium.
"The taxes went higher and then some of the businesses and places where the young children could participate began to disappear," Frontany said.
These neighborhood changes inspired Frontany to be a part of the Young Lords, a Puerto Rican organization that began in the 1960s after an influx of Puerto Ricans came to Chicago and started living in the Lincoln Park, Humboldt Park and Wicker Park neighborhoods. 
After the urban renewal project caused the Puerto Rican community to be displaced, the Young Lords started to fight for free breakfast programs, legal aid for children and many other survival programs modeled after the Black Panther Party.
Original and new members of the Young Lords organization gathered to celebrate 55 years of the organization in DePaul's Cortelyou Commons building on Monday, Sept. 18. 
There, Frontany and older members, including José "Cha Cha" Jiménez, founder of the Young Lords, applauded the New Era Young Lords and told their stories to young activists, in an effort to keep the mission alive.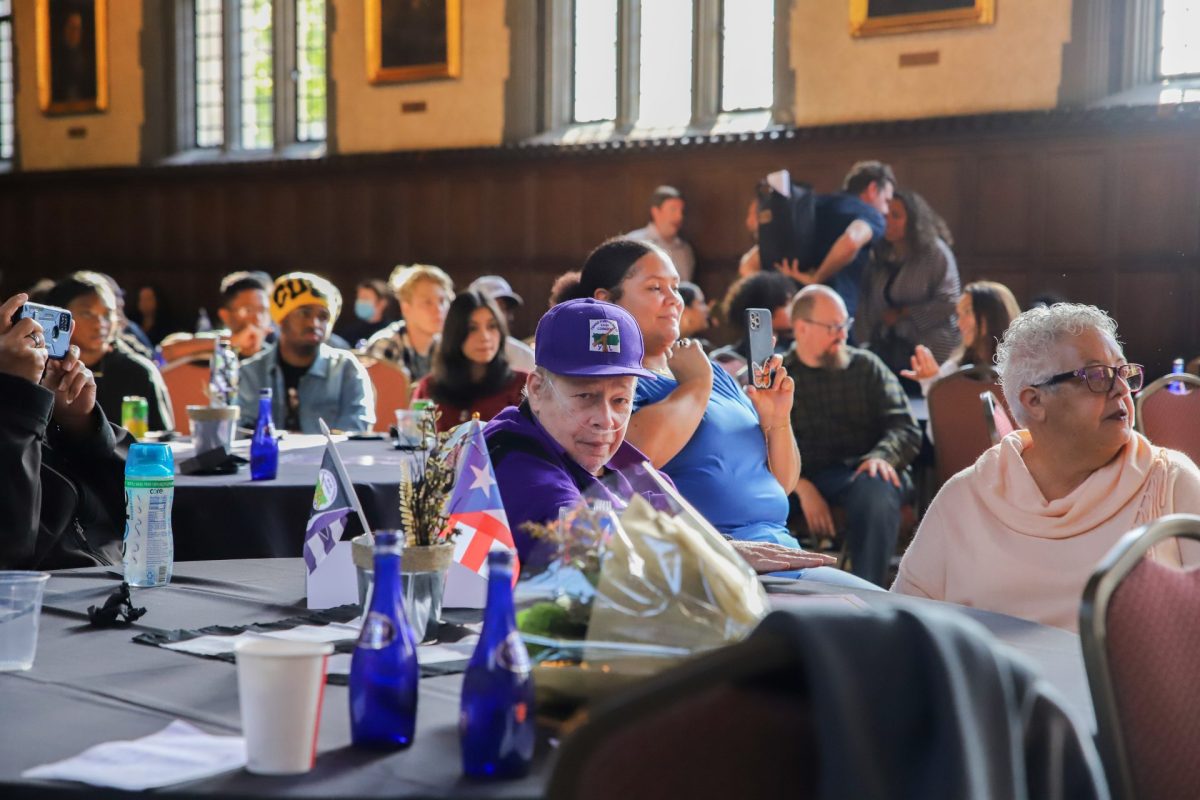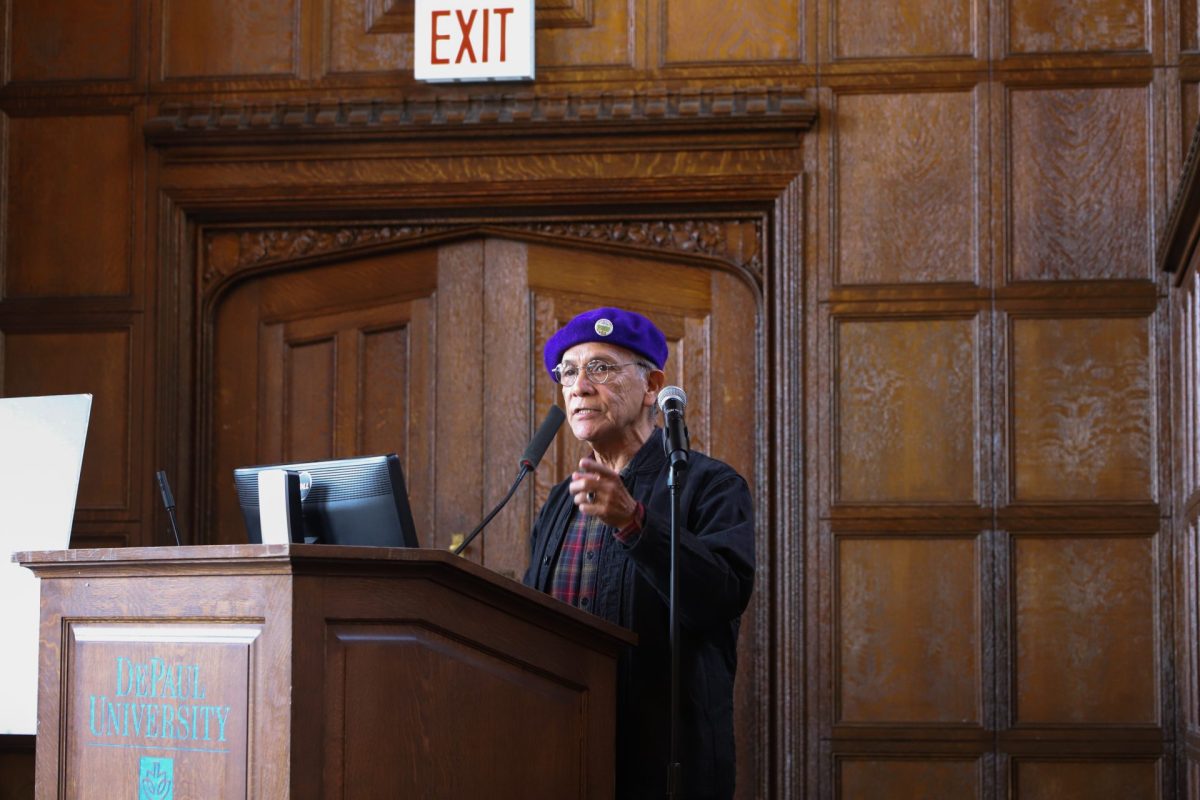 At the ceremony, the group honored Jiménez by giving him a lifetime achievement award for fighting for civil rights and social justice among communities of color. 
DePaul will acknowledge other Young Lord accomplishments in May 2024, when they will unveil a plaque that is the first history marker in the city of Chicago to celebrate the impact the Young Lords have had on the city.
Jacqueline Lazú, who is a faculty member at the Department of Modern Languages and co-chair of the Young Lords historical marker committee, started working at DePaul's Center for Latino Research about 20 years ago and began her decades-long research documenting the history of the Young Lords and DePaul's role in displacing the Puerto Rican community. 
Lazú and other community members have helped to create the plaque honoring the group. It will be placed outside of DePaul's School of Music building, which used to be the McCormik Theological Seminary, a neighborhood resource for Puertoricans, before it moved to Hyde Park in 1975, Lazú said.
The co-founder of the Young Lords chapter in New York, Juan González, also came to speak about starting his own group in 1969 and how the organization became a national movement.
The former minister of information for the Young Lords organization, Omar López, reflected on how the group turned into a "human rights organization." He asked the New Era Young Lords to stand, as he acknowledged their continued efforts to fight.
"The Puerto Rican community may not be in this neighborhood anymore, but there have been several generations of young Puerto Ricans who have found inspiration in the struggle of the Young Lords," López said.
Paul Mireles, deputy chairman and co-founder of the Illinois chapter of the New Era Young Lords, became interested in the Young Lords after former president Donald Trump announced he was running for president in 2015.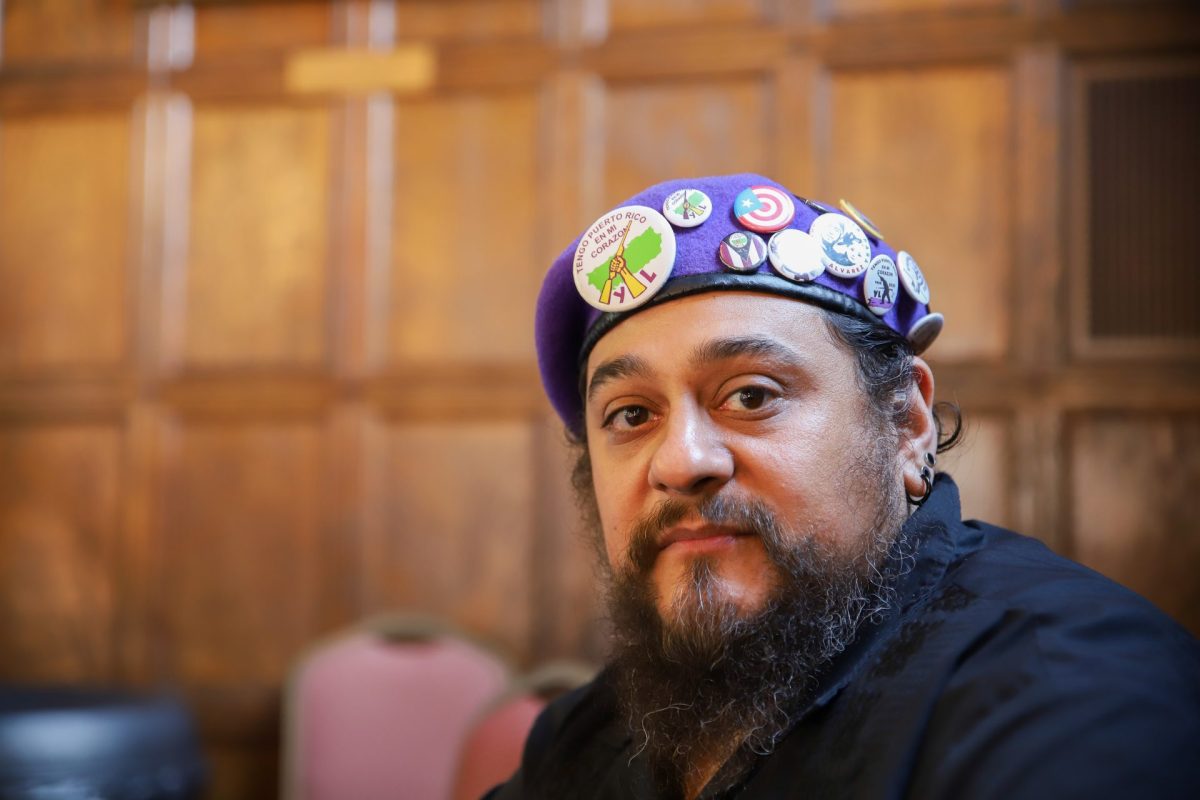 After hearing the announcement, Mireles became inspired by the organization's art that depicted the fight for social justice, similarly to the Black Panther Party's artwork.
But it wasn't until Mireles lost his step father to homelessness and drug abuse in 2021 that led him to call up the original Young Lords organizers. 
"I just felt like there was more that needed to be done," Mireles said.
There are now 29 active New Era Young Lords members in Illinois. While it is a Puerto Rican founded organization, Mireles said people who identify as Mexican, Black, Haitian and Panamanian are members of the organization as well.
"We really want to push that narrative of that coalition between us as oppressed people together, not Black oppression looks like this and Latino oppression looks like this," Mireles said. "It's the same oppression."
A common misconception about the Young Lords is that they are only rooted in violent gang activity. However, the story is "twofold," Mireles said. 
The group began as a gang in the 1960's to defend themselves, and after facing displacement, shifted their focus to provide free resources to the community such as breakfast programs.
Their values are still rooted in service today. 
The New Era Young Lords work with a food distribution center in Humboldt Park called Casa Hernandez Community Space & Free Store on 3519 on W. North Ave.
"Fifty five years later, we're still fighting against police brutality," Mireles said. "They fought against health care, and again, 55 years later, these same issues: health care, education, homelessness, police brutality and gentrification. They may be called different things from then to now. They may look different in some way, but their core concepts are still there, and unfortunately, we're still fighting that."
Echoing Mireles, Ivelisse Diaz took the stage with seven other members of La Escuelita Bombera de Corazón to sing Bomba music. She founded Las BomPlaneras Unplugged, an all-women group, in 2010 to give visibility to women performing Puerto Rican Bomba and Plena. She is also part of La Escuelita Bombera de Corazón, which teaches Afro Boricua Bomba dancing classes in Humboldt Park.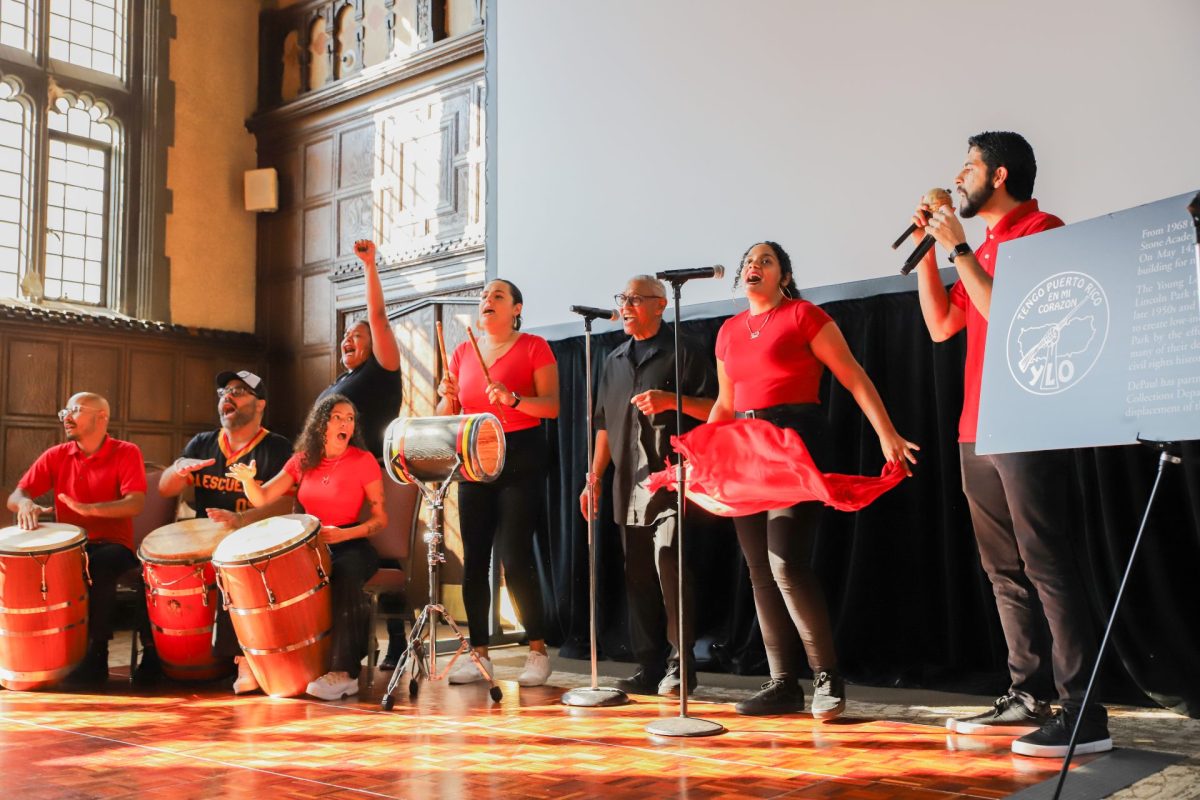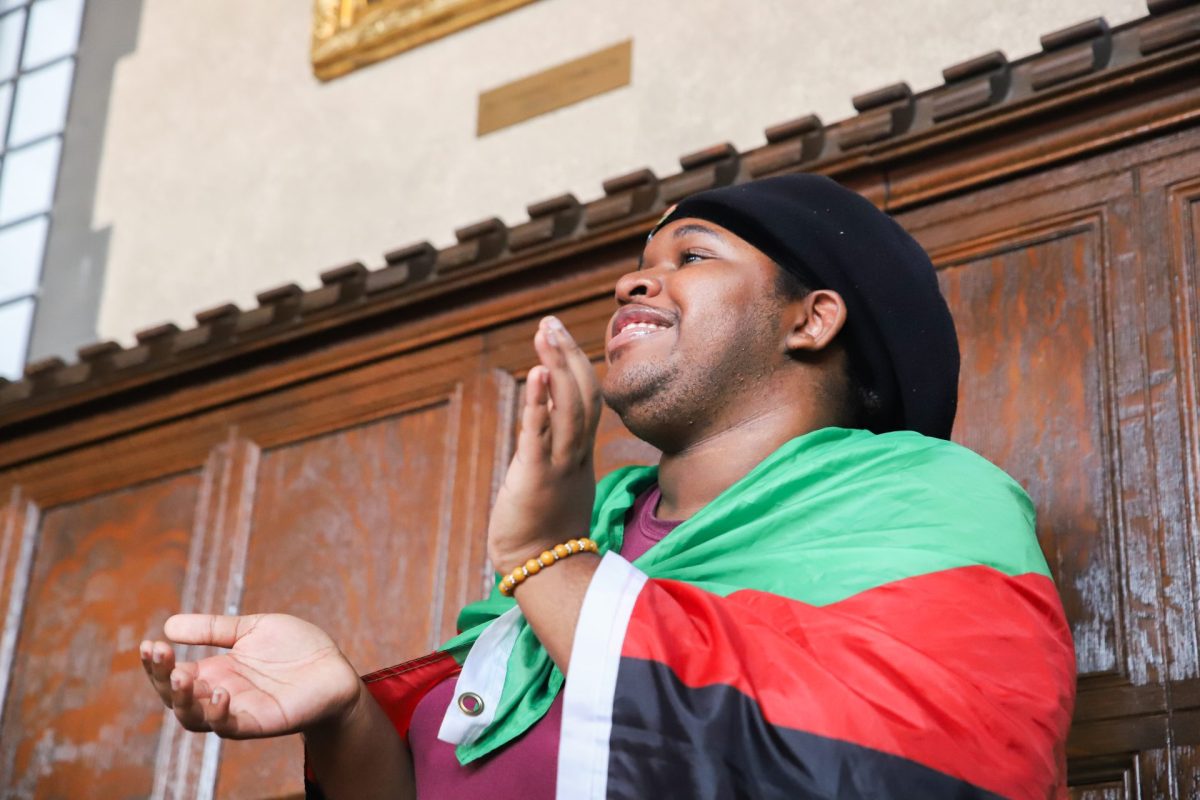 Bomba has been a way to protest against struggles many Afro Boricuas have faced, Diaz said. 
Since the Spanish colonial period, enslaved Afro Boricuas, who worked on sugar plantations along the coast of Puerto Rican, used Bomba as a way to use their voice. Hundreds of years later, Diaz said the music continues to be a way to uplift voices.
"These are the stories that never made it to the books because they weren't interesting enough," Diaz said. "It's because these stories are the same stories that empower us and let us know that we made it because this is music for over 500 years, baby. It's not going to stop. It will never stop."
The room was ignited with the sounds of drums and Diaz's booming voice, as she told everyone to join with her. She and others in the group danced to the rhythm of the drums while a red scarf swayed to the movements of her body. 
"Some of you have never sung on level 10 Because you've been told to be quiet, so today we're gonna get loud," Diaz said.
Diaz asked students to get on stage and learn some steps and chants with her. By the end, students and faculty were dancing together in a circle, watching and cheering each other on. She hoped that sharing Bomba would help ignite passion for younger generations to come.
"I've been political all my life, and my weapon is Bomba," she said.
Frontany said that she remembers dancing and listening to music during protests, and she said music has always been a way of "bringing people together in spaces." 
"I see how the young ones are reviving everything that the young Lord used to do back then," Frontany said.