As cars zoom up North Cicero Avenue, they encounter signs from protesters: "Honk for Abortion Access" and "Honk for Abortion Rights."
Red and blue pigtails bounce back and forth as junior Kenna Bartlett swings the bat of DC comics Harley Quinn in front of one of the three facilities for The Women's Center. Other protesters are dressed as classic fairy-tale villains. They're there to declare this type of clinic a "secret anti-abortion hideout." 
The Women's Center is one network included in the 97 crisis pregnancy centers (CPCs) across Illinois that offer free pregnancy tests, ultrasounds and what they call "supportive counseling."
The Women's Center was founded by Des Plaines Pro-Life in 1984. Nora 
The University of Georgia College of Public Health, which has created the Crisis Pregnancy Center Map, calls these types of organizations "fake women's health centers." 
The American College of Obstetricians and Gynecologists (ACOG), a professional organization for OB–GYN doctors, also claims that crisis pregnancy centers "represent themselves as legitimate reproductive health care clinics providing care for pregnant people but actually aim to dissuade people from accessing certain types of reproductive care, including abortion care and even contraceptive options."
Often, these centers are unregulated and non-medical facilities, ACOG says.
"They're rooted in the goal of convincing you not to seek out abortion care, even if abortion is medically a sound decision for you," said Bartlett, who has been helping organize protests for abortion access and to shine a light on crisis pregnancy centers.
"They tell people they're a health clinic and they're not."
The Women's Center declined an interview with The DePaulia regarding allegations of being a "fake" clinic.
However, activist Lydia Taylor, social media content coordinator for Students for Life of America and founder of Pro-Life Force, was willing to share her thoughts. She said protests of the crisis pregnancy centers are "ironic" because the people fighting for abortion access "claim they support women and then go and bash pregnancy centers trying to help women."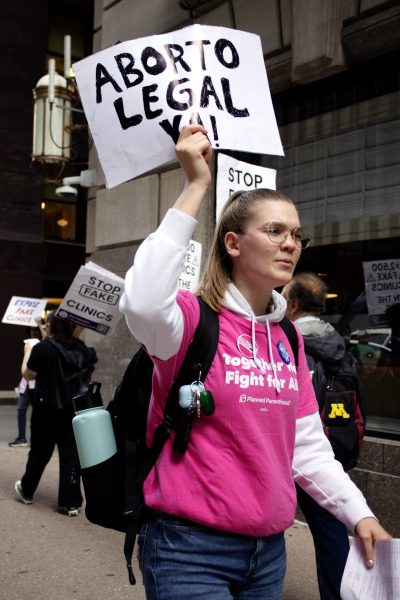 She said crisis pregnancy centers work with their clients to meet their individual needs. 
"That is not something that is fake," Taylor said.
Tensions ran high as abortion access activists, including several DePaul students, protested again on Thursday, International Safe Abortion Day. This time, they were outside the entrances of a crisis pregnancy center fundraiser at the Union League Club of Chicago.
Bartlett, who served as Abortion Access Front's intern and president of Planned Parenthood Generation Action at DePaul, also has amplified the message on social media.
 She has worked with the Abortion Access Front to organize and participate in protests. They're a team of comedians and writers who use art and performances as a form of "direct action" activism.
This summer, protesters dressed as cosplay villains as an "attention grabber." Bartlett said she kept the protest small in numbers with "hopes to hit the digital space on social media" and allow a small group of people to reach a larger audience.
"It's a really awesome way to bring the movement to the people," Bartlett said. "Rather than attempting to persuade people to join the movement, we are bringing the movement to them."
Digital spaces have made activism more accessible, she said.
Advocacy organizations have used social media to influence activism because of multiple advantages: reduced communication costs, expanded audiences, enhanced participation, emotional affect and increased speed and dissemination of information and images, according to a study by Social Media + Society. 
As Bartlett sees it, social media "lends itself to social justice movements because so many movements are rooted in information dissemination and community-building." As people create online communities, she said, it is only natural that social justice movements have followed.
Taylor, the anti-abortion activist, also has used social media to get people interested by "advertising events or ways to get involved."
"A lot of people do not understand what abortion is," Taylor said, adding that the public might get more involved "after seeing that abortion hurts and kills women and babies" because "it empowers people to choose life."
The World Health Organization, says that "abortion is a safe health care intervention," and when abortion access is restricted, people will turn to unregulated, illegal abortions. According to WHO, "unsafe abortion is a leading- but preventable – cause of maternal deaths and morbidity."
The number of abortions dropped since the Supreme Court overturned Roe v. Wade, according to a study conducted by the Society of Family Planning aimed to "capture the shifts in abortion access by states" following Dobbs decision, #WeCount Report. 
The study found that within six months of the decision, there were 43,410 fewer abortions. 
Alison Dreith, communication director for the Midwest Access Coalition, a Chicago-based group that aids women seeking abortion, considered those 43,410 fewer abortions to measure "potential abortion seekers" who were "scared, fearful, ashamed, and stigmatized" about receiving abortion care.  
Several organizations that support abortion access have called out crisis pregnancy centers for misleading the public with misinformation. A 2023 study from the Center for Countering Hate, Profiting from Deceit found that 71% of CPCs accessed via Google search are misleading.
Dreith has noticed that crisis pregnancy centers often have two websites for the same facility: one that states their religious affiliation and opposition to abortion and another that "serves to dissuade people from abortion" without mentioning religion. 
Anti-abortion activist Taylor explained crisis pregnancy centers will have a website to recruit volunteers who are "openly pro-life" and a website "targeting women who are pregnant and considering abortion."
But Bartlett maintains that the tactics are deceptive and "make it really difficult to tell the difference" between abortion clinics and crisis pregnancy centers.
Gov. Pritzker signed bill SB1909 to "bar from using misinformation, deceptive practices, or misrepresentation in order to interfere with access to abortion services or emergency contraception," according to an Illinois press release. The Thomas More Society, a group of attorneys dedicated to anti-abortion advocacy, sued to halt the bill.
Rachel Johnson, a staff attorney for the ACLU of Illinois, said the First Amendment makes it challenging to regulate crisis pregnancy centers.
"Because of religion, they are actively deceiving people out of abortion care," Johnson said. "I would argue that that behavior is violent, dangerous and not protected by the first amendment."
Bells ring and drums sing as people of all ages and various backgrounds practice their First Amendment as the picket line chanted "abortion on demand and without apology" to the beat.  
Bartlett said she wished more people were educated about crisis pregnancy centers to "prevent people from stumbling in their door in the first place."