Diana Mahalia, a 19-year-old animation major at DePaul, never went out of the country until she went on a Study Abroad trip to London and Wales last summer. Although she was excited to go, she said navigating an unfamiliar country with a new group of people was intimidating. 
To prepare for the trip, Mahalia and her class played a test version of Buddy Abroad, a new board game designed by the DePaul Instructional Game and Innovation (DIGI) Lab and the Study Abroad office. Buddy Abroad was released Oct. 11 and is free for DePaul students. The game can also be purchased by other universities or by individual consumers. 
Mahalia said playing the game helped her feel more connected with her classmates.
"I didn't know anyone at first," she said. "The only reason I got to know the people in my class was because of this game, and that [was] kind of like my saving grace."
Each player has their own game board equipped with a bag they have to pack with different items students may need on their Study Abroad trip, such as a phone charger or a stain stick. There is also a meter at the top of each player's board that tracks their wellness.
On each turn, players draw event cards outlining different circumstances that impact how they are feeling. The card's impact can change depending on what items the player packed in their bag. For example, if a card is drawn that says the group gets stuck in traffic on their trip, the players' wellness will be impacted negatively unless they pack items like snacks or a phone charger. Each player in the group must have a wellness score above zero by the end of the game to win.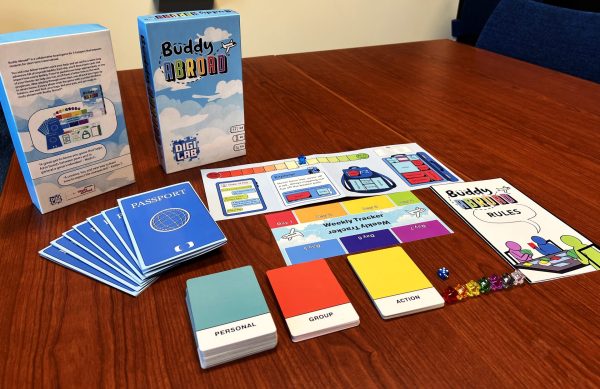 Jes Klass, the head of the DIGI Lab, hoped Buddy Abroad would have the kind of positive impact on students that Mahalia experienced. 
"It's the most rewarding feeling ever to hear someone say that a game that you made helped them have a better life experience," Klass said.
Although she was the lead designer, Klass said the DIGI team of student workers carried out much of the design. 
"It's by students for students," Klass said. "There are a lot of parts of being a student that aren't applicable to me anymore – that I can't understand."
Klass said that learning about their upcoming trip by playing Buddy Abroad engages students in ways that a lecture cannot. Students learn how to pack appropriately and maintain both their physical and mental wellness on the trip.  
"Buddy Abroad is essentially the poster child for active learning," Klass said. "The best thing that we can do for our students is find the way to reach them in whatever modality that may be." 
For a lot of students, she added, lecture isn't it. 
Klass said the DIGI team wanted a positive wellness score to be the game's main objective because it is often difficult for students to prioritize their well-being in their everyday lives. 
"Wellness as an all-encompassing factor in one's life is not talked about enough," Klass said. "It's the thing that not only a lot of students struggle with, but a lot of human beings struggle with." 
Jules Mortensen, a 20-year-old animation major who worked as the game's art director, said students can share items in the game to help everyone maintain a positive wellness score. The goal is to teach students to support each other while they are traveling. 
"There's going to be stuff you're not going to be prepared for, but maybe someone nearby is prepared and can help you out," Mortensen said.
The DIGI team and Study Abroad office also created a "serious situations" expansion pack for the game. These cards foster discussion between students about how to work through real issues that occurred on trips, such as a student learning that a family member back home is in the hospital. 
"[This] gives agency to the people in the game … to choose how they get resolved," Klass said. 
Mahalia said the game's emphasis on maintaining personal wellness as a community helped her take care of herself when dealing with anxiety and depression during her recent trip to the United Kingdom. 
"I was juggling everything," Mahalia said. "Being able to know I have friends with me made it easier, and I wouldn't really have those friends if it weren't for the game."