As fall quarter wraps up, the holiday events start up. The traditional Ugly Sweater Party drew more than 1,700 students to the Lincoln Park Quad with lines stretching to Kenmore and Fullerton.
The line started from the university Quad, circled around the Schmitt Academic Center, and ended near the entrance of the university's library on the corner of Kenmore and Fullerton. 
The event offered multiple activities for students to enjoy, including an inflatable snow globe jump house and a "Ballistic Swing" ride. However, the ugly sweater – handed out at the annual DePaul event – was the biggest target. 
Each year, the university comes up with a new design for the holiday-themed sweater. This year's design was a snowflake pattern with snowmen, and DePaul's name in white and blue coloring.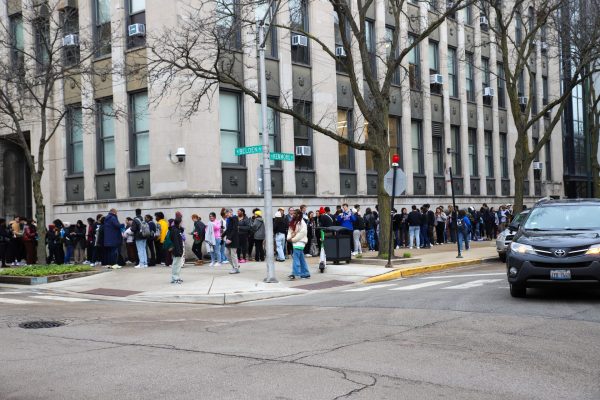 Senior Bobby Nieves stood in line at 9:40 a.m., even though the event officially began hours later. Nieves, a computer science major, said he hoped to get one last ugly sweater before he graduates.
Students lined up as early as 9:40 in the morning, hoping to get one of the 1,700 sweaters. 
"We have been waiting in line for about an hour and a half," sophomore Melena Marks said. "I want a sweater because I didn't get one last year."
Many students shared a similar sentiment. But the first person in line is ready.
"I've been collecting them every year so far," Nieves said. "So I really didn't want to miss out on a chance to get one that actually looks really nice with the colors…"
The sweaters, handed out by people from Student Involvement, went on from about 1:40 p.m. until just after 2:30 p.m.. Students who had not received a sweater attending the event were then able to be entered into a lottery to win one of the 200 remaining sweaters.
With all the sweaters gone, the festivities began.
Besides the jump house and the swing ride, there were craft stations and a mini doughnut stand. The DePaul Activities Board (DAB) had a "Stuff-A-Plush" station where people could create a small winter-themed stuffed animal like a penguin or reindeer.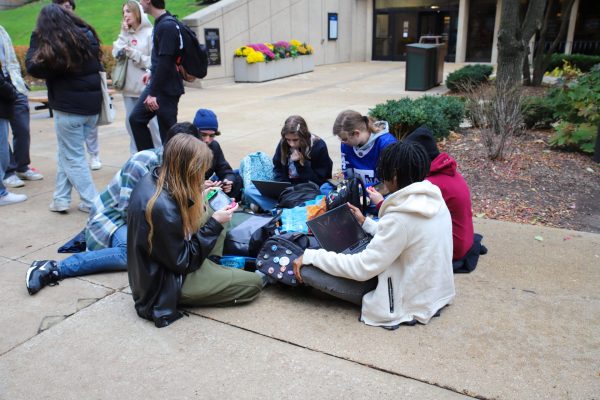 "I just like seeing everyone together and having a good time," said Sophia Eshenbaugh, a junior working at the DemonTHON section of the event.
The annual tree lighting event scheduled during the ugly sweater party was postponed until Nov. 14. Organizers still considered it a big success.
Carmen Curtis, the DePaul campus activities coordinator for student involvement, said the hope in adding other events was to draw more people.  
"We wanted people not only to just get sweaters but to come and like actually stay and sit and hang out with each other," Curtis said.
Junior Cat Barry, the DAB's chair of signature events, helped to organize the event and is already thinking about next year.
"I just kind of think to myself, 'I bet I can make that happen even more. I bet I could do that even bigger, even better,'" Barry said. "The whole vibe is just inspiring and inspires me to do the best that I can to make it better."